Whatever your option on how much footballers get paid and whether there should be a wage-cap in place, there is an ongoing interest in how much each footballer gets paid and lively debate as to whether they are worth it! In this article we are going to look at the top 10 highest paid footballers in the English Premier League. We will look at who they are, what team they play for and key highlights in their career.
Top 10 Biggest Earning Football Players in the Premier League
Here are the ten footballers that we will cover in more detail below:
David de Gea
Kevin De Bruyne
Raheem Sterling
Paul Pogba
Mesut Özil
Anthony Martial
Sergio Agüero
Mohamed Salah
Marcus Rashford
Harry Kane
David de Gea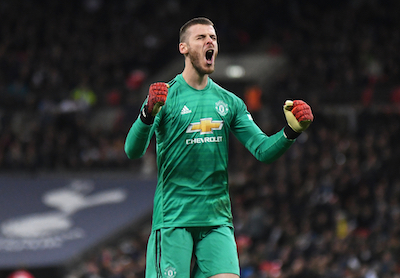 Club: Manchester United
Wage: £375,000 per week
David de Gea is the highest paid footballer in the English top-flight. He is widely regarded as one of the best goalkeepers in the world, and currently plays for Manchester United. He joined the Red Devils in 2011; and has made 394 appearances to date. De Gea has won one Premier League title, 2012/13; an FA Cup, 2015/16; an EFL Cup, 2016/16; three FA Community Shield trophies; and the UEFA Europa League once in 2016/17 during his time wearing the Manchester United kit so far. Individually, David de Gea has been awarded the Premier League Golden Glove once, as well as being named the Manchester United Players' Player of the Year on three occasions, in addition to many other accolades.
At £375,000 per week, this equates to a massive £20m per year. In addition to this de Gea is likely to receive income from advertising and sponsorship deals. Rumours arise most seasons about a potential move away from Old Trafford for their number 1; however, as of yet no deal has been reached, he remains loyal to Man Utd and is the highest paid football player in England.
Kevin De Bruyne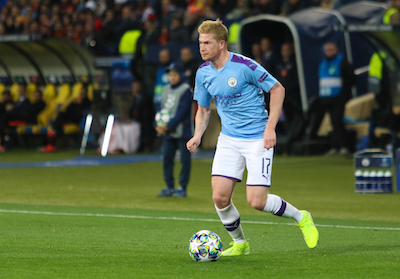 Club: Manchester City
Wage: £321,000 per week
Coming in second place is Manchester City midfielder Kevin De Bruyne; his weekly earnings are reportedly just shy of £321,000. De Bruyne joined Man City in 2015; and is well-known for his versatile style of play. Used in various positions Kevin is often touted as one of the best footballers in the modern era. To date he has made 209 appearances and scored 50 goals for the Citizens.
Team trophies and individual recognition has been in abundance throughout Kevin's time at Manchester City so far. He has helped the team secure two Premier League titles, 2017/18 and 2018/19; an FA Cup in 2018/19; four League Cup trophies; and an FA Community Shield in 2019. Personally, he has been named Manchester City Player of the Year twice and Premier League Playmaker of the Season once among other titles.
Raheem Sterling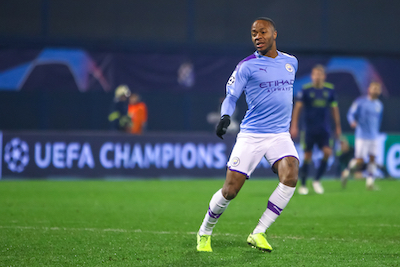 Club: Manchester City
Wage: £300,000 per week
Third on our list is popular Manchester City attacking midfielder – Raheem Sterling. Sterling moved from Liverpool to Man City in 2015. At the time he was criticised for demanding more money from Liverpool, however, he has certainly proved his worth to the Sky Blue's and is reported to earn £300,000 per week. Sterling is fast and agile, strong on the ball, with a level of composure that allows him to hit the net with accuracy time and again. To date he has made 230 appearances in the Manchester City football kit and scored an impressive 89 goals.
At only 25-years of age Sterling has many great years of play left in him; but he has already amassed numerous trophies during his time at Man City. Two Premier League titles, an FA Cup, Community Shield and three Football League trophies to date. Raheem is contracted to stay at the Etihad Stadium until 2023; however, as with all the top footballers there are always rumours circulating about a potential transfer. In a recent statement when asked about a move to La Liga, Sterling said that he was 'always open to challenges' but he is currently 'really happy' at Manchester City.
Paul Pogba
Club: Manchester United
Wage: £290,000 per week
Coming in fourth and being paid £290,000 each week we have Manchester United midfielder Paul Pogba. Pogba began his senior career with the Red Devils in 2011, he then joined Serie A club Juventus before making his return to Old Trafford in 2016. At the time of transfer, he was the most expensive ever footballer; with the transfer costing Man Utd a whopping £89.3m plus bonuses. With such a hefty transfer fee it stands to reason that Pogba is in the top five highest paid Premier League footballers.
Pogba is a highly skilled footballer, powerful and creative with a fantastic ability to net the most remarkable of goals. Since his return to English soccer Paul has made 143 appearances for Man Utd and scored 31 goals. He was part of Manchester United's 2016/17 EFL Cup and UEFA Europa League winning squad. Pogba has been a frequent nominee for the prestigious Ballon d'Or award and he was named as the UEFA Europa League Player of the Season 2016/17. It should also be noted that Pogba was part of the 2018 World Cup winning France team.
Mesut Özil
Club: Arsenal
Wage: £269,000 per week
Rounding out the top five, with weekly earnings of approximately £269,000, we have Arsenal attacking midfielder Mesut Özil. Özil joined Arsenal in 2013, and is without doubt their most popular player, with requests for the number 10 Arsenal jersey outnumbering all other squad names and numbers. As an advanced playmaker Mesut excels; he is creative agile and technically brilliant. To date he has scored 44 goals for the Gunners from 254 appearances.
With three Premier League titles and an FA Community Shield he has had his share of team glory since joining Arsenal Football Club. Özil was also part of the clubs UEFA Europa League runner-up squad in the 2018/19 campaign. As an individual, Mesut was awarded the title of Arsenal Player of the Season for the 2015/16 campaign. At 31, and already retired from national football, Özil's contract is up in 2021; it is widely thought that he will leave on a free transfer. With dwindling performances, the club and fans alike are said to be struggling to justify his wage bill!
Anthony Martial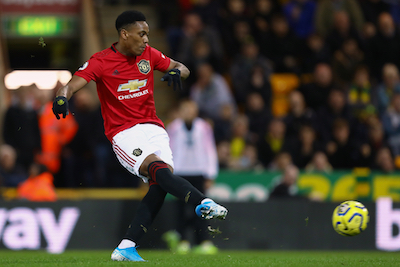 Club: Manchester United
Wage: £250,000 per week
Another entry on the list for Manchester United, the sixth highest paid player in the Premier League is Anthony Martial whose weekly pay is £250,000. Martial joined the Red Devils from AS Monaco in 2015. His transfer fee was record breaking; it was the highest ever paid for a teenager at £36m with possibility of it rising to £58m depending on performance. Anthony is a forward; and since the age of 6 has wowed his coaches with his speed, positioning and technical ability. To date he has made 208 appearances in the Man Utd kit and scored 64 goals.
At only 24, and already having played in 8 professional seasons, it is clear that Anthony Martial is one of the best footballers to currently play. He has won four trophies to date with Manchester United; FA Cup, EFL Cup, FA Community Shield and the UEFA Europa League. We expect to see Martial as a key element of the MUFC squad going forward as he signed a new 5-year contract in January 2019.
Sergio Agüero
Club: Manchester City
Wage: £230,000 per week
Seventh on our list is Manchester City striker Sergio Agüero with a weekly wage of around £230,000. A member of the Man City squad since 2011 Agüero has earned the respect of his teammates and fans by putting in some fantastic performances over the years. He is a prolific goal scorer; hitting the net 254 times from 368 appearances for Man City to date. Many other top footballers have commented on Agüero's abilities using phrases such as 'menace in the box', 'immense power', 'sharp and clever'.
Trophies and accolades both with Manchester City and on an individual level are in abundance. During his time in the squad so far, he has been part of 4 Premier League winning sides, 5 Football League titles, 1 FA Cup and 3 Community Shield wins. He also won the Premier League Golden Boot in 2014/15, as well as being the Man City player of the Year on several occasions among other titles awarded to him. At 32-years old and with his contract due to expire in 2021 it seems that there could be a transfer battle for the player affectionately known as "Kun".
Mohamed Salah
Club: Liverpool
Wage: £200,000
Eighth on the list of highest paid Premier League footballers is Liverpool forward Mohamed Salah who earns £200,000 each week. Salah joined Liverpool football club from AS Roma in 2017; his transfer fee was the highest ever paid by LFC; and, he has certainly proved worthy of that fee so far. Out of 144 appearances in the Liverpool soccer kit to date he has a goal tally of 91.
Salah's preferred position is as a right flank winger; however, his versatility is one of his key strengths; he is also comfortable playing as an attacking midfielder or second striker. Under Klopp Salah has also been deployed as the main striker where he has excelled. He was part of the 2018/19 Champions League winning Liverpool squad as well as the 2019 UEFA Super Cup and FIFA Club World Cup titles. With the 2019/20 season set to resume following the unprecedented shut-down of football due to Covid-19 it looks likely that Mohamed Salah and the rest of the squad will also be able to add a Premier League title to their tally.
Marcus Rashford
Club: Manchester United
Wage: £200,000 per week
It's back to Manchester United for number 9 on our top paid EPL player list for forward Marcus Rashford who also receives a weekly wage of £200,000. Rashford joined the first team from the MUFC academy in 2015 and has since made 201 appearances and scored 64 goals. Marcus played his first game for Man Utd in February 2016 in the UEFA Europa League; he certainly made an impact scoring twice in the teams 5-1 win.
At only 22-years old Rashford is still improving, and clearly has many great years ahead him. Last summer he signed a contract extension until June 2023 keeping him at Old Trafford for the time-being; but his skill on the pitch is sure to attract big money offers during the upcoming transfer windows.
Harry Kane
Club: Tottenham Hotspurs
Wage: £200,000 per week
Last but not least, also earning £200,000 a week we have Tottenham Hotspur striker Harry Kane. Kane has been at Spurs for the whole of his senior career, with some loan spells in the early days. To date he has made 278 appearances in the Spurs football kit and scored a staggering 181 goals. Harry is obviously a proficient goal scorer but is control on the ball and ability to slow down the progress of opposition makes him a fantastic all-round footballer.
Harry Kane signed a new deal to remain at Tottenham Hotspur until at least 2024. However, that is unlikely to halt the ever-present transfer rumours that surround Kane's future. Kane hasn't won any major accolades with Spurs, but he has been awarded numerous personal honours and recognitions over the years including the title of 2014/15 Tottenham Hotspur Player of the Year.
Premier League Top Ten Highest Earning Players
So, you now know who the top highest paid footballers are in the English Premier League. We'd love to hear your thoughts on the list. Look us up on social media and tell us whether you agree or disagree with the people on the list? Are there any footballers you think to be more deserving of a place on the list? Look out for upcoming articles exploring the highest paid footballers in the other big European leagues.
All images used under licence from Shutterstock