La Liga is one of the biggest and most watched football leagues in Europe; and as such it attracts some of the best footballers. The top football players in the world attract big media attention, can help win major domestic and International trophies as well as creating a huge buzz around the club from fans. However, these big signings do not come cheap; and the wage bill for the top La Liga clubs is staggering. Unlike some of the other leagues, where there is five, six or even more major clubs, La Liga is dominated by three – Real Madrid, FC Barcelona and Atletico Madrid. The top 11 highest paid La Liga footballers all belong to one of these three popular soccer clubs.
11 Footballers Paid the Highest Weekly Salary in La Liga
First, let's look at why we are identifying the top 11 instead of the top 10! The last four on the list all get paid the same; therefore, instead of leaving one of them off we decided to cover all 11. We will look at the career to date of the 11 La Liga footballers that currently get paid the most (as of June 2020); we will identify trophies won with their current club, major personal achievements as well as considering they style of play and why they get paid so well. For reference below are the 11 La Liga players we will be covering in more depth below.
Lionel Messi
Antoine Griezmann
Eden Hazard
Gareth Bale
Luis Suárez
Frenkie de Jong
Luka Jović
Marcelo
Toni Kroos
Sergio Ramos
Jan Oblak
Lionel Messi
Club: FC Barcelona
Wage: £1,224,000 per week
Messi is undoubtedly one of the best footballers to have ever graced the pitch. His not only the highest paid La Liga footballer, he is the highest paid football player in the world. He joined the FC Barcelona youth academy in 2001; at the age of 14. He has spent his entire senior career at Camp Nou; making his debut for the first team in 2004. To date Messi has made in excess of 700 appearances in the Barcelona football kit and scored over 600 goals.
Lionel Messi is one of the most decorated footballers in the world. His list of professional honours, both club and personal, is extensive. Here are a few highlights.
La Liga titles x 10
Copa del Rey 6-time champions
Champions League four-time winners
FIFA Club World Cup trophies 2009, 2011, 2015
FIFA Ballon d'Or winner on 6 occasions
Leo is a fast and agile forward. In front of goal he is powerful and accurate; with a dominant left foot. Comfortable on either wing and in more central positions; and widely thought of as the best dribbler in the world, Messi's role in the success of the Barcelona squad is difficult to overestimate.
Antoine Griezmann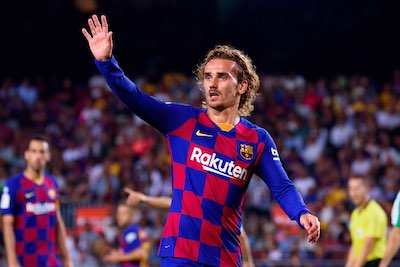 Club: Barcelona
Wage: £795,000 per week
Second on our list of highest paid La Liga players in French footballer Antoine Griezmann. He joined Barcelona from Atletico Madrid in 2019; his move caused controversy from rival fans and sparked a complaint from Atletico regarding the manner of the transfer and their rights under the terms of Griezmann's contract with them.
His transfer fee, which is thought to be one of the highest ever paid, plus his weekly wage indicate that FC Barcelona wanted Antoine on their team sheet and were prepared to pay for the privilege. Griezmann is a left-footed forward, whose technical ability allows him to work effectively with forwards and midfielders to effectively work the game to his team's advantage.
Eden Hazard
Club: Real Madrid
Wage: £550,000 per week
Third on our list is Eden Hazard. Hazard joined Real Madrid from Chelsea in 2019 in one of the most anticipated moves during that transfer period. Real Madrid paid a reported €100 million with the potential for increased fees subject to various factors; should the fee rise it is likely that Hazard will become the clubs most expensive ever signing.
Eden plays as an attacking midfielder or winger and is equally comfortable on both feet. Dubbed one of the most talented players in Europe Hazard has speed, acceleration, creativity and technical ability. He has been nicknamed 'little Messi' such is his similarity. Hazard described joining Real Madrid as 'a dream come true'. Unfortunately, his first season with Los Blancos has been marred with multiple ankle injuries, meaning he has missed many games. Will 2020/21 see Eden Hazard have the season of his career at Real Madrid?
Gareth Bale
Club: Real Madrid
Wage: £500,000 per week
In fourth place we have fellow Real Madrid star Gareth Bale. Bale's €100.8 million transfer fee remains the highest paid to date by Real Madrid, and at the time was the biggest ever transfer fee paid for any footballer ever. Gareth joined Real Madrid in 2013 from Tottenham Hotspur; to date he has made over 200 appearances in the Real Madrid football kit and hit the net on over 100 occasions.
Bale is a winger, primarily suited to playing on the left. He is fast with incredible pace and stamina. Gareth is skilled offensively; with accurate passing technique and a brilliant spatial awareness, allowing him to navigate the oppositions defence and create the space he needs to receive the ball and get it toward goal. Bale also has a noteworthy heading ability.
Luis Suárez
Club: FC Barcelona
Wage: £405,000 per week
It is back to Barcelona for the fifth player on our list of highest paid La Liga footballers, for Luis Suárez. Suárez is a renowned Uruguayan striker; who joined Barca from Liverpool FC in 2014. His move to Camp Nou was marred with controversy following a biting incident during the 2014 World Cup. However, since making the move to Barcelona his temperament appears to have settled; he has been a strong, reliable member of the team without major incident when wearing the Barca kit.
To date, Suárez has made over 270 appearances and scored in excess of 190 goals for Barcelona FC. He has helped the squad win numerous accolades trophies including four each La Liga and Copa del Rey titles, a UEFA Champions League trophy and the 2015 FIFA Club World Cup title.
Luis is known for his powerful shot and excellent technical ability. During his days wearing the Liverpool kit, he was well-known for nutmegging his opponents. Suárez is a hard-working player, and a valuable member of the Barcelona squad. Messi, Suárez and Neymar, before he moved to Juventus, were widely known as the 'MSN' trio; a force for opposing teams to be terrified of.
Frenkie de Jong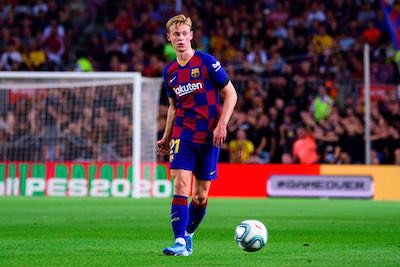 Club: Barcelona
Wage: £360,000 per week
Staying at Barcelona for the sixth highest paid La Liga player we have new signing Frenkie de Jong. At only 23-years old it is clear that de Jong is set to become one of the most high-profile footballers in the world. Frenkie signed for FC Barca from Ajax in 2019 for a €75 million fee; at the time he was in high demand with PSG and Man City also competing for his signature.
De Jong is a versatile midfielder; he is capable in playing in many central positions with a possession orientated style of play. Strong both defensively and offensively Frenkie makes a strong contribution to the team; he reads the game well, has a staggering level of passing accuracy and has the ability to make game changing long cross-pitch passes. Frenkie de Jong has his best years ahead of him; and it seems that he and Barcelona are the perfect fit for success.
Luka Jović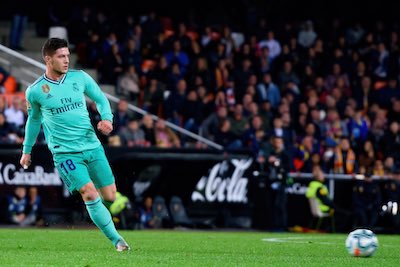 Club: Real Madrid
Wage: £360,000 per week
Another young footballer takes seventh place on our list; this time Real Madrid striker Luka Jović. Jović, age 22, transferred to Real Madrid in 2019 for a reported fee of €60 million on a six-year contract. Prior to the transfer he had been on-loan at Bundesliga club Eintracht Frankfurt for the previous two seasons.
Playing as a striker Jović's immense talent was spotted early. Luka was scouted by Red Star Belgrade in 2005, at just eight years old. He played for them until 2016, making his first team debut in 2014. In his first season at the Santiago Bernabéu Luka Jović has made over twenty appearances and participated in the club's Supercopa de España title; playing in both the final and semi-final.
Marcelo
Club: Real Madrid
Wage: £350,000 per week
£350,000 is the weekly wage of the final four players on our list of 11 highest earning La Liga footballers. These four are ranked in no particular order. Real Madrid left-back Marcelo is next on our list. Marcelo's considerable talent was spotted back in 2007, when he was just 19; Real Madrid took the opportunity to sign him, and he has remained there ever since. To date Marcelo has stepped out in the Real Madrid soccer kit on over 500 occasions and has a goal tally of over 35.
Offensively Marcelo is strongest; he primarily plays on the left as either a left-back or winger, however he is also competent playing in midfield. His dribbling skill, speed and agility to weave is way down the pitch make him a danger to any opponent. Positionally aware with accurate passing ability, Marcelo is also able to act as an extra forward where required.
During his time with Real Madrid, Marcelo has amassed a huge number of titles and honours. Some of which are highlighted below:
La Liga – 4-time champions
Copa del Rey – 2010/11 & 2013/14
UEFA Champions League – 4 titles
FIFA Club World Cup winners on four occasions
Toni Kroos
Club: Real Madrid
Wage: £350,000 per week
Real Madrid midfielder Toni Kroos is next on our list. Kroos moved to Real Madrid in 2014. He was initially supposed to transfer to Manchester United; however, a change of management there resulted in the deal failing to go ahead. Instead he signed a six-year deal to wear the Real Madrid football kit; where he became an indispensable part of the team. He helped the team to secure the La Liga title in 2016/17 and was a crucial element of their three consecutive UEFA Champions League titles in 2015/16, 2016/17 and 2017/18.
Kroos has been described as technically excellent. His awareness of the game and creativity allow him to dictate play from midfield and set his teammates up for goal. He has himself hit the net on multiple occasions with some spectacular long-range goals. Toni is a hard-working footballer and set to be part of the Real Madrid squad for several more seasons yet; in 2019 he extended his contract until 2023.
Sergio Ramos
Club: Real Madrid
Wage: £350,000 per week
Centre-back Sergio Ramos is next on our list; he is also on the team-sheet at Real Madrid. Now 34, Ramos has been a member of the Los Blancos squad since 2005; and has to date made over 640 appearances in the Real Madrid jersey. During his time at the Bernabéu Sergio has amassed a staggering 21 trophies across both domestic and European competition.
Ramos's future is uncertain. His contract is due to expire in summer 2021; and as yet Real Madrid has not opened talks regarding a renewal. It is reported that their captain wants a two-year extension, but they may only be willing to agree to one. Sergio's wages are also up for discussion; it has been reported that a wage-cut has been discussed amid the coronavirus pandemic, this may in-turn help to sway the contract negotiations one way or the other.
Sergio Ramos is widely regarded as one of the best defenders in the world. His strength makes him an extreme threat from headers particularly during set-pieces. Gifted defensively and offensively, Ramos is fast with accurate crossing ability. He has been used in varying positions on the pitch and is very a reliable performer particularly in high pressure situations. However, he does have a tendency to occasionally make rash decisions and pick up unnecessary cards; in fact, he holds the undesirable record for being the most carded player in La Liga, the Champions League and also the for the Spanish national team.
Jan Oblak
Club: Atletico Madrid
Wage: £350,000 per week
Completing our list of the 11 highest paid footballers in La Liga, we have Jan Oblak. Oblak is the only goalkeeper on our list, and also the only player to not play for either Barcelona or Real Madrid – he is on the Atletico Madrid team sheet. Jan joined Atletico in 2014 for a modest €16 million; although at the time this fee made him La Liga's most expensive goalkeeper.
Jan Oblak is known for his consistency. In fact, just last week he achieved the record for the La Liga goalkeeper to reach the fastest 100-clean sheets, which he achieved in just 182 La Liga fixtures. He is widely regarded as one of the world's best goalkeepers; and, has been awarded the title best La Liga goalkeeper for four consecutive seasons – 2015/16, 2016/17, 2017/18 and 2018/19.
In 2019 Jan Oblak agreed an extension to his contract; he is now contracted to wear the Atletico Madrid kit until 2023. However, his skill in goal is making him in demand; Chelsea are reportedly gearing up to try and land Oblak in a deal worth £25 million plus Kepa Arrizabalaga. The release clause in Jan's contract is reported to be £107.5 million so it remains to be seen whether Atletico will let him go for the offer Chelsea is making.
La Liga's Top 11 Earning Footballers
Now that we have identified the 11 La Liga footballers with the highest weekly earnings, what do you think of the players on our list? Look us up on social media and give us your thoughts. Do these players deserve to be on the list? Or do you think that there is anyone more deserving of a larger salary that does not yet make the list? Remember that this list is valid as of June 2020, and is likely to change as players move clubs, and new emerging talent breaks through.
All images used under license from Shutterstock.