If you don't have a Manchester City home kit from the 2013 2014 season, don't worry: it isn't too late yet! The 2013 2014 season was one for the books for the Manchester City football club, as the team came from behind in the Premier League to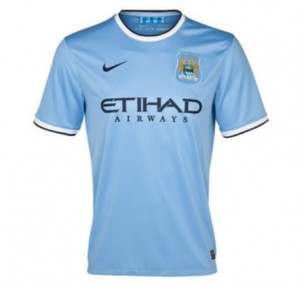 defeat both Liverpool and Chelsea in one of the closest and most competitive seasons in league history. As a result of the win, the soccer jerseys from Manchester City's 2013 2014 season have turned into luck charms or collector's items for many fans, and you can still get your hands on one (or several) at Soccer Box.

Indeed, the Soccer Box online store has a full selection of Manchester City soccer jerseys, including the 2013 2014 home shirt, away kit options, and several goalkeeper shirts. Last season's home shirt was particularly striking, a light blue Nike shirt with white and black trim. You can get last year's home and away shirts at Soccer Box today for discount prices, but be advised, the shirts will only be available while supplies last!
New Season, New Players

The Manchester City home kit will be back in the public consciousness come mid-August, when the Premier League restarts play for the 2014 2015 season. As the defending champions for the league title and with most of its star players returning for another year Manchester City is well set up for a successful season.

Bacary Sagna

Of course, just like any other soccer club, Manchester City is spending the summer scouring the globe for new young players to bring aboard. One of those is Bacary Sagna, who has made a name for himself in recent years playing for both the Arsenal football club and the France national team. Arsene Wenger, manager of the Arsenal team, has described Sagna as the finest right back in the entire Premier League. In other words, he would be an asset to any team lucky enough to contract his skills.

Sagna has been with Arsenal since 2007, making 284 appearances with the team over the course of seven seasons. He has made a name for himself at the Emirates Stadium as a world-class defensive player, but now, he has reportedly sealed a new contract with Manchester City. Bottom line? This fall, Sagna will be taking to the pitch at the City of Manchester Stadium and wearing the blue and black of the Manchester City football kit instead of the red and white of the Arsenal football shirts.

Fernando

Bacary Sagna is not the only new defender who will be taking his first bow in the Manchester City home kit later this year. On the contrary, Man City officials have also already signed a contract with Fernando Francisco Regnes known more commonly as Fernando to play as a defensive midfielder starting with the 2014 2015 Premier League season.

Fernando does not have nearly the level of experience and notoriety that Sagna will bring to Manchester City, but he has been playing with Portuguese club Porto since 2007. He's made 142 appearances with the club in that time (along with 26 appearances for Estrela Amadora, where he was a loan player for the 2007 2008 season) and has racked up solid statistics. He will be a worthy addition to the Manchester City squad.

With more than a month left until Premier League play commences, there are likely to be a few more players who join the side of the Manchester City soccer jerseys. For instance, Man City officials have been working on signing Argentine midfielder Bruno Zuculini for months now, but the contract has not yet been totally finalized. In any case, Manchester City will have a strong soccer squad with which to take on Premier League competitors.

Excited for another season of Premier League action? Do you think that Manchester City new players and old players alike can win a second league title in a row? Grab a Manchester City home kit today and mark yourself as a die-hard fan of the team.