Fans from across the globe love watching European soccer games as well as local supporters. This is what makes it such a widely supported sport as the clubs all have different backgrounds and strengths within the teams which makes them so engaging to watch. However, there is a big change to the fixtures after what has come to light about Serie A team – AC Milan.
News has recently broke that AC Milan will be banned from taking part in future European Football. All fans have been shocked by the information that has been released regarding this situation. And for those of you who aren't aware of what has occurred, we have put together this article to discuss what is actually happening with AC Milan after the current fiasco.
What happened and why?

So what caused this ban for AC Milan you ask? Back in the summer when AC Milan was sold to a Chinese consortium for 740m Euros, the management started to make some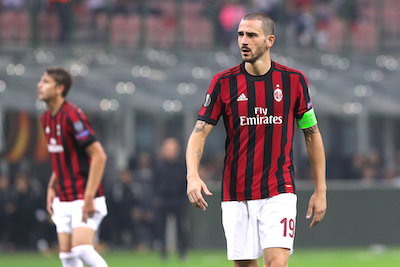 changes to its players. During the transfer window they spent a total of £200m on the likes of Leonardo Bonucci (£35.1m) and Andre Silva (£33.6m). And this was the first time in 15 years that they had paid over £30m for a single player.
When UEFA investigated this large amount of money used to source players, they revealed that the club was in breach of their requirements. As part of the football association, each club needs to break even during the transfer window in order to make the next season's tournament fair amongst all clubs while still ensuring that each team does not fall into debt that they will struggle to afford.
However, with the £200m spent by AC Milan, this overstepped their given budget to achieve this requirement. On top of this, upon looking into the club's finances overall, they had uncovered that there was a loan that was refinanced by the club that was scheduled to be reimbursed in October 2018. This fact raised some eyebrows within the UEFA which lead to the unfortunate consequences.
Similar recent cases
Recently, French team – Paris Saint Germain has undergone an investigation into their finances after making two large purchases during the transfer window last summer. They were in the same situation as AC Milan by rumoured to be over spending on the likes of Neymar and Mbappe that set them back a grand total of £367m.

Although their finances were put under a microscope, they were dismissed from receiving a season ban as UEFA felt that the transfers made and money spent, were within their regulations. This decision was reached after they spent a while reviewing the club's previous accounts and how they are expected to progress in the future.
Implications for AC Milan moving forward
After it was brought to UEFA's attention that the club was in breach of FFP (Financial Fair Play), there were most certainly consequences coming AC Milan's way. Despite qualifying for the next two Europa League seasons, they have unfortunately been excluded from the tournament due to this infringement of federation rules. They were also rumoured to be receiving a 30m Euro fine from the Adjudicatory Chamber, however this was not added to the punishment for AC Milan.
The club has appealed to the CAS to revoke this ban, however if this is followed through they will lose out on two seasons. This current season being replaced by Atlanta who had qualified just one place behind AC Milan in the Serie A.
Moving forward, it is public knowledge that the owner of AC Milan – Mr Li has been seeking financial assistance from other parties. He has been in touch with American businessmen Tom Ricketts and Rocco Commissio and they have been discussing a plan to sell shares of AC Milan. This would mean that they would be able to gain back the funds that they had overspent by in order for them to 'break even'. By achieving these sales, it could possibly work in their favour with their investigation by UEFA, and may cause them to reduce or revoke their previous punishments.
However, if this is not carried out successfully, the ban will remain in place for the two seasons as advised by UEFA. This would mean that AC Milan would be at a great risk of losing some of its key players as they move to other clubs. Members such as Gianluigi Donnarumma and Leonardo Bonucci have already been rumoured for securing a plan B transfer. Losing such strong players like these, would mean that the team would be in jeopardy when it comes to regaining their tournament status after the ban has ended.
If their key players do indeed leave the club after being unable to regain a secure level of finances, they do not slip back into their old ways. AC Milan now know the consequences of overspending on their transfers and that UEFA does not take infringing their FFP regulations lightly. We hope this experience will influence their future decisions when it comes to replacing and reassembling their club members in the future.
What are your thoughts on the ban?
After looking into AC Milan's European football ban, we can see that UEFA only have the best interest of its teams at heart. This is why the ban has been put in place in order for the club to regroup and raise further funds in order to reduce their debt. After all, the FFP regulations are put in place to ensure that the teams within the league operate on a level playing field when it comes to new player purchases prior to seasons.
You can find Soccer Box over on most social media platforms where you can let us know what your thoughts and feelings are on this article. We also aim to keep our followers up to date on our latest blog posts, so to stay in the loop of all things football, make sure you check out our pages now and join in the discussions!
This article was written for Soccer Box by Loren Astbury, shop with us for all your official 2018/19 AC Milan shirts, kit and accesories.