With both AC and Inter Milan struggling to reach former levels of glory, there have been opportunities for other Italian football teams to take up residence near the top of the Italian Serie A. Juventus are still ruling the roost, of course, while neither AS Roma nor Napoli have lost so much as a step over the past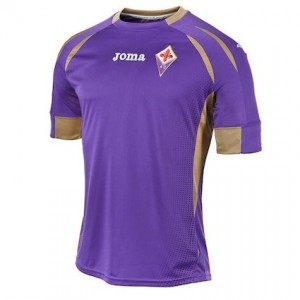 few years. But other teams, like Lazio and ACF Fiorentina, are looking better and better with each year, and could potentially turn into major Serie A contenders in 2015 2016. We assess the ACF Fiorentina 2014 - 2015 campaign with a view to further improvement next season.

Indeed, Fiorentina have become one of Italy's more dependable soccer squads over the past few years. This season, fans in the Fiorentina football shirt 2014 2015 had plenty to be happy about, as their club finished fifth in the Serie A, made it to the semifinals of both the UEFA Europa League and the Coppa Italia, and secured a spot in the group stage of the 2015 2016 Europa League. It's the third year in a row that the Lilies will land in the Serie A top five-proof that the football team is ready for the next step up the table standings.

The 2014 2015 Campaign

Coming off a fourth place finish in the 2013 2014 Serie A, the wearers of the Fiorentina soccer shirt had strong momentum on their side going into the 2014 2015 campaign. And while the squad's season didn't get off to the best start-they lost 0-2 against Roma in the first week of competitive play-they eventually found their feet with big shutout victories of Inter Milan, Udinese, and Cagliari.

In December, they even managed a scoreless draw in a home game against Juventus, and in an April rematch, they scored two goals against Italy's top football club. They ultimately lost the second game 2-3, but it was still proof that the Lilies have gained a lot of confidence and ability in recent years.

The Coppa Italia and Europa League

While ACF Fiorentina's Serie A season was strong, though, it was the club's Coppa Italia and Europa League campaigns that truly made this year exciting for football fans in the Fiorentina home shirt 2014 2015.

In the Coppa, Fiorentina had their second stellar year in a row, after making it to the finals of the tournament in 2013 2014. (They finished last year's Coppa Italia as runners-up, losing to Napoli in the championship match.)

As the knockout stages for the 2014 2015 Coppa Italia began, it looked like Fiorentina had it in them to win the cup for the first time since 2001. They beat Atalanta 3-1 in the round of 16, topped Roma 2-0 in a thrilling quarterfinal fixture, and beat Juventus in the first leg of the semis. Unfortunately, Juve won the second leg 3-0, beating ACF in the aggregate and eliminating them from the tournament. Juventus went on to win the tournament.

Fiorentina's Europa League run was equally promising. After winning their group stage (over Guingamp, PAOK, and Dinamo Minsk), the Lilies won knockout stage rounds against Tottenham Hotspur, Roma, and Dynamo Kyiv. They lost to Sevilla in both legs of the semifinals. And like Juventus, Sevilla went on to claim tournament victory.

ACF Fiorentina's Lofty Potential

Clearly, the wearers of the Fiorentina home shirt 2014 2015 were real contenders in both the Coppa
Italia and the Europa League. They may not have had quite enough gas in the tank to actually win either event, but they played well throughout both, and made waves for some pretty big soccer teams in the process. With another year or two of growth or development, the Lilies could easily win a few titles, or contend for a spot in the Serie A top three.

Granted, the club may have to do a bit of rebuilding next year. Striker Mario Gomez-who scored 10 goals between league play, cup competition, and continental tournaments-is reportedly attracting attention from the likes of AS Roma, as well as German squads like Schalke 04 and Borussia Dortmund. But with other dependable scorers like Khouma Babacar, Ganzalo Rodriguez, and Josip Ilicic likely staying aboard for 2015 2016, the Lilies will hopefully only continue to improve. But with a new manager on the horizon it could be all change at ACF Fiorentina next season.

Root for one of Italian football's most exciting organizations today, by picking up a Fiorentina shirt from Soccer Box!