Do runner-up finishes get any more disappointing than Ajax's second-place finish in the 2014-15 Eredivisie? It's tough to think of a scenario where coming in second could feel so much like losing, but fans in the Ajax football shirt are definitely feeling more than a little bit miffed now that the 2014 2015 Dutch football season is officially on the books. This Ajax 2014-15 review will look at the season in its entirety and assess how can they get back to the top spot in the 2015-16 campaign.

This year, the wearers of the Ajax away shirt 2014 2015 were shooting for a fifth consecutive title in the Eredivisie. No team has ever won five Netherlands national league championships in a row, so the Lancers were striving to make history this year. A couple of soccer squads have come close to the five-in-a-row milestone over the years. HVV won four in a row at the turn of the 20th century, while PSV Eindhoven have gotten four back-to-back titles on two previous occasions: first in the 1980s, and then again between 2004 and 2008. In all three cases, though, the football team in question failed to win that fifth consecutive title.

The 2014 2015 Campaign

Now, with all 34 games of the 2014 2015 Eredivisie played, we can officially add AFC Ajax to the list of teams that almost won five in a row. Instead, though, the Lancers fell just short, finishing in second place while PSV took the lion's share of the glory.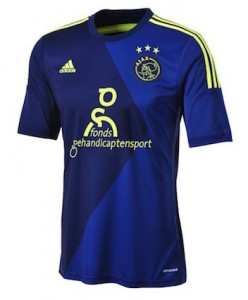 From very early on in the season, it was clear that Ajax were playing second fiddle to Eindhoven. They may have been the four-time consecutive reigning champs, but aside from a first week 4-1 victory over Vitesse, the Lancers never saw the top slot on this year's standings table.

Instead, PSV leaped into the lead with a 6-1 week-two win against NAC Breda, and never let it go. A few early struggles for Ajax (including back-to-back losses against Eindhoven and FC Groningen) allowed PSV to build their lead even further.

The Lancers still played a largely great season. Those two August defeats were the only losses that the team gave up during the first half of the season. In fact, Ajax didn't lose another Eredivisie fixture until February, and only ended up losing five all season. They also won a number of big victories throughout the year, both in terms of the teams they beat (highly ranked soccer squads like Feyenoord and AZ) and in terms of sheer offensive strength (a 4-0 win against FC Dordrecht, or a 5-0 triumph over Willem II).

AFC even managed a head-to-head victory against Eindhoven in the spring. Donning the Ajax away shirt 2014 2015 for a March 1st fixture at PSV's Philips Stadium, the Lancers beat their opponents 3-1. Ultimately, though, that away win was just a consolation prize: Eindhoven ended up winning the 2014 2015 Eredivisie by a landslide, beating Ajax by 17 points in the standings.

2015 2016 Prospects

In a way, it was fitting that PSV derailed Ajax's chances at winning five top-flight Netherlands football championships in a row. The first time Eindhoven were gunning for that milestone, in the 1989 1990 season, the Lancers beat them to the top. In 2014 2015, Eindhoven merely returned the favor.

Now, the wearers of the Ajax soccer shirt will have to turn around and focus on building a new streak. The good news is that the club recently secured one of the brightest stars of their 2014 2015 campaign-Polish striker Arkadiusz "Arek" Milik-with a four-year contract. Milik, who was the Lancers' top goalscorer this season, was on loan from Bayer Leverkusen, but will now officially be an Ajax player.

The fact that Milik will be sticking around bodes well for AFC's 2015 2016 prospects. While at Ajax throughout the 2014 2015 season, Milik tracked an overall tally of 32 appearances and 23 goals-including 11 Eredivisie goals. Though Ajax were eliminated from the Dutch KNVB Cup in the round of 16 (and only played three games in the tournament), Milik was the event's top goalscorer, with eight goals to his name. He scored a mind-blowing six points in AFC's second round match against JOS Watergraafsmeer. Clearly, this 21-year-old striker is a football star in the making.

Celebrate the Lancers' strong (if somewhat disappointing) season with a new Ajax away shirt from Soccer Box! Follow us on social media for periodic shirt discounts, consistent soccer world news, and more. You can connect with us right now on Pinterest, LinkedIn and other social networks.