By all accounts, AFC Ajax has had a great soccer season. The club's record in the 2014 2015 Eredivisie includes 20 wins, six draws, and just four losses, with a goal difference rating of +38. They also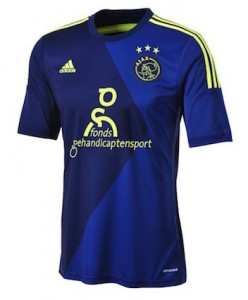 participated in the 2014 2015 Champions League, and made it to the round of 16 in the Europa League. Needless to say, fans of the Lancers have had plenty to be proud of this year, and they can all mark the strong run with brand new team gear from Soccer Box's Ajax Amsterdam shop.

At Soccer Box, we still have plenty of current Amsterdam team gear in stock for the 2014 2015 campaign. Pick up a new red and white home jersey, or save 10% on the Ajax away jersey 2014 2015 with a great end-of-season discount. Both of these football shirts (and more) can be found at our AFC Ajax shop. Stop by today to see what other treasures you can unearth.

The 2014 2015 Eredivisie

Even though AFC has, on the whole, had a very good 2014 2015 run, elements of the campaign have been disappointing for fans. Heading into this year's Eredivisie competition, the Lancers were riding high on a streak of four straight titles in the Netherlands' top flight national football league.

That tied a club record for most consecutive titles, a record that the Amsterdam club set in the 1960s. With a fifth straight Eredivisie victory this year, the Lancers would have broken the record and established the current era as the best in the history of the football club.

Unfortunately for fans at the Soccer Box Ajax Amsterdam shop, it looks like the Lancers are going to just miss that fifth consecutive trophy. With just four games left in the 2014 2015 season, Ajax is trailing behind PSV Eindhoven by 10 points. And unless PSV's Peasants completely choke between now and mid-May, they will easily win their first Dutch national football title since 2008.

Heracles

Not that the Amsterdam squad is giving up just yet, though. This past weekend, they donned the Ajax away jersey 2014 2015 to face off against Heracles. The result was a 2-0 victory, their 20th win of the current league season, and enough to keep their chances of catching PSV alive-albeit, very narrowly.

Heracles might have had the home field advantage in the match, but the away AFC Ajax squad dominated the proceedings. Striker Kolbeinn Sigþórsson scored a goal just before halftime to give the away squad a leg up, while Lucas Anderson netted a point shortly before the end of the match to guarantee their victory.

The Peasants also secured a two-point win this weekend, in a 3-1 victory over PEC Zwolle. In other words, had the Lancers lost to or drawn with Heracles, they would have fallen 12 or 13 points behind-out of reach for a 2014 2015 Eredivisie title. With how things stand currently, Eindhoven could still lose the last four games, giving Ajax a chance to leap back into the lead.

Granted, such an occurrence is highly unlikely, considering how well the Peasants have performed this year. They've only lost four games (and drawn one) in the entire 2014 2015 Eredivisie campaign. Lancers fans can still hope for a miracle though, by stopping by Soccer Box's Ajax Amsterdam shop and picking up a new jersey or two.

Prepare for the final weeks of this exciting Dutch football season, with brand new 2014 2015 gear from the Soccer Box shop. Looking for AFC kits? You'll love the Ajax away jersey 2014 2015, the red and white home jersey, or the 2014 2015 tracksuit. Of course, if nothing catches your eye in our Ajax shop, you can check out our other store sections as well! We carry countless different kits, from hundreds of different national and club football teams around the world.

Suffice to say that, if you are looking for an AFC football jersey, you can probably find it at Soccer Box's Ajax Amsterdam shop.