Argentina is thought of as one of the world's greatest sporting nations. They have won 2 World Cup titles in 1978 and 1986, and have had a number of star players on their roster. In the teams hay-day the infamous Diego Maradona lit up Argentinean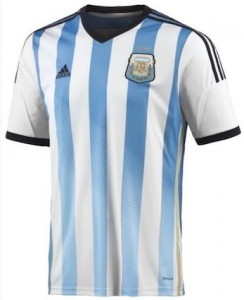 football pitches, and today the Argentina football shirt 2014 is proudly bestowed by no other than Lionel Messi.
Argentina was touted as being one of the main competitors for the 2014 FIFA World Cup trophy. They have made it to the quarterfinal stage but few will be shouting over their successes so far. Weak performances, and extra-time goals have got them this far, but the team wearing the Belgium football jerseys is looking good, and may easily end the Argentines trip to Brazil.
Whichever World Cup nation you are supporting, it has been one of the best tournaments to date with non-stop action and goal scoring at every match. There is still time to celebrate this momentous 20
th
FIFA World Cup by shopping for World Cup soccer jerseys online at Soccer Box. We still have stock for many of the quarterfinal teams so place your order today!
Undefeated Group Champions
Both Argentina and Belgium finished top of their respective groups, F and H. However, one team stormed to victory looking like potential champions, the other meandered slowly not looking like certain victors. Many would assume that Messi and his teammates wearing the Argentina football shirt 2014 would be the ones storming the pitch, but not so, Belgium is looking like the winner based on recent performances.
Argentina faced Nigeria, Iran, and Bosnia and Herzegovina in Group F. Not much of a challenge for a 2 time winning nation with Lionel Messi, Pablo Zabaleta, Angel di Maria and a host of other star names on the roster. However, they struggled to a 2-1 win against Bosnia and Herzegovina in their 1
st
game. Their 2
nd
game was almost an embarrassment but for a 91
st
minute Messi goal securing a 1-0 win over Iran. Their final group tie against Nigeria was a fraught, goal scoring frenzy that eventually left Argentina as winners.
Group H wasn't that much more of a challenge for Belgium; they were drawn alongside Russia, Algeria and South Korea, and were pitted as group favorite from the start. Late goals in all their games gave Belgium 3 wins, 9 points and a 1
st
place finish. Although late goals won the games, the difference is that Vincent Kompany and the rest of the squad sporting the
Belgium football jerseys
played mesmerizing, game winning football.
Extra-Time Fantastic
The Last-16 round of the 2014 FIFA World Cup was packed with tense, exciting games that went to the last minute to settle the action. Of 8 games 5 went to extra-time, and 2 to penalties. Both the matches involving Argentina and Belgium ran for an extra 30 minutes to find a winner.
Argentina met Switzerland in their knockout game; the teams were closely pitted being ranked 5 and 6 by FIFA respectively. Argentina had the best of the possession and more shots on goal but struggled to convert any chances. They looked out of sync and disorientated at times and the score line remained 0-0 after 90 minutes. The number 7 Argentina football shirt of Angel di Maria saved the day with a 118
th
minute goal that secured their place in the quarterfinal.
The Belgium football jerseys met those of the USA in their 1
st
knockout tie, and it may be described as one of the most entertaining games of the tournament so far. At full time the score was 0-0 but not for want of trying. Both teams had numerous shots on goal, Tim Howard, USA goalkeeper, actually set a new record for number of saves made in a World Cup match. The 30 minutes of extra-time was explosive and action packed, a 3 goal scoring frenzy that ended 2-1 and assured a place for Belgium in the quarterfinal round.
Quarterfinal Prospects
The betting odds are showing the Argentina football shirt 2014 as most likely to make the win, and secure a semifinal place. Historically, Argentina is often slow to start at World Cup tournaments but by the quarterfinal, with a settled team and strategy, they pick up the pace and storm the field. However, only the foolish would rule out the Belgian soccer team. Their strong performances and team cohesion might yet beat the mighty Argentineans to a place in the semifinal.
Whichever team wins this tie is likely to face the Netherlands assuming they beat Costa Rica. Are you ready for more World Cup action? If not head over to Soccer Box where we still have limited stock of the
Argentina football shirt
.