The Arsenal football club has been playing in good, but not great fashion throughout the 2014 2015 Premier League so far. The soccer team has only lost two matches-one against Chelsea and one against Swansea City-but they haven't been exactly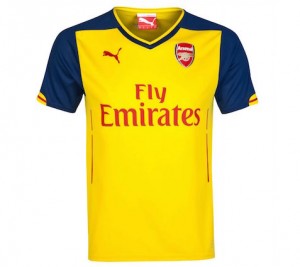 lighting up the season with victories either. Now, with one of their stars (Mesut Ozil) out for seven more weeks with an injury, Arsenal will likely be thinking long and hard about midseason transfer prospects. Grab an Arsenal kids kit today, and get engaged with the potential lineup changes today, before they happen!
You can find the kids kit or adult kit you are looking for at Soccer Box! We have a wide range of Arsenal football gear, whether you are searching for a home shirt for yourself, or eyeing the Arsenal youth away shirt 2014 2015 for one of your kids. Just visit our soccer store online and decide which youth kit or adult shirt is right for you!
Ozil's Absence
Perhaps one of the biggest factors behind Arsenal's weaker-than-average season so far has been the absence of Mesut Ozil. The attacking midfielder has been playing at Emirates Stadium since fall 2013, when he transferred from Real Madrid. He was also a star in the 2014 World Cup this past summer, scoring one goal and creating 15 other scoring chances to help the German national football team win the entire tournament.
Clearly, Ozil would be an asset to any soccer squad. In fact, if your kids are wearing the Arsenal kids kit this fall, chances are that the German midfielder is one of their favorite footballers.
With that said, Mesut won't be wearing the Arsenal home shirt or away kit again any time soon. The footballer has been sidelined since early October, and recently said that he will miss an additional seven weeks on top of his original five-week break. That means that he likely won't be back on the pitch until 2015.
Looking for Transfers
In other words, young fans in the Arsenal youth away shirt 2014 2015 will have to choose other players from the Gunners squad as their heroes this fall. Come January, not only will Ozil be back, but there may be other potential heroes donning the red home jersey or yellow away kit for the first time.
Indeed, like every other club in football right now, Arsenal is beginning to mull over options for midseason transfers. Officials will look at the current lineup, highlight any flaws with the squad, and then attempt to fill them with outside players.
So who are the Gunners hoping to acquire? Who could the youth supporters in the Arsenal kids kit be cheering for come the early months of 2015?
Rumored Prospects
At this point, most of what is being said about transfers is just rumor, which means that all or most of it could end up not happening. However, Arsenal is reportedly looking at a number of prospects right now, including Christoph Kramer, Dani Alves, and Talisca.
All of these footballs would make strong additions to the Gunners squad. Alves, in particular, could be a big inspiration to young fans in the Arsenal youth away shirt 2014 2015. The 31-year-old Brazilian right-back has been a key component for the Barcelona FC club for seven years. He is also an ambassador for the Special Olympics, and an all-around good guy who pushes to include those with disabilities in sport. He would fit in well at Emirates Stadium.
Kramer and Talisca, meanwhile, are younger players who could bring some new youth and energy to the Emirates. Kramer is a defensive midfielder who has been helping Borussia Monchengladbach toward a banner 2014 2015 season so far. Talisca is a striker for the Portuguese club Benfica. He's scored eight goals in nine appearances this fall, and could be the next offensive star for the game of football.
Will Arsenal get any or all of these footballers? We won't know until January, but you can keep an eye on the transfers-and cheer for the Gunners, of course-by purchasing a new
Arsenal kids kit
at Soccer Box. We have numerous youth home kit and away shirt items, as well as adult kits.