The autumn is rolling in, which means more than falling leaves for Arsenal fans. It also means chilly, brisk days spent at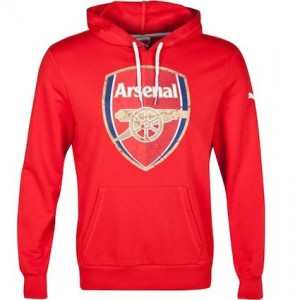 Emirates Stadium cheering on this year's Arsenal squad toward victory and Premier League success. For that kind of weather, Arsenal Puma training kit products are the ideal garb, and we've got plenty of team training gear available at Soccer Box to keep you warm and comfortable all autumn long!

One of our favorite pieces of Arsenal training gear this season is the Arsenal red hoodie 2014 2015. A comfortable and well-made sweatshirt from Arsenal, this hoodie was manufactured by kit manufacturer Puma to keep Arsenal players warm on the sidelines and during warm-ups before matches. With a bright red color that screams "Arsenal," not to mention the Arsenal crest, which is featured largely and proudly on the front of the sweatshirt, this hoodie is perfect for all fans planning on attending Arsenal fixtures this fall.

Pre-Match Jersey

While the hoodie might be the best piece of Arsenal gear to own for the autumn, it's not the only training product we have available at Soccer Box. On the contrary, our product selection includes numerous other training items.

One of those is the Arsenal Puma training kit itself, a pre-match jersey that you will see Arsenal players wearing in the lead-up to regulation play at upcoming fixtures. The jersey is a sleek and modern-looking red and blue shirt that is as striking as the jerseys that most teams wear during actual matches!

This training kit is also perfect for exercise, as it is crafted with Puma's patented coolCELL technology. Puma's coolCELL innovation is meant to maximize air circulation and minimize sweat and overheating. It uses a special mesh structure to support quick evaporation of moisture to keep the skin cool and comfortable.

In short, the Arsenal Puma training kit is designed specifically to keep players from breaking a sweat or overheating before the proper match starts. It's an ideal option for runners or other active fitness buffs who want to show off their support for the Arsenal football club while getting their workout in every day!

Other Training Gear

So beyond the pre-match training kit and the Arsenal red hoodie 2014 2015, which other pieces of Arsenal-branded training gear are currently available for purchase at Soccer Box?

For one thing, there are three versions of the coolCELL pre-match jersey available this season. In addition to the aforementioned red and blue design, there are also yellow and light blue variations of the jersey. Don't be surprised if you want to collect all three after you realize just how exquisitely comfortable the first one is!

We also have a number of rain, leisure, and anthem jackets available to go along with your Arsenal red hoodie 2014 2015. These jackets have different looks and are worn in different situations, but all feature the dedication to quality that you have come to expect from Arsenal and Puma merchandise.

Finally, complete your Arsenal training outfit with a pair of warm up pants! It's not always warm enough at Emirates Stadium to wear your football shorts to the match, so having another option that still matches the rest of your Arsenal football gear is a good idea!

Season Prospects

If you're planning on buying a lot of Arsenal gear, then you likely have confidence that the team will be winning a lot of matches this season. But what do Arsenal's prospects actually look like in the 2014 2015 Premier League.

Unfortunately, Arsenal's season hasn't gotten off to the best start, with most of the team's early matches ending in draws rather than wins. However, since many of Arsenal's biggest football competitors including Liverpool, Manchester United, and defending champions Manchester City have also had lukewarm season openings, it's unlikely that Arsenal's chances of victory or success in the Premier League have been dampened at all.

Do you think Arsenal is ready to win its first Premier League title in more than a decade? Stop by Soccer Box today and check out the Arsenal Training kit, as well as all the other training gear we currently have available for purchase.