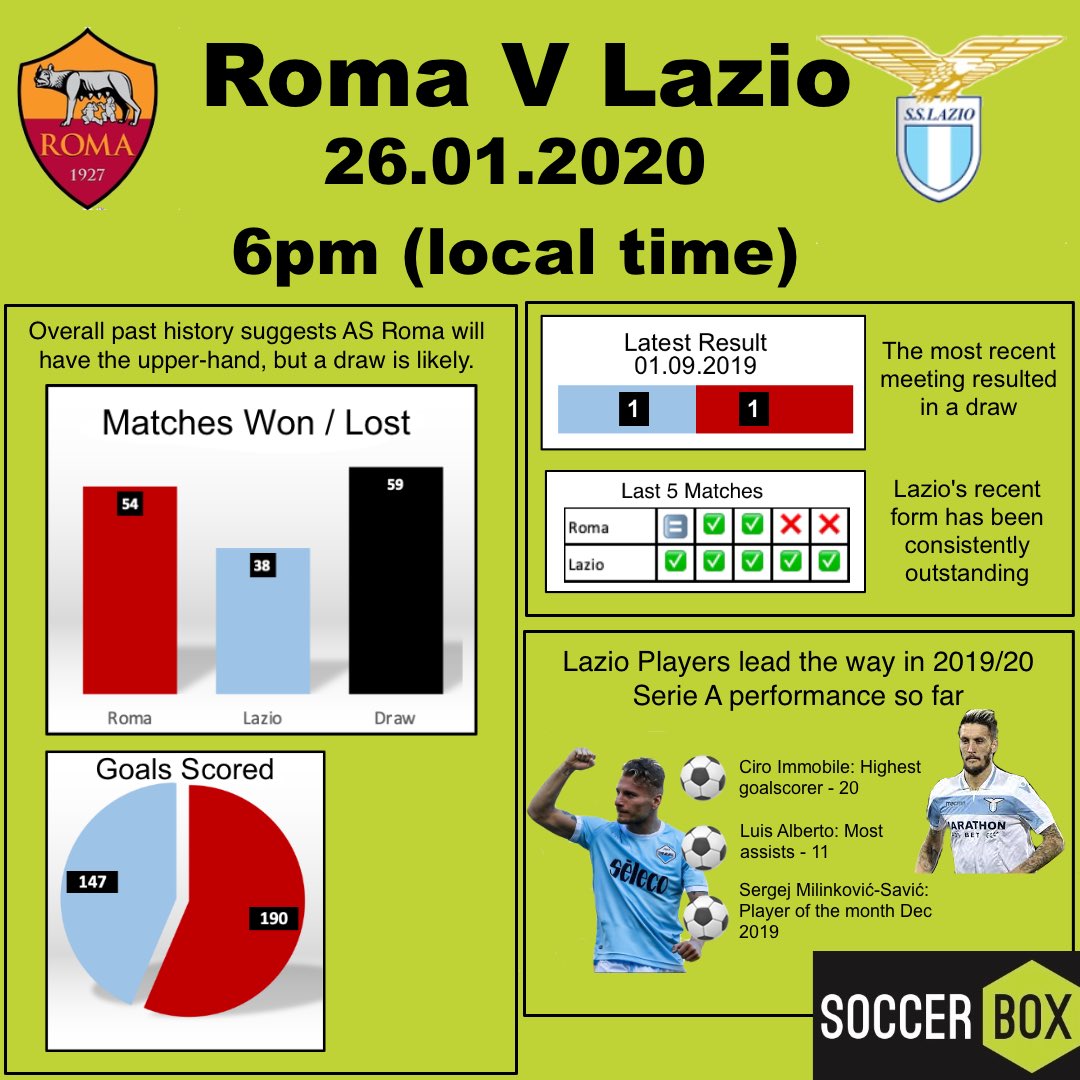 Lazio and Roma are set to go head to head on the 26/01/2020 as part of the 19/20 Serie A tournament. With one match already played, this is their last game together for this season, so how do you think it will go? Will Roma or Lazio be victorious at the end of the match? In preparation for this fixture we have put this article together to discuss each club's performance and try to gauge an insight on which side is likely to be the winner. To find out more, keep on reading!
Lazio's Performance in the Serie A Tournaments
In 2020 Lazio is celebrating their 120th anniversary earlier this month as they were founded on the 9th January 1900. With the heightened anticipation of this anniversary, could we expect spirits to be high for the club and its players as they continue tackling the Serie A tournaments ahead? Their last five Serie A matches for this season have been impressive as they have secured a win for every single one. See the breakdown below.
Latest Five Serie A Matches for 2020:
Lazio (3) V Udinese (0)
Lazio (3) V Juventus (1)
Lazio (2) V Cagliari (1)
Lazio (2) V Brescia (1)
Lazio (1) V Napoli (0)
As we can see from the results above, it is apparent that Lazio have been doing considerably well recently in the Serie A tournament for 2019/20. This breakdown above shows that they have won their last five matches against big names in Italian soccer such as Juventus and Napoli.
Looking further back to the beginning of the season up until now, Lazio has had an outstanding track record which saw them win 13 out of 18 matches with 2 losses against SPAL and Inter Milan, plus three draws with Roma, Atalanta and Bologna. If this is anything to go by, then we expect Lazio to put up a good fight during their upcoming match with Roma.
Lazio have always struggled to maintain a top spot in the Serie A tournament due to stronger sides such as Int
Read more »