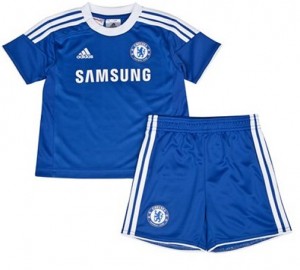 While most eyes in the soccer community are currently looking forward to the summer and the 2014 FIFA World Cup tournament that it will bring, club football is still proceeding along as normal. One team currently making a strong showing in England's Premier League division (as well as in the UEFA Champion's League tournament) is the Chelsea football club. With that in mind, why not pick up a baby Chelsea kit for your little one to push the London team toward a strong season finish?

When you shop at the Soccer Box online store, you will be amazed at how easy it is to find precisely what you are looking for, be it adult-sized jerseys or soccer shirts for kids. Soccer Box even has items designed for babies and toddlers, like the Chelsea baby home kit 2013 - 2014. With a selection this varied, you will be able to outfit the entire family in the regalia of your favorite football club!

Chelsea Football Club Shoots for Premier League Victory

What better club for the whole family to root for right now than Chelsea? Now is the perfect time to buy a baby Chelsea kit for the youngest soccer fan in your family, not to mention Chelsea gear for the older crowd as well.

London's Chelsea football club is currently fighting hard to earn fan support. The team currently has a strong hold on second place for England's Premier League standings, with 24 wins, 6 draws, and 5 losses netting the team a seasonal total 78 points. With a strong and consistent seasonal performance like that, it's no surprise that the Chelsea baby home kit 2013 - 2014 has been a popular Soccer Box seller this year.

Furthermore, the team that Chelsea is currently trailing in the Premier League rankings, Liverpool, is only ahead by two points. Last weekend, Chelsea defeated Liverpool in a 2-0 match on the latter team's home pitch. Just a few more solid victories like that one and Chelsea could be on track to take the lead and the Premier League title all in one fell swoop. Chelsea last won the Premier League for the 2009 2010 season.

Champion's League Disappointment

If the Chelsea football club is going to manage a victory in this year's Premier League, however, it will have to do so without the momentum of international victory. Until just recently, Chelsea was showing immense promise in the UEFA Champion's League.

In fact, for a moment there, many soccer fans and prognosticators from around the world wondered if Chelsea might be able to clinch its second Champion's League victory in three seasons. The team previously won the tournament in 2012. Early in the Champion's League, Chelsea toppled Galatasaray (in the round of 16) and Paris SG (it the quarterfinals).

Unfortunately for Chelsea fans, though, the team could not carry its momentum forward into the semifinals. Facing Atlético Madrid, Chelsea found itself in a 0-0 draw in the first leg of the semifinals, leaving the second leg as a winner-take-all, high-stakes match-up.

When the second leg of the semifinals ended in a 3-1 score in favor of Atletico Madrid, the Chelsea football club was eliminated from Champion's League contention. Atletico Madrid will now face off against its hometown rival, Real Madrid, in the tournament championship match.

But even though UEFA glory has slipped through the cracks, Chelsea still has plenty of potential on the national stage, and fans of the team will want to have plenty of team gear on hand to cheer their team toward a trophy. Since it's definitely the most fun to have the entire family in uniform, make sure to buy a Chelsea baby home kit 2013 - 2014 (and an away kit, if you like!) for your toddler or infant.

Even if the Chelsea football club fails to win the Premier League title, though, it will still be worth having a baby Chelsea kit or a piece of 2013 2014 gear to remember this terrific season. So stop by Soccer Box today and see what gear catches your eye.