For most football clubs, the motto is fairly unimportant. Even the most ardent of fans could be forgiven for not knowing theirs. If visible at all, it usually sits on or around the club crest in small font. The motto is out of sight, and out of mind. Barcelona aren't most football clubs, however. Indeed, according to their own motto, they are 'More Than A Club'.
These words – 'Mes Que Un Club' – aren't trivial; they have embodied the club throughout its long and storied history and are considered to be so essential that they are painted into their stadium's seats. Fans can't help but notice the motto when they enter the Camp Nou.
Barcelona are more than a football club in the sense that they represent something beyond the pitch. They are, for many, a cultural symbol of Catalan nationalism. Hence, following the fallout from the Catalan independence referendum in 2017 that saw voters beaten by Spanish police, former Barca captain Xavi Hernandez came out publicly to state his dismay, saying: "It is inadmissible that in a democratic country people cannot vote." He, like so many other people linked to the club, is also linked to Catalonia.
Barcelona and Shirt Sponsorship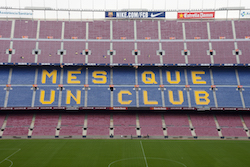 The visual representations of Barcelona's uniqueness as a football club have not always ended with the stadium and the motto. The colours have always been some form of blue and red, although nobody has a clear explanation as to why. What isn't possible to misunderstand, however, is that for much of the club's history they decided against having sponsorship on their shirts.
This decision only furthered the 'Mes Que Un Club' brand. The lack of a sponsor emblazoned across the shirt was an invisible yet loud message stating that Barca were not like everyone else. While other top teams stumbled over one another in a bid to rake in the highest amount of cash from the hungriest potential sponsor, the Catalan giants avoided this commercial pursuit entirely.
Prioritising tradition over money was a powerful and noble stance, but, like all good things, it came to an end eventually. However, when it did, it arguably made way for something even better. In 2006, having just won their first Champions League since 1992, as well as a second consecutive La Liga title, Barcelona chose the United Nations International Children's Emergency Fund (Unicef) as their first-ever shirt sponsor.
Barcelona in Support of Unicef
At a time when their global brand appeal was greater than it had been in decades, they opted not to cash in, but to cash out. They agreed to pay Unicef $1.5 million per annum; in return the Unicef logo would adorn the front of the club shirt. Club president Joan Laporta said that: "Through Unicef, we, the people of FC Barcelona, the people of 'Barça', are very proud to donate our shirt to the children of the world who are our present, but especially are our future."

Generally, football clubs are paid to advertise an organisation or product on their shirts, not the other way around. Additionally, the organisation sponsoring is highly unlikely to be a charitable one. With this in mind, Barcelona's partnership with Unicef only furthered their image as special. Once again, they chose to stand for something outside of the football itself. Three seasons into this agreement, the club achieved something truly special on the pitch.
Pep Guardiola Arrives at Camp Nou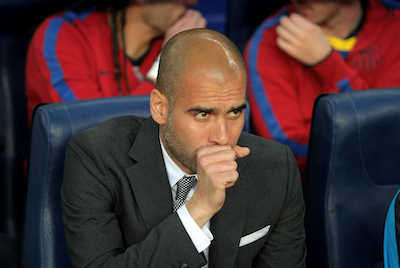 In the summer of 2008, Pep Guardiola took charge at the Camp Nou. Born and raised in central Catalonia, Guardiola had played for the club at youth, C, B and first team level, before his first foray into management with the B team in 2007/08. Now he would lead the senior squad, and nobody could claim to have a better understanding of the way things worked at Barca.
Some of his first decisions were key to the success that followed. He got rid of underperforming star names such as Ronaldinho and Deco. At the same time, home-grown youngsters such as Gerard Pique – brought back to the club from Manchester United – and Sergio Busquets – promoted from the B team – became key first teamers. In making this jump they followed in the footsteps of Victor Valdes, Carles Puyol, Andres Iniesta, Lionel Messi and the aforementioned Xavi, all of whom they joined in the senior squad.
Guardiola built upon the understanding many of these players had developed at youth level and implemented his own attacking style of play. His Barcelona would build from the back, they would combine at speed, they would rotate positions, and they would counter-press rigorously. They swarmed, suffocated and out-manoeuvred almost all before them that season, and did so while wearing a wonderful kit.
Home Kit Styling

Not only did they promote Unicef every time they took to the pitch, but they wore a shirt with a different design to their classic vertical stripes. The 2008/09 edition was simple, but significant. One half was blue; the other half was red. This design reminded many of the club's iconic centenary shirt of 1999/00, albeit the colours were the other way around.
This was arguably the season that saw Messi the budding starlet become Messi the hero. The previous season he had hit 10 league goals, and he had never found the net more than 17 times in one campaign. In 2008/09, thanks partly to Guardiola's influence, he scored 38 goals in 51 outings. Three of them helped to down fierce rivals Real Madrid – one in a 2-0 home win, and two in a 6-2 thrashing at the Santiago Bernabeu that all but sealed the league title.
2008/09 Treble for Barca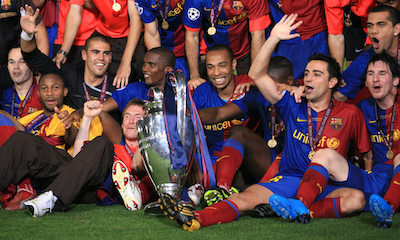 The campaign culminated with Barcelona's first treble of La Liga, Copa del Rey and Champions League trophies. The latter piece of silverware was assured by a 2-0 win over Sir Alex
Ferguson's Manchester United in the final. In the build-up to that event in Rome, some had pointed to Messi's lack of height and aerial ability as a weakness. The diminutive Argentine scored the match-winning second with a header.
Guardiola's Barcelona would become immortal over the following three years, winning two more La Liga titles and another Champions League before the manager moved on. However, by the time he left some of the magic had faded – not only did they finish second in the league in his last season, but they did away with Unicef as their primary shirt sponsor.
Mes Que Un Club
Giving fuel to the cynics, former club General Manager Ferran Soriano later suggested that the sponsorship agreement was built just as much on business strategy as it was on good will. "It is fair to say that the Unicef/Barcelona brand synergy was one of the key factors in the spectacular growth of the fan base and the club's earnings during 2006 to 2010," he said in December 2011.
The aftertaste may have been sour, but Barcelona would remain one of the world's most popular and consistently successful football teams. And, while some outsiders may now question the meaning behind the Barca motto, such pessimism was hard to support in 2008/09. If only for that one season, they truly were more than a club.
This article was written exclusively for Soccer Box by Blair Newman. Shop with us for all your official Nike Barcelona home shirts, away and training kit.