Few football clubs in history have had quite the frustrating run that Bayer Leverkusen have. On July 1st, the team marked its 111th anniversary. And yet, in those 111 years, Bayer have never once won a national championship. They've come close, of course, landing in second place on the Bundesliga table on numerous occasions. But Leverkusen's consistently thwarted attempts at title victory have become the source of many jokes and superstitions in German soccer, and you can bet that the football club's long-suffering fans are tired of it. Keep reading this Bayer Leverkusen team profile to find out more about the team's long and interesting history.

Always a Bridesmaid, Never a Bride

If there's an association football of the old "always a bridesmaid, never a bride" superstition, it's Bayer Leverkusen. Quite often, the team does very well in the Bundesliga regular season, only to have their title hopes thwarted by teams like Bayern Munich, Borussia Dortmund, and others.

Most recently, Bayer's hopes were crushed during the 2010 2011 campaign, when they finished in second place on the Bundesliga standings table to a triumphant Borussia Dortmund team. The loss wasn't particularly close: Dortmund had a point total of 75 and a goal difference rating of +45, while Leverkusen trailed at 68 with a +20 GD. Bayer did, however, finish ahead of Bundesliga defending champions Bayern Munich-a consolation prize of sorts for the runner-up team.

That certainly wasn't the first time Leverkusen had been left to make do with a consolation prize. In fact, in the past two decades alone, they've reached the runner-up slot five times, without ever ascending to the top. Bayer finished as runner-up to Bayern Munich in 1997, 1999, and 2000, and to Borussia Dortmund in 2002.

"Neverkusen"

It's almost a toss up to determine which of those years brought the most disappointment to fans in the Bayer Leverkusen jersey. Aside from 1999, which was a distant second place finish (Bayern won with a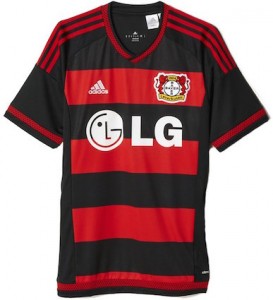 78-point total, while Leverkusen finished second with 63), Bayer came so close to the title each year that missing it and coming in second was arguably more disappointing than a finish further down the table would have been.

In 1996 1997, Leverkusen finished second with 69 points-just two behind Munich and their tally of 71. They had easily the best player of the season, with striker Ulf Kirsten leading the Bundesliga with 22 goals. (Bayern Munich's top scorer, Jurgen Klinsmann, only netted 15.) In the end, though, Munich just had the stronger team overall, and walked away with their 14th German title while Leverkusen continued on empty-handed.

The 1999 2000 season was an even closer call, with Bayern Munich and Bayer Leverkusen ending the season tied at 73 points apiece. If Bayer had won their final fixture-against the low-ranked Unterhaching-they would have won their first title. But an own goal derailed Bayer's confidence and led to a 0-2 loss, giving Munich the chance to tie the point tally and win the championship on superior goal difference.

But the 2001 2002 "treble horror" has to take precedent as Bayer Leverkusen's biggest disappointment. Leading into the final three matches of that year's Bundesliga campaign, Bayer were up five points in the division. But losses in two of those three matches killed the soccer club's momentum and gave Borussia Dortmund a chance to take the lead. Dortmund ultimately won by a single point.

To add insult to injury, Leverkusen had the setup for a treble victory that year, but failed to win even one piece of it. They lost the DFB Pokal 2-4 in the final, to Schalke 04, and fell 1-2 to Real Madrid in the UEFA Champions League. To this day, Leverkusen remain the only football team to reach the Champions League final without ever having won a national championship in their own country.

Following that disastrous season, some labeled Bayer as "Neverkusen"-as in, the soccer club that will never catch a break or win a title. In the past decade-plus, they haven't done anything to disprove that title. The 2014 2015 season was strong for the club, ending with a fourth place finish in the Bundesliga and solid runs in the DFB Pokal and Champions League tournaments. Still, though, Leverkusen remain the perennial bridesmaids of soccer.

Pick up a brand new Bayer Leverkusen jersey 2015 2016 and cheer for the team to break their curse with a Bundesliga victory next season.