The 2014 FIFA Ballon d'Or Award for best footballer of the year was ultimately given to Real Madrid's Cristiano Ronaldo for the second year in a row. Arguably the bigger story was how close Bayern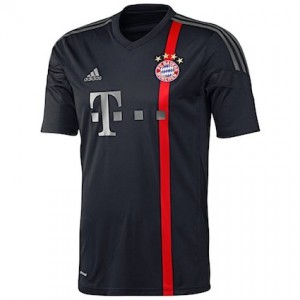 Munich goalkeeper, Manuel Neuer, came to nabbing the prize. The keeper did remarkable work in 2014, both in the Bayern Munich strip and in the German national team football jersey, and many felt his performance deserved the Ballon d'Or over flashier play from the likes of Ronaldo and Messi.
Neuer may have ultimately come in third place for the Ballon d'Or this year, but many football analysts are confident that the dynamic goalkeeper will eventually get his due. In the meantime, you can celebrate his efforts and his team by picking up a brand new Germany home strip or Bayern Munich third shirt 2014 2015. We have both shirt types-along with a range of other jerseys and additional merchandise-available for purchase at Soccer Box.
Manuel Neuer's Unbeatable 2014
Reports say that Manuel Neuer ultimately scored 15.72 percent of the vote for the Ballon d'Or, while Lionel Messi edged him out narrowly with 15.76 percent. Ronaldo, meanwhile, was the decisive winner, with 37.66 percent.
It wasn't surprising that FIFA went with Cristiano for the big prize. The Portuguese striker battled injury in 2014, but still managed to appear in 43 matches and score 52 goals along the way. Furthermore, the in-progress 2014 2015 Real Madrid season has been one of his best ever, suggesting that we could be seeing him claim FIFA's highest honor again a year from now.
But while Cristano and Lionel may have scored a lot of goals in 2014, neither of them saw as many notable victories as Neuer. Not only did the goalkeeper help drive Germany to a World Cup victory in Brazil, but he also helped the wearers of the Bayern Munich strip to their second straight Bundesliga soccer title.
A Look at Superlatives
Trophies alone don't make the greatest football player in the world. Luckily, the goalkeeper in the Bayern Munich third shirt 2014 2015 has the soccer stats to back up his claim for that title, as well.
In 2014 alone, Manuel played 51 games. He managed clean sheets in over half of them (28) and made 122 saves-many of them remarkable, diving feats of athleticism. He has also been rightly praised for his willingness to stray far from the goal to help the rest of his team's defensive lineup, when needed. Some proponents have even praised him for "redefining" and "revolutionizing" the way the goalkeeper position is played.
One need only look at Bayern Munich's 2014 2015 statistics to understand how vital Neuer is to the team. During the first half of the season, the club played 17 games. Of those, they won 14, drew three, and lost zero. The next team on the table (Wolfsburg) has four fewer victories and three additional losses. Needless to say, it's been a proud time to be a fan in the Bayern Munich strip.
The squad's scoring statistics are even more impressive. In 2014 2015's 17 games, they've scored 41 goals, and Neuer has only let
four
points pass him. No football club on the planet can compete with that stat, and that's because Manuel Neuer is almost inarguably the greatest goalkeeper in football right now.
Ballon d'Or Chances?
Still, will the goalie behind the Bayern Munich third shirt 2014 2015 ever earn a Ballon d'Or title? It's hard to say. After all, Messi and Ronaldo have been monopolizing the Player of the Year prize since 2008. The last time someone other than those two won the award was 2007, when Brazil's Kaka was named the best in the world.
It's not difficult to see why FIFA has opted to shower these two with decoration. Strikers, after all, are usually heralded more than goalkeepers or defenders, and both Lionel and Cristiano are among the best strikers to ever play the game of soccer.
Still, after his excellent performance in 2014, Manuel Neuer may have deserved to be hailed as the year's greatest soccer star. With that said, a third place honorable mention isn't a bad consolation prize.
Could Manuel steal the title away in 2015? Time will tell, but you can support him and his squad today with a new
Bayern Munich strip
from Soccer Box. Whether you are looking for a home strip, a third shirt, or a goalkeeper shirt, you can find it here.