In theory, the top teams in the English Premier League should be the ones to dominate the equally English FA Cup. After all, the tournament pits clubs from every tier of English football against one another, leading eventually to the victory of a single soccer team. Sometimes, the victor is a top-flight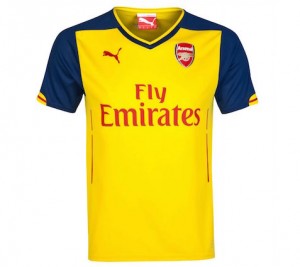 premier division fixture: after all, Arsenal took its 11th title in the tournament last year. Other times, the winner is a lesser-known club from a lower division. There may not be a less predictable event in professional football, as evidenced by the recent elimination of teams like Chelsea and Manchester United. However, the Gunners are still in contention, and you can root for them today with a new boys Arsenal shirt, available at Soccer Box!

Soccer Box has a wide selection of Gunners gear available. If you are shopping for a boys shirt, check out the Arsenal kids away jersey 2014 2015. This miniaturized version of the club's yellow and blue away shirt is perfect for young kids who adore the soccer squad from Emirates Stadium. Best of all, this boys away jersey is currently available for a discount 15% off price! Also currently discounted, for 20% off, is the adult away shirt. Stop by our site and check out our stock of kids and grown-up football gear today!

Arsenal at the FA Cup

In the 2013 2014 FA Cup, Arsenal bested Tottenham Hotspur, Coventry, Liverpool, Wigan Athletic, and Hull City en route to a tournament title. It was the fourth time since the turn of the century that the Gunners had won the classic association football event, and the 11th time overall.

The count of 11 is a record for the Football Association tournament, though Manchester United has also won the same number of times. And after a big away win at Brighton & Hove Albion this past weekend, the Gunners have a very real chance to score a record-breaking 12th win. Make sure you have the proper boys Arsenal shirt or full-sized away jersey to cheer the squad toward that victory!

The fact that Arsenal's chances at defending their 2013 2014 title survived the weekend was impressive. This isn't because the 2014 2015 Gunners lineup is weak, but because the vast majority of the top Premier League football clubs suffered unexpected defeats over the weekend.

Surprising Outcomes

Indeed, it was a weekend of upsets in the 2014 2015 FA Cup. Manchester City lost to Middlesbrough; Chelsea was defeated by Bradford; Tottenham Hotspur was upset by Leicester City; Southampton was dealt a loss by Crystal Palace; and Manchester United ended up in a surprising scoreless draw with Cambridge United.

Fans in the Arsenal kids away jersey 2014 2015 will, of course, be glad that their squad was one of the few bright spots for the Premier League in the tournament's fourth round. For any soccer viewers, though, these outcomes were unexpected. After all, all of these teams-from Man United to Chelsea to Southampton-were strongly favored to win their fixtures.

Shocking outcomes do happen at the FA Cup, though. In 2012 2013, Wigan Athletic-now a member of English football's second tier-beat the wearers of the Manchester City shirt to win their first title. And in 2008, the four teams to reach the semifinals were Portsmouth, West Bromwich Albion, Barnsley, and Cardiff City: not a single "heavyweight" team in the bunch.

Will 2014 2015 see a similarly unpredictable semifinal draw? It's possible, as some have called this year's event the widest open in history. Still, fans in the boys Arsenal shirt may just see the Gunners push for another title.

That certainly looked like a possibility this past weekend, as the Arsenal soccer squad scored two goals in the first 25 minutes en route to a 3-2 away win over Brighton & Hove Albion. The score suggests a close contest, but Arsenal was strong, self-assured, and in control throughout the entire fixture, and did just enough to win easily. It was a show of true football excellence, and one you can celebrate today with a brand new Arsenal kids away jersey 2014 2015 or adult home kit today!

Both kids and adult jersey designs can be found for sale at Soccer Box. Whether you are looking for a boys Arsenal shirt or a full-sized away jersey, you can find it here!