It wasn't so long ago that FC Nuremberg were winning the DFB Pokal (in 2007) or finishing in sixth place in the Bundesliga division, just one slot away from Europa League qualification (in 2011). But recent years have not been kind to the football club. At the end of the 2013 2014, following a 17th place finish in that year's Bundesliga campaign, the Nuremberg squad (famously nicknamed "the Old Master") were relegated down to 2. Bundesliga. The 2015 2016 season we be the soccer club's second consecutive year in the lower-tier division. We ask can FC Nuremburg secure Bundesliga promotion this season?

At Soccer Box, we have brand new stock of the FC Nuremberg football shirts 2015 2016 available for purchase. Kit manufacturers Adidas make the home and away jerseys. The home shirt boasts a simplistic and traditional burgundy design. If you believe that the Old Master has a chance at scoring promotion back up into the Bundesliga in 2015 2016, then pick up one of these new home or away shirts today!

Relegation Record

While their nickname may be "the Old Master" among fans, FC Nuremberg have another alias among
many followers of German soccer. Following their eighth relegation to 2. Bundesliga, after the 2013 2014 season, Nuremberg became the most relegated team in the history of German association football.

On the surface, such a tag isn't the kind of status a football club would want. Relegation is seen as a source of shame. It's the ultimate mark of a bad season or poor management, and it often leaves teams without the resources or bargaining power that they need to draw talented players and build toward success. In other words, relegation becomes something of a vicious cycle, because the clubs that are relegated are typically the clubs least likely to be able to make substantial improvements the next season, and thus secure promotion.

Nuremberg's status as the most relegated team in German football, though, shows a team that has fallen down many times, but also one that continues to get back up. As such, if there's any team in 2. Bundesliga that seems ripe to secure promotion in the next few years, it's the Old Master-just because the team has gone through this process so many times.

The 2013 2014 Campaign

With that said, the 2013 2014 run was a particularly disastrous one for the wearers of the FC Nuremberg shirt, and it's one that won't soon be forgotten at Stadion Nurnberg.

By the time the 2013 2014 campaign rolled around, Nuremberg were celebrating their fifth consecutive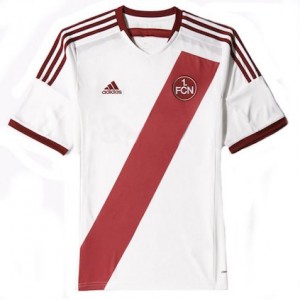 season in the Bundesliga division. For a soccer team with a reputation for getting relegated, the Old Master seemed to be in pretty good health coming into that year.

Very quickly, though, it became evident that 2013 2014 wasn't going to be the Old Master's year. By the time the Bundesliga took its mid-season break before Christmas, Nuremberg had played 17 games-and hadn't won a single one of them. The team won four of their first five matches in 2014, beating Hoffenheim, Hertha BSC, Augsburg, Eintracht Braunschweig to turn things around slightly.

Ultimately, though, it was just a temporary reprieve. Nuremberg lost 11 of their final 12 games, finishing the season with a dismal record of five wins, 11 draws, and 18 losses. They came in 17th out of 18 teams, but even the club they beat-Eintracht Braunschweig-had more wins.

The 2. Bundesliga

The poor performance dropped the Old Master into German football's second division, and unfortunately, the squad didn't find much success there either. The 2014 2015 season still brought more losses (15) than wins (13), and FC Nuremberg ultimately finished in ninth place in 2. Bundesliga.

The question is, when players return next season and don the FC Nuremberg home shirt 2015 2016 for another shot, will they be able to better their performance enough to get out of the 2 Bundesliga and secure promotion? Or are they more likely to spend another season or two in the second division.

Based on last season's performance, the Old Master might still need another season or two to recover from the fallout of the disastrous 2013 2014 campaign. Then again, with coach Rene Weiler at the helm for the second year in a row, perhaps the club can find some consistency, get into a groove, and start winning games consistently again.

Root for the Old Master today, with a new FC Nuremberg shirt 2015 2016 from Soccer Box.