9th April 2016.
The last time Hertha Berlin qualified for the UEFA Champions League, it was 1999. As with so many other seasons, the 1998/99 Bundesliga campaign ended with Bayern Munich topping the table by a considerable margin. The battle for second place, though, was quite close, with Bayer Leverkusen eking out the runner-up finish with a point total of 63. Hertha BSC trailed just one point behind, beating Borussia Dortmund by five points for a podium position.
That strong finish came in the midst of a surprisingly strong period in the Old Lady's history. Just two years previously, Hertha Berlin had been playing second-tier football. In 1998, they sputtered to a middle-of-the-road 11
th
place finish in the Bundesliga. But from 1999 to 2003, Hertha Berlin landed in the top six every season?always notching European qualification.
Of that strong five-season run, though, the 1999/2000 campaign was the only year that saw the Old Lady competing in the Champions League. And unfortunately, things didn't exactly go great for the Bundesliga's sudden Cinderella story. Hertha Berlin
did
manage to fight their way through the first group stage, beating out Galatasaray and Milan for a chance to progress. The second group stage, though, saw the Blue-Whites failing to get a single win. Drawn into a group with Barcelona, Porto, and Sparta Prague, Hertha BSC finished fourth and bowed out of the tournament before the quarterfinals.
Another Chance at Long Last?
Ever since that limp exit from the 1999/2000 Champions League, Hertha Berlin have not made a return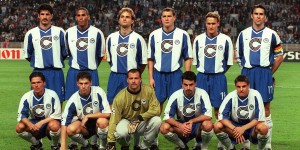 to the tournament. They've featured in the Europa League eight times since then but haven't been able to get beyond the round of 16.
From the looks of it, though, the Old Lady might at long last get another chance at the Champions League in 2016. Right now, with 28 games played and six to go, the Blue-Whites are sitting third on the Bundesliga table. They have a record of 14 wins, six draws, and eight losses, good for a point total of 48.
48 points with six games to go leaves
Hertha Berlin
well out of title range, or even runner-up range. Bayern Munich leads the table with 72 points. Borussia Dortmund, meanwhile, are breathing down the reigning champs' necks with 67 points. Those two teams are virtually guaranteed first and second place this year.
A Catastrophic Loss
Hertha BSC are nowhere near as secure in third place. Borussia Monchengladbach and Bayer Leverkusen are both just three points back. To make matters more precarious for the Blue-Whites, they just suffered their worst loss of the entire season last weekend. Worst of all, that loss?a 0-5 away game fiasco?came at the hands of Borussia Monchengladbach and gave the Foals a big goal difference swing.
Indeed, going into the April 3
rd
match, Berlin had a comfortable advantage over Monchengladbach. They'd won their game the previous weekend (against Ingolstadt) while the Foals had lost theirs (versus Schalke 04). Those outcomes left the Old Lady six points ahead of Monchengladbach with the same goal difference of +10. It wasn't a massive lead, but it was fortified enough to be respectable.
Now, much of that fortification is gone. Not only did Monchengladbach gain three points on Hertha BSC
over the weekend, but they also picked up a huge advantage in goal difference. Where these two teams were recently tied at a +10 GD, Monchengladbach's five-point win at home puts the Foals at +15 and drops the Blue-Whites to +5. Berlin will have to make up those points and goals in upcoming fixtures against low-ranked teams like Hannover 96 and Hoffenheim?particularly since they still have a game against Bayern Munich on the schedule for April.
With all of that said, Hertha Berlin have a number of different factors on their side. First of all, Borussia Monchengladbach have both Bayern Munich and Bayer Leverkusen still left on their schedule?obstacles that could prevent the Foals from making a swift leap into third. Monchengladbach actually beat Bayern earlier this season, but they won't have the home field advantage for their April 30
th
match and are unlikely to score another victory against Germany's top soccer club. Add the fact that the Foals lost 0-5 in their previous match against Bayer Leverkusen and Hertha Berlin's third-place chances look a little bit better.
Keeping the Momentum Alive
The big question now is whether or not Hertha BSC can keep their momentum alive for long enough to land their first Bundesliga podium finish this millennium. The Blue-Whites have enjoyed some good luck so far. No one would have expected the soccer club to compete for a Champions League slot after their 15
th
-place finish last season and the 11
th
-place finish the year before. It seemed far more likely that Borussia Dortmund, Wolfsburg, Monchengladbach, Bayer Leverkusen, FC Augsburg, and Schalke 04 would compete for the European positions.
Instead, this Bundesliga campaign has brought about one surprise after another:
After their baffling fall from grace last season, Dortmund have made an equally baffling return to form in 2015/16 and could even challenge Bayern Munich in the race for the finish line.
Wolfsburg finished just 10 points behind Bayern to clinch the runner-up slot last season, but would be lucky even to reach the Europa League this year.
FC Augsburg have tumbled from a fifth-place finish to the red zone. They will have to struggle to avoid relegation.
Schalke 04 are on the borderline between qualifying for the Europa League and missing out.
Finally, Borussia Monchengladbach and Bayer Leverkusen have both played solid football this season but have also had issues with consistency. The Foals, in particular, are still paying the price for a bad start to the season, after losing each of their first five matches.
In comparison, Hertha Berlin have been more dependable. While the Blue-Whites
have
lost eight matches?markedly more than Bayern's two losses or Dortmund's three?they have notably avoided back to back losses all season. The football club have followed six of their eight losses with wins, and one with a draw. Even after another crushing loss against Borussia Monchengladbach?a 1-4 at-home defeat on Halloween?the Old Lady bounced back to beat Hannover 96.
That ability to keep the momentum rolling forward and avoid a rut is, above all, what has kept Hertha Berlin in the race for Champions League football. If the soccer team can keep that mental fortitude and score a win on Friday against Hannover 96, there's no reason to believe they won't qualify for the UCL. Clubs that don't lose consecutive strings of matches don't drop down the table very quickly, and the Blue-Whites haven't had a problem with losing streaks all season.
A Growing Slate of Talent
Add some solid performances from core players and Hertha Berlin are easily enjoying their best season in recent memory. Goalkeeper Rune Jarstein has kept 10 clean sheets out of 23 games?the second-best
average in the league of any keeper who has played 10 or more matches. (Bayern's Manuel Neuer, predictably, remains the Bundesliga's top goalkeeper.) Forward Salomon Kalou, meanwhile, is tied as the fifth most prolific scorer in the league this year, with 13 goals to his name. Vedad Ibisevic is also a top-20 scorer, with a tally of eight goals.
The success of these three players underlines how Hertha BSC's lineup has clicked this season under the leadership of manager Pal Dardai. Jarstein and Kalou both arrived in Berlin at the start of the 2014/15 season but really came alive this year. Jarstein only got two appearances last year but needed to step in this season after number one goalkeeper Thomas Kraft injured his shoulder. Kalou has more than doubled his scoring this season compared to last year while Ibisevic was a summer 2015 transfer that has paid off in spades.
The strong efforts of these players show how much a football club can evolve and grow, even in the space of a year. And frankly, Hertha Berlin
deserve
a Champions League spot for how far they've come in such a short period of time. A third-place finish is undoubtedly the outcome the club wants?not only because it would earn a direct UCL qualification, but also because it would be their best finish since the 1990s. However, a fourth place finish would also suffice to earn this intriguing team a chance at UCL contention. Either way, the Old Lady's narrative should be one of the stories to watch as the 2015/16 soccer season barrels toward its conclusion.
Follow @soccerboxcom