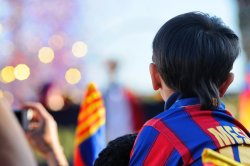 Supporting a football team is a popular hobby with adults and children around the world. Football is the most played team sport in the world, but for fans of the beautiful game costs are rising. The cost of wearing the team kits and attending matches is now out of reach for some supporters. For cash strapped families, buying cheap replica football kits for kids is a fantastic way of keeping the kids happy, without straining the purse strings!

Soccer Box has a fantastic selection of cheap replica football kits for kids including some of the latest Barcelona kits. Â Barcelona is one of the most supported football teams in the world. Nike manufactures Barcelona kits, and demand for them is huge. According to Nike statistics, the Barcelona shirts are their 2nd best selling team jerseys. The team release new home, away and third kits each season, creating a huge demand from children and adults.

The brand new Barcelona kids away kit is now on special offer at Soccer Box. Nike is the team's official kit supplier. In 1998 Barcelona teamed up with Nike, the deal was renewed in 2008 and will remain in place until at least 2018. From Soccer Box you can shop for the official home and away jerseys, in kids and adult sizes, as well as the teams training kit range and other official merchandise.

The Barcelona kids away kit is a great value purchase. Designed for children age 3-8 years, for one low price you get the football shirt, shorts and socks. Now with an extra 20% off at Soccer Box you can't afford not to buy this kit. This season's away kit features a bright yellow and red vertical stripe design jersey, with coordinating red shorts, and half and half socks that feature the latest transitional pattern.

The cost of kitting out the whole family in team soccer kits can be astronomical. After the age of 8 you will need to purchase the shirt, shorts and socks individually. A full football kit would cost around £70 UK/ $115 USA / €85 EUR. Adult kits amount to even more, if the whole family wants a team strip this will be an expensive shopping spree. Buying cheap replica football kits for kids will considerably reduce the cost.

Despite the Premier League recommending that club shirts are kept for at least 2 seasons, most football teams release a minimum of 1 new kit every season. When new kits are released retailers reduce the price of the old kits. Buying last seasons kits is a great way of meeting your child's demands for a football kit at a more reasonable cost. After Christmas is a great time to look out for cheap replica football kits for kids.

Other leagues including La Liga, in which Barcelona plays do not have such recommendations. Last season Spanish side Real Madrid released new home, away and third kits, in addition to special Champions League and goalkeeper kits. The 2013 - 2014 season has seen an equally large array of new kits therefore, last years designs are now on sale!

Buying cheap replica football kits for kids is a great way of saving money. Many children want to support a soccer team. In the past many children would attend local football games at a weekend with their family. However, the cost of match tickets has increased to an even greater extent than the team kits. In recent years the cost of the cheapest match tickets has soared by 1000%.


The increasing costs of being a football supporter are largely to blame on the commercialization of the game. In the past 20 years satellite television broadcasting deals have driven vast amounts of money into the game. With this the cost of shirt sponsorship and manufacturing deals has also escalated. As manufacturers seek to recoup the money spent in these huge deals, the wholesale costs have increased. It is the retailers that loose out when selling cheap replica football kits for kids.

The Barcelona kids away kit is one of a selection of great special offers that are now available. Save yourself a fortune and check out what's on offer, some shirts are reduced by over 50%. Your kids are sure to be delighted with any football kit they have seen their favorite players wearing even if it is not the latest!

Do you think the price of official football kits is too high? How much do you think is reasonable?

Shop Online Now at Soccer Box we Have a Great Range of Cheap Replica Football Kits For Kids.