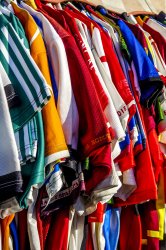 Football is the world's most popular sport. Over the past 20 years it has become more commercialized. Supporting the local team, and attending the match was a popular pastime for many soccer fans years ago. Â However, the rising costs have this made type of support prohibitive for many fans. Cheap replica football shirts are a great option for supporters on a limited budget.

Many sports retailers, including Soccer Box, sell off the previous seasons football kits cheaply, to make way in the warehouse for the newly launched shirts. Cheap replica football shirts are the official kits that your favorite players were wearing in a past season. Check out the Soccer Box sale now many items are at least half price, and are great value for all football fans.

One of the products currently on sale at Soccer Box is the official Adidas Real Madrid home Champions League Jersey 2012/13. This shirt is at an amazingly low price, reduced by 59%. It is available in adult sizes from Small to XXXL. Buying this top is a fantastic way to show you support the team while saving yourself some money.

Adidas released the Real Madrid home Champions League jersey 2012/13 last season it was used by the team during their Champions League campaign. It is a white shirt, the traditional colors for the Real Madrid football team. It features a stylish v-neck design. The neckline is designed in navy blue with a bright blue trim. Other details also feature in navy blue including the Adidas stripes, the sponsor and sleeve trim. This authentic shirt utilizes CilmaCool technology and is a great alternative to the current shirt.

The current Real Madrid home shirt features the same white home kit colors but is styled with orange trim, instead of last seasons blue design. Most football teams keep the same home colors each year. Cheap replica football shirts, particularly home shirts that are very similar each year, are a great value purchase. Kitting out the whole family in brand new soccer shirts is beyond the budget of many families.

Cheap replica football shirts are an enticing option when the cost of a brand new football kit is so substantial. For families where adults and children support a soccer team and want the latest kits, it will be an expensive shopping trip! The average cost of a children's football shirt is around £40, an adult shirt can be as much as £60. Buying shorts and socks will add to the cost, as will having a name and number added to the back.

Most football teams launch at least one new kit each season. The Premier League did try to implement a rule where each kit had to be used for at least 2 seasons, this seems to have been forgotten now with many teams launching 2 or even 3 kits per season. There is no such rule for international teams, for these teams cheap replica football shirts become even better value.

The Real Madrid home Champions League jersey 2012/13 was one of at least 6 new shirts released by Real Madrid for the 2012 - 2013 season! They released a home shirt as well as the Champions league version, an away kit and alternative away kit for Champions League games, as well as home and away goalkeeper shirts. With so many kits available it is unrealistic for most fans to buy them all.

Over recent years prices for football fans have escalated wildly. The price of official kits has risen. The cost of kit deals increases every year. Manchester United is expected to sign a deal worth £60m per year, with Nike. To compensate for these extra costs the shirt price to consumers has also increased. Many retailers are losing money by cutting prices and selling cheap replica football shirts, but are left with no other option if the kits don't sell at full price.

This year is the World Cup that also adds to the cost of being a football fan. Many people will want to show support for their national team, the obvious way of doing that is by wearing the team's jersey. So along with buying club kits many families will be looking for national shirts for themselves and their kids. Buying cheap replica football shirts will help many families keep their children happy and allow them to show their support throughout the World Cup.

What do you think of the rising costs of football shirts? Do you think football was a more enjoyable game before it became so commercial?

Kit Yourself and Your Family Out With Cheap Replica Football Shirts While Supplies Last at Soccer Box.