It was a good if just shy of great season for the players and fans of the Chelsea football club. In a season-long, three-way battle for the English Premier League title, Chelsea finished in third, narrowly bested by Manchester City and Liverpool. Similarly, in the UEFA Champions League tournament, Chelsea fell just short of European soccer glory, losing in the semifinals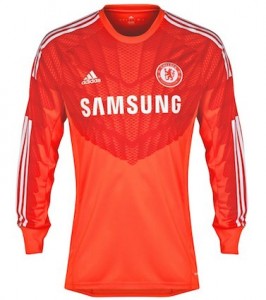 to Atletico Madrid. However, despite the fact that Chelsea missed out on the big titles this year, the team certainly played a lot of good football during the 2013 2014 season, and that fact should have fans excited for another season of wearing and watching the Chelsea home kits.

At Soccer Box, we are fully prepared to help you ramp up your excitement for the forthcoming season. In addition to our stock of blue Chelsea home jerseys for the 2014- 2015 season, we also have several other pieces of team merchandise that fans will love to have for next year. One of these items is the brilliant orange Chelsea goalkeeper jersey 2014 2015.

Made by Adidas, the goalkeeper shirt is a long-sleeved jersey that will be worn by noted Chelsea goalkeeper Petr ?ech (or, if he returns from his "on loan" time at Atletico Madrid, Thibaut Courtois) throughout the upcoming season. Whether you simply want to set yourself apart from other Chelsea fans most of whom will be wearing the team's distinctive blue colors or simply want a long-sleeved jersey option for colder days, the goalkeeper shirt is a perfect piece of team spirit to add to your collection of Chelsea home kits.

The Goalkeeper Question

Fans who do decide to purchase a Chelsea goalkeeper jersey 2014 2015 from Soccer Box will undoubtedly get a high quality piece of official sports merchandise. The doubt in regards to this shirt is about which player on Chelsea's squad will actually be wearing it next year.

In recent years, Petr ?ech has been the starting goalkeeper for the Chelsea football club. He's widely regarded as one of the most skilled goalkeepers in all of soccer. Since he came aboard with the club in 2004, ?ech has done the team proud, making 470 overall appearances and managing clean sheets in just under half of those. And while ?ech, at 32 years old, is probably in the twilight of his soccer career, its difficult to imagine Chelsea not wanting him as part of their squad.

The 22-year-old Thibaut Courtois, meanwhile, is a real up-and-comer in the football community, having become the cleanest goalkeeper in Spain's La Liga division over the past two seasons. In fact, Courtois' performance was a big part of what helped Atletico Madrid win the league this past season, as well as coming within striking distance of a Champions League victory.

However, while Courtois has done nothing but good work with Atletico Madrid, he is at the point in his career where he doesn't want to be a loan player anymore. In fact, if Chelsea does not give Courtois the chance to come back to Stamford Bridge and don the Chelsea goalkeeper jersey 2014 2015, the young and talented goalkeeper could well begin looking for contract options elsewhere.

Since Courtois could well become an even bigger star this summer he is the star goalkeeper of the Belgium World Cup team, after playing every minute of the team's 10 qualifying matches and keeping six of those 10 sheets clean Chelsea is seriously thinking about parting ways with the veteran ?ech to establish the younger goalkeeper as a core team talent for years to come.

If ?ech is dismissed from Chelsea, then he will have plenty of time this summer to make arrangements for involvement with a new organization, as he is not going to the World Cup. ?ech's team, the Czech Republic, failed to qualify for the tournament for the second time in a row, a fact that will leave 2006 as ?ech's one and only appearance on football's biggest stage.

Regardless of who dons the goalkeeper shirt at Stamford Bridge next year, now is the perfect time to stock up on Chelsea home kits and prepare for another great season. Head to Soccer Box today to check out our selection.