As celebrations for Chelsea FC's 2014 2015 Premier League title win have rained down in recent weeks, Chelsea manager Jose Mourinho and his division-winning soccer squad have been labeled in an array of different ways. On one end of the spectrum, they're being praised for planning and playing a dynamite season, with plenty of big victories and defining moments. On the other end of the spectrum, they're being criticized for being boring and over-calculating, and for taking much of the joy out the game of football.

Both sides of the argument have their leading voices. Manchester United's Louis van Gaal, who was Mourinho's mentor back in his Barcelona days, has called the Chelsea coach "one of the top managers in the world." Van Gaal has even said that Mourinho has surpassed him in terms of coaching ability.

Former Chelsea manager Ruud Gullit sees things differently, though. He's gone on record calling Mourinho's Chelsea squad boring, stating that the players deserve better, and criticizing "the calculated way [Mourinho] makes Chelsea play."

Coaching Style

Gullit has a point. Throughout the 2014 2015 season, Chesea manager Jose Mourinho has utilized his attackers and offensive stars mostly in the early parts of games. Once the Blues are in the lead, he has a tendency to switch to a defensive style of play, usually opting to protect the lead instead of putting faith in his offensive line to build it.

The result of that coaching style is that the wearers of the Chelsea soccer shirt tend to win by one or two points instead of putting on huge, thrilling victories for fans. The club's biggest win this season was a 5-0 triumph over Swansea City on January 17th, and their highest scoring fixture was a 6-3 match with Everton back in August.

Still, while Mourinho's coaching style might not pave the way for the most unforgettable football games in the world (especially when compared to teams like Real Madrid and Barcelona, which showcase their offensive stars nearly 100% of the time), that doesn't mean it isn't effective. There have been times where it hasn't worked: you could argue that Mourinho's tendency to defend instead of attack is what doomed Chelsea to a round of 16 elimination in this year's Champions League. However, one need look no further than the Blues' 2014 2015 Premier League statistics to see that the combination of Mourinho's coaching style and Chelsea's on-the-field talent has been an effective one this year.

Why the Combination Works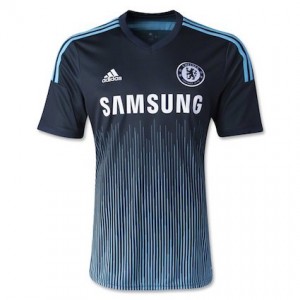 So why does Mourinho's "boring" style work for the Blues? Why has this combination of coach and players turned out to be such a good team in 2014 2015, despite the criticism levied against them?

It all rests in Mourinho's dedication to building a balanced soccer squad. Say what you want about him not giving his attackers enough chances to attain huge victories, but Jose's decision to utilize the offensive and defensive parts of his squad in equal measure has made Chelsea England's all-around best team.

In comparison, virtually every other football team in the Premier League tilts one direction or the other. Manchester City, for instance, have an extremely strong offense (including Golden Boot winner Sergio Aguero), but are less effective defensively. Manchester United has jumped from seventh place in 2013 2014 to fourth place this year mostly on the basis of a stronger defense, but they still need to score more goals if they are going to top the league again in the near future. And Southampton have a stunning defense-as good as Chelsea's, in terms of this season's goals against statistics-but don't have any star offensive players.

Not only has the balance helped Chelsea win games and edge out most of the Premier League table in terms of goal difference, but it has also meant that the Blues don't rely too much on any one player (or group of players). There's not a lynchpin who the team couldn't survive without, which makes the squad injury-proof and reduces the likelihood that Chelsea could ever be crippled by the departure of one or two players. (Contrast that with Liverpool, who fell from second to fifth in the space of a year thanks singlehandedly to the transfer of Luis Suarez.)

Bottom line, Chelsea manager Jose Mourinho is one of best and most strategic managers in the football world, and is arguably the top reason that Chelsea have been so successful over the past 10 years. Celebrate his legacy today, with a new Chelsea third shirt 2014 2015 from Soccer Box.