Yesterday the team that wears the Chelsea soccer jersey 2014 2015 met Everton in an away tie that turned into the most exciting match of the current Premier League season so far. It is only the 3rd week of the season and Chelsea is certainly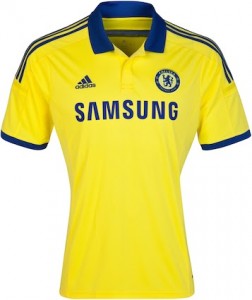 making a statement to win, but manager Jose Mourinho was not satisfied by his team's performance.

The Saturday evening game, played at Goodison Park, was a 9-goal thriller that ended in a 3-6 victory for visitors Chelsea. New signing Diego Costa seems to have settled in well and scored twice despite injury concerns. However, conceding 3 goals is the prime concern for Jose Mourinho.

Yesterday's match was the first outing of the Chelsea away kit, and it seems that the bright yellow kit encourages strong and powerful performances. This yellow soccer jersey has a traditional polo neck collar with button placket. The yellow color scheme is offset with blue trim. Following on from their performance at Goodison Park this football jersey is a must have, order in kids and adult sizes now at Soccer Box!

90-Minutes of Action

Last season when Chelsea travelled to Everton the match ended in a 1-0 defeat for the visitors, this game was a goal scoring frenzy at the complete opposite end of the spectrum. 9-goal frenzies are not unheard of, but are certainly rare between 2-clubs of this caliber. Based on this performance the Chelsea soccer jersey 2014 2015 may well be the jersey of a Premier League winning side.

The action started after only 30-seconds when Diego Costa, wearing his number 19 Chelsea away kit for the 1st time, hit the net. The excitement didn't end there with Ivanovic hitting the net to put Chelsea 2-0 up after only 3-minutes. However, Everton weren't content to get thrashed on home soil and fought back admirably. Mirallas scored for the home side in the 45th minute to set up a fast-paced and exhilarating 2nd half.

With both teams still in with a chance the respective managers must have given their squad a serious pep talk during the 15-minute break, the second half action was almost unbelievable. An own goal from Coleman gave Chelsea more of a lead and sparked a 10-minute 5-goal frenzy that kept the team, managers, and fans glued to the action.

Naismith counteracted his teammates mistake making the score 2-3, then Nemanja Matic scored his 1st ever goal wearing a Chelsea football jersey making the score 2-4. Former Chelsea player Eto'o added another for Everton but Chelsea wasn't finished yet. Ramires added a 5th in the 77th minute, and then just for pride they started where they finished in the 90th minute with a superb effort from Diego Costa making the final score 3-6.

Mourinho's Woes

Yesterday's action was thrilling and entertaining for fans and was sure to spark a frenzy of demand for the Chelsea soccer jersey 2014 2015, why then is Jose Mourinho unsatisfied?

On the face of it Chelsea is powering ahead, they have won 3 out of 3 Premier League games giving them a 9-point advantage. Biggest rivals Manchester City suffered a shock defeat at home to Stoke, Arsenal and Liverpool play today. It is still early days but Chelsea is looking in a strong position for victory.

From Jose Mourinho's point of view watching his team yesterday was a double-edged sword. On the one hand his strikers were fantastic. Even with the loss of Fernando Torres, who has been loaned to AC Milan, a 6-goal scoring frenzy shows the power he has to play with upfront. It also confirms the worth of spending £32 million to bag former Atletico Madrid player Diego Costa.

However, conceding 3-goals is a dismal afternoon for any manager. Defensively the squad wearing the Chelsea away kit looked weak, and poorly structured at times. Last season the result went to the final games of the season and it is not unheard of for the Premier League to be decided on goal-difference alone.

During the 2013 2014 campaign Chelsea conceded only 27 league goals in total; this was the lowest of all 20 teams. However, they also scored less than leaders Man City and Liverpool. From a scoring perspective Mourinho is sure to be delighted with the Chelsea performance. However, it seems that there will be much training work and discussion regarding the defensive performance if Chelsea is to steal the 2014 2015 Premier League title from its rivals.

Do you think Mourinho can steer his team to victory? If so now is the time to order the Chelsea soccer jersey 2014 2015.