Fans who owe their allegiance to the Chile soccer jersey have long awaited their time in the FIFA spotlight. Despite the Chilean national team's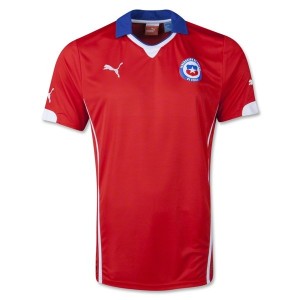 impressively consistent record, the team has yet to place higher than third, in 1962 when they hosted The Big Dance. Players and fans alike are eagerly awaiting kickoff day, when La Roja will take to the pitch and submit their latest bid for international football fame.

Soccer Box is the perfect place to find a gift for your favorite supporter of the Chilean national team, even if that supporter just happens to be you! The Chile store page on Soccer Box is full of official supporter gear by Puma. While you're there, check out the Chile 2014 FIFA World Cup home jersey, and check out what your favorite national team will be sporting in Brazil this summer.

Chile Seeks Triumph over International Adversity

The Chilean national football team has always had a spotty record when it came to official FIFA World Cup tournaments. Despite Elo ranking the team among the top 25 strongest teams in football, fans haven't seen the Chile soccer jersey past the round of 16since they hosted the games in 1962. Even through disqualifications and being banned from the American hosted games, Chile has managed to qualify for the FIFA World Cup a total of 8 times, though that has done little to lift the spirits of the teams fans.

Yet, all is not lost for fans of The Red One, as the Chileans have once again qualified for the World Cup. The competition is stiff, but coach Jorge Sampaoli is optimistic that Chile could have a chance at placing, or even winning this year's games. Chile fans who still wish to see their team on the international stage will be lining the stands in Brazil, where many could be found proudly displaying a Chile 2014 FIFA World Cup home jersey.

Though for many, the events of the late 80s and early 90s are still fresh wounds, leading some Chile fans to ignore the World Cup, citing it as a waste of time. The 1989 World Cup qualification scandal was a perfect example of what can go wrong when coaches favor plotting over practicing, fans may have never forgiven coach Orlando Arevena for plotting to cheat Brazil out of a World Cup qualification match, but they certainly have moved on and still adore their favorite team as much as ever.

Unfortunately, the Chilean national team hasn't managed to do much better for itself in the other venues of international football. The teams only other major tournament, the Copa America, has only ever yielded a second place finish for Chile. This coming World Cup tournament in Brazil looks to be Chile's one chance to make amends to the Brazilians and finally rid their fans of the bitter taste in their mouths for FIFA sports.

Chile National Football Team Fans Celebrate Cherished Tradition

The Chile 2014 FIFA World Cup home jersey isn't the only way fans of Chilean football show their allegiance! In fact, Chile is one of the oldest members of the FIFA confederation as well as one of the oldest national soccer teams, founded in 1895. From there, they became one of the founding members of CONMEBOL, and helped popularize the sport of football all over South America.

Though they may have never won any international titles, the world of South American football, and international football community at large, owes a big debt to the Chilean national team. They were present during the first ever FIFA World Cup in 1930, and were founding members of the Copa America tournament as well as South America's Football Confederation. Even if team Chile falls short of international victory at this year's games, fans of the team still have plenty to be proud of.

You can show your Chile team spirit with a Chile soccer jersey, shirt, and more at the Soccer Box store. Soccer Box is chock full of official Chile national soccer gear by Puma in stock and ready to ship out to you in time for the 2014 World Cup.