2014 2015 league play may be over, but football fans won't have to wait long before competitive soccer action begins once again. This Thursday, June 11th, the Copa America 2015 will begin in Chile, with 12 teams competing in three groups for South American soccer glory. Today, we're taking a look at the Copa America 2015 Group A, which will see a battle between Mexico, Ecuador, Bolivia, and the Chilean host team.

Which squads will score instant advancement into the knockout stage? Which will finish third and be left in limbo for a possible quarterfinal spot? And which of these four teams will be on the way home after group competition? Read on to find out!

Current World Rankings

Based on current FIFA world rankings, the expected seeding for Group A at the Copa America 2015 would be Chile (18), Mexico (23), Ecuador (31), and Bolivia (89). Based on those rankings, it's fair to call Chile's the frontrunners in the event. Not only will Chile be playing in front of home audiences, but they are also coming off a successful run at the 2014 World Cup.

Indeed, the Chilean national football squad made quite a splash in Brazil last summer, beating Spain and Australia to finish second in their group (behind the Netherlands), and nearly beating out the Brazilian host team in the round of 16. The Brazil game came down to penalty kicks, and while Chile lost the shootout 2-3, the game was still a sign that the Chilean side shouldn't be underestimated.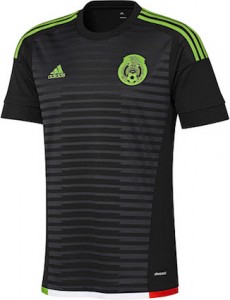 Meanwhile, the wearers of the Mexico home shirt 2015 2016 are shoe-ins for the second knockout stage spot. The Mexican national football team did almost as well at last summer's World Cup as Chile did, winning two group stage matches (against Cameroon and Croatia) and drawing the third (against Brazil) to earn a spot in the round of 16. They bowed out in the first game of the knockouts, losing 1-2 to the Netherlands.

As their close FIFA rankings and comparable World Cup campaigns suggest, the Mexican and Chilean sides are playing football at similar levels as of late. Expect a battle between the two teams to see who tops Group A of the Copa America 2015.

Ecuador also made an appearance in the 2014 World Cup, but were eliminated after the group stage with only a win against Honduras to their name. Bolivia, meanwhile, have not qualified for a World Cup since 1994.

Past Copa America Successes

Interestingly, of the four teams in the Copa America 2015 Group A, only Bolivia have won a Copa America title in the past. The Bolivian football squad claimed the tournament all the way back in 1963, and almost did it again in 1997-though they ultimately lost to Brazil.

Chile and Mexico, meanwhile, have each reached the Copa America final on several occasions (four times for Chile, twice for Mexico), but have never gone all the way to the top. The Chilean team last reached the final in 1987, while the Mexican squad lost to Colombia in 2001.

Ecuador's highest-ever finish was a fourth place slot in 1993.

Group Stage Games

Current global soccer rankings and previous Copa America records can provide some insight into which teams might be successful at this year's event, but ultimately all that will matter are the games themselves. Who will have their most challenging matches early? Who will build the most momentum? The schedule of games for Group A tells all.

From the looks of it, Chile and Mexico will both be able to build momentum early. On June 11th, the Chilean hosts will open the Copa America 2015 with a match against Ecuador. The next day, the Tri-Colors will don the Mexico football shirt for a game with Bolivia. Chile and Mexico won't play each other until June 15th.

Our predictions? Chile and Mexico will easily top Group A-though in what order, it's tough to say. Meanwhile, Ecuador will edge out Bolivia for third place, but will ultimately still miss out on a knockout stage berth due to stronger third place prospects in Group B (Paraguay) and C (Peru).

Get ready for the Copa America 2015, with a new Mexico jersey 2015 2016 or a discounted Chile 2014 home jersey from Soccer Box.