If Group B of the Copa America 2015 is going to play host to a contentious battle between Argentina and Uruguay, then Copa America 2015 Group C is going to be defined by a budding rivalry between Brazil and Colombia. The quarterfinal match between these two teams at last year's 2014 World Cup was one of the tournament's fiercest and most competitive, and neither soccer squad exited the game on top. Colombia lost the fixture 1-2, but Brazil's star player Neymar suffered a back injury that took him out of the tournament and derailed the host country's chances at victory. In other words, no one really won the soccer game.

Since that memorable (and sure to be infamous) July 4th fixture, Brazil and Colombia have played each other one other time: in a "friendly" fixture on September 9th of last year. The Brazilian side won that match as well, beating the Colombia side 1-0. However, Colombia have won seven friendlies in a row since that game, and are actually going into the Copa America 2015 ahead of Brazil on the FIFA world rankings chart. (Colombia are ranked fourth, while Brazil are fifth.)

Group C Odds

Needless to say, Group C is sure to see yet another competitive display between these two football teams. Ultimately, both countries are expected to easily progress to the knockout stages of the Copa America 2015. Their other opponents, Peru and Venezuela, are quite a bit further down the FIFA world rankings list, at 61 and 72 respectively.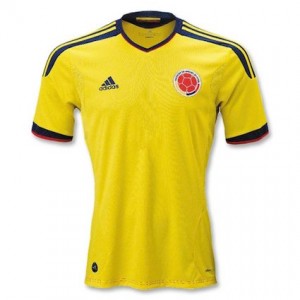 Historically, Peru actually have more Copa America titles than Colombia. They've won the event twice, in 1939 and 1970, while the Colombian national football team managed their lone title in 2001. The wearers of the Colombia home jersey 2015 2016 probably have slightly stronger odds at progressing thanks in part to their young star (and 2014 World Cup Golden Boot winner) James Rodriguez. With that said, it's tough to count Peru out completely; the Peruvians haven't missed out on a Copa America knockout stage berth since 1995, and actually came in third in 2011.

Meanwhile, Brazil is historically one of the best teams in the Copa America, and are favored in most circles to top Group C. The Brazilians have won four of the past six Copa America tournaments, and five of the past 10. They exited after the quarterfinals in 2011-following back-to-back victories in 2004 and 2007-but have only been eliminated during groups once, ever, in 1987. Needless to say, they'll make it into the knockouts with ease.

As for Venezuela, they're fighting a losing battle in a tough group. They performed remarkably well in 2011, making it to the semifinals and coming in fourth place. This year, though, their draw is harder (they had Brazil, Paraguay, and Ecuador in 2011), and they've had a dodgy play record over the past few years.

The Games

Copa America 2015 Group C action will begin on June 14th, when James Rodriguez and company don the Colombia home jersey 2015 2016 for a fixture against Venezuela. Brazil will play Peru on the same day.

As with other groups in the Copa America 2015, the big match of Group C will be in the middle: a June 17th bout between Colombia (away) and Brazil (home). Eyes will be on that game to see whether either soccer team will emerge as a frontrunner.

Group C play will close out on June 21st, with Colombia/Peru and Brazil/Venezuela matches on the schedule.

Our prediction? Brazil will edge out Colombia to take the top of the Group C. Colombia may have fewer Copa America titles to their name, but the Brazilian side has more to prove this year, exiting last year's World Cup in an embarrassing 1-7 semifinal loss against Germany. Peru will slip into third and will join Group B's likely third-placer (Paraguay) for the wildcard quarterfinal slots. Venezuela, meanwhile, will join Group A's Ecuador and Bolivia, and Group B's Jamaica, on the list of first eliminations.

Get ready for all of the action by stopping by Soccer Box and picking up a new jersey for your favorite South American football team. Whether you are looking for a Colombia shirt 2015 2016, a Brazil World Cup 2014 shirt, a 2015 2016 Peru jersey, or a burgundy home shirt 2015 2016 for Venezuela, you can find it at our online store.