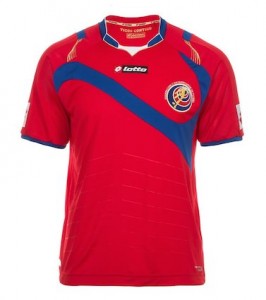 The Costa Rica national soccer team is no stranger to international glory: the team has won the CONCACAF North and Central America division on three occasions and contended several other times as well. It has also been the champion at the UNCAF Nations Cup the Central America soccer championship more often than not, winning seven titles and making it to the finals another four times. Despite all of this, though, the red and blue of the Costa Rica football shirts has only been seen in three World Cup tournaments suggesting that the team may just be a big fish in the small pond of Central American soccer.

Costa Rica will bring its number of World Cup appearances to four at this year's tournament in Brazil. The event will be the country's first appearance in the World Cup since 2006, after a missed qualification in 2010, and the team is celebrating that milestone with the attractive Costa Rica 2014 World Cup home jersey. This shirt is unique from others with the common red and blue color scheme, with a blue swirl that offsets the red quite nicely. The jersey was made by Lotto.

The 1990 World Cup

As mentioned previously, Costa Rica football shirts have not been seen at many World Cup tournaments. The first happened in 1990, when Costa Rica subverted a long trend of missed qualifications to make it into the tournament in Italy. The Costa Rica team made a good showing in its first World Cup matches ever, besting both Sweden and Scotland and holding Brazil to a one-point victory.

Costa Rica's run in the 1990 World Cup ultimately came to an end in the round of 16, when the team faced Czechoslovakia and was bested in a harsh 4-1 loss. Still, it was a strong first showing for the nation, and it hinted at better things to come for the Central American champions.

The 2002 and 2006 World Cups

Despite the promise of the tournament in 1990, it would be another 12 years before Costa Rica would appear in another World Cup event. When that happened, in the 2002 Cup hosted by South Korea and Japan, the showing for the Costa Rica football shirts was not nearly as strong as it had been in Italy.

Drawn once again into a group with the heavyweight Brazil team, Costa Rica also had to face an on-fire team from Turkey in the group stage. Brazil won all of its matches handily, while Costa Rica and Turkey ended their match in a draw. Goal difference ultimately led to Turkey moving on in the tournament and Costa Rica was eliminated. However, since Brazil won the tournament and Turkey took third place, fans of the Costa Rican squad took pride in knowing that their team had faced one of the toughest groups in the competition.

Costa Rica's law of diminishing returns continued in 2006, when the team was drawn into a group with Germany, Poland, and Ecuador and failed to win a single game.

2014 World Cup Odds

Now, Central American soccer fans are looking forward to the World Cup and hoping against hope that the Costa Rica 2014 World Cup home jersey is better luck than the 2006 kit was. That could be wishful thinking, however, considering the group that Costa Rica will have to face in the first round of the tournament.

This year, Costa Rica has drawn into Group D, which also includes Uruguay, England, and Italy. Not only are all three of those teams previous World Cup winners, but they also all are currently seeded in the top 12 on FIFA's world rankings list.

If Costa Rica is going to upset any of those teams, it will need good luck and willpower on its side not to mention a lot of fan support. Fans will want to be on hand for the team's "away" games against Uruguay and Italy (on June 14 and June 20, respectively), and should be ready with the Costa Rica 2014 World Cup home jersey for the home game against England on June 24.

Do you need to stock up on your Costa Rica football shirts before the World Cup begins next month?