Between the summer of 1991 and February 1992, there was no domestic league football in Croatia. The country's War of Independence was underway, and the focus shifted from enjoying sport to mere survival. This war would end in 1995, and one year later the national football team of an independent Croatia made it to their first-ever major finals. They competed at Euro 96 in England, eventually losing in the quarter-finals to Germany, who went on to win the competition.
Euro 96 was a successful international tournament debut for Croatia, and they followed it up with qualification for the 1998 World Cup, which was held in France. There they would surprise some of the finest teams in the world as they played their way through Toulouse, Bordeaux, Nantes, and Lyon, going deep into the knockout stages in the process. They would also stun those tuning in with one of the most aesthetically pleasing kits seen in the game.
History of the Croatia 1998 World Cup Kit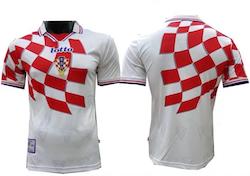 The kit, unsurprisingly, was designed by a genuine artist. Miroslav Sutej was an avant-garde Croatian painter who had also designed the country's coat of arms, as well as the bank notes for the Croatian Kuna. His coat of arms design featured a red and white chessboard, which is something that he also incorporated in the national football team's shirt, giving it an incredibly distinctive look.
History, rather than fashion, was behind this decision. The red and white chessboard is a long-standing national symbol, though the origins of this are unclear. According to legend, former King of Croatia Stephen Drzislav was able to make a miraculous escape having been caught by enemy forces during a war over Dalmatia with Pietro II Orseolo, who was the Doge of Venice between 991 and 1009, thanks to a series of chess matches. An agreement was struck that, if Drzislav could win three straight matches against Oresolo, he would be freed. He did just that, and added a chessboard to the Croatian coat of arms.
Whether the story is true or not, the design itself is one of the most instantly recognisable around today. Sutej's opting to include in the football kit was, therefore, inspired, as it captured the imagination while at the same time remaining tied to the country's past.
Home & Away Kit Designed by Lotto
Lotto, an Italian sportswear manufacturer, produced Croatia's kit for the 1998 World Cup, deciding to add their own unique feature. The red and white chessboard would be angled differently, giving the impression of squares of colour
descending diagonally downwards from the right sleeve to the shirt's centre. The rest of the shirt was plain white, with blue and red trim at the end of each sleeve and on the collar.
This was the home kit, but the away kit was equally easy on the eye, with a more traditional red and white chessboard design on each side of the shirt and on the underside of each sleeve, while the primary colour was blue. The use of these three colours – red, white and blue – in both kits was again a nod to history. Croatia's national flag is made of the same colours, each of which represents the three historic states of the Croatian Kingdom – Croatia (red and white), the Kingdom of Slavonia (white and blue), and the Kingdom of Dalmatia (red and blue).
Croatian 1998 Squad
Croatia's 1998 World Cup kit was just as tasteful as it was stylish, and several star players had the good fortune of sparkling in it that summer in France. Leading the line was Davor Suker, the country's footballing talisman at the time, whose left foot was capable of almost anything. He was a precise and graceful finisher, something made abundantly clear when he chipped the commanding Peter Schmeichel during a 3-0 win over Denmark in the European Championships two years prior. That goal brought joy to neutrals, and the striker, playing for Real Madrid, would score many more important goals in the World Cup.
He was backed up by a wonderful cast, many of whom will be known by English football fans. On the wings were Mario Stanic, a versatile attacker who spent the final years of his playing career with Chelsea, and Robert Jarni, an offensive wing-back who, strangely, spent less than one week with Coventry City post-World Cup before moving on to Real Madrid. In midfield were a pair of globally renowned playmakers, Zvonimir Boban and Robert Prosnecki, as well as Aljosa Asanovic, who played for Derby County in the 1996/97 season. Meanwhile, the back line was often
including Derby's Igor Stimac and Slaven Bilic, who played for Everton and West Ham United.
This individually gifted squad needed to be bonded together into a cohesive collective, however. Fortunately, in Miroslav 'Ciro' Blazevic they had just the right person for the job. In Jonathan Wilson's book, Beyond the Curtain, Bilic praised the manager's team-building qualities. "I'm not saying he was a bad coach or a great coach, but he was the ideal coach for us," Bilic said. "If you'd given us [Fabio] Capello, [Alex] Ferguson or [Arsene] Wenger, it wouldn't have worked. He was everybody's father, a great motivator."
Strong Performance at the 1998 World Cup
Croatia opened their World Cup campaign with wins over Japan and Jamaica, but a 1-0 defeat to Argentina meant they would enter the knockout rounds as a second-placed side, open to a potentially harsher draw. In the second round they faced a Romania side that had dispatched England in the group stage, but another 1-0 win took them into the last eight. There they would face Germany, their conquerors at Euro 96.
With Christian Worns sent off before half-time due to an ugly lunge at Suker, Croatia had a one-man advantage. That was translated into a one-goal advantage in the third minute of first-half stoppage time, with Jarni producing a superb long-range strike. Blazevic's side then rode their luck before countering to perfection late on. Goran Vlaovic scored the second through an exceptional curled finish, before Suker sealed the win in the 85th minute. Controlling a long diagonal ball he went to the by-line before dribbling back inside, past three German defenders, and finding the back of the net.
Croatia's mesmerising run would end in the semi-finals, but not before they had troubled the host nation. Suker put them 1-0 up against France, running on to a delicate chipped assist from Asanovic to touch beyond Fabien Barthez. However, the French responded immediately through Lilian Thuram, who went on to score the winner.
Croatia would beat Holland 2-1 to seal third place in the World Cup just three years after the country's independence had been established. Suker scored the winner in that game and consequently won the competition's Golden Boot – his six strikes placed him one ahead of Gabriel Batistuta and Christian Vieri. The national team had shone at only their second major finals, and had caught the eye of neutrals not just through their football, but through their unique look. That kit was more than a nice piece of clothing, though; for Croatians, it was, and remains, a symbol of national pride.
This article was written for Soccer Box by Blair Newman. Shop with us for the latest Croatia World Cup Kit and other merchandise.