Deportivo La Coruna may currently be avoiding relegation range on the 2014 2015 La Liga standings table, but after losing their third match in less than a month, the club will need a victory soon to avoid the danger zone. This past weekend brought a heartbreaking home loss against Sevilla, while next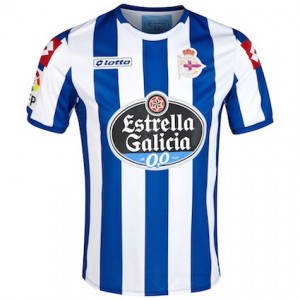 weekend will see the Turks taking on Valencia. Root for the struggling football club today with a brand new Deportivo La Coruna shirt from Soccer Box!

Whether you are shopping for a blue and white striped Deportivo La Coruna home jersey 2014 2015, or a burgundy third jersey, you can find it at Soccer Box. With the weeks dwindling to the end of the season, La Coruna will need the support of their fans to guarantee a slot in Spain's premier division next year. There's no better way to show that kind of fan support than with an official Deportivo shirt from Lotto!

The 2014 2015 Season

From the very beginning, it was apparent that Deportivo La Coruna was going to face substantial challenges in the 2014 2015 La Liga. The club, promoted from Spain's Segunda Division after finishing in second place, lost five of their first seven matches, falling to last place on the league standings table.

As the season went on, things got slightly better for the wearers of the Deportivo La Coruna shirt. They even beat Valencia-a current top five team-in a home fixture back in mid-October. That fact should bode well on March 13th, when the Turks face off against Valencia once more.

Unfortunately, the La Coruna soccer squad hasn't been able to formulate a consistent run this year. It wasn't until the New Year that the club managed to win two games back-to-back-winning an away game at Rayo Vallecano and a home fixture with Eibar. Their total win tally for the season is six games, with seven draws and 13 losses rounding out their 2014 2015 record.

Recent Struggles

The number in the "loss" column has been climbing recently, as the Turks have hit a particularly rough spot of bad luck. The team hasn't won a game since February 8th, and has suffered fairly substantial losses in the interim. For good reason, fans in the Deportivo La Coruna home jersey 2014 2015 are getting worried about their team's chances of avoiding relegation.

Mid-February was characterized by a pair of 0-2 shutout losses for the Turks, one an away fixture at Real Madrid, and the other a demoralizing loss at home, dealt by Celta de Vigo. Deportivo ended the month in lukewarm fashion, in a scoreless draw with Almeria.

Sevilla

Easily the toughest defeat to swallow for fans in the Deportivo La Coruna shirt, though, was this past weekend. Donning the blue and white home jersey to take on Sevilla, the Turks were in understandably low spirits given their recent run of losses. Furthermore, Sevilla had beaten La Coruna 4-1 back in October, and players and supporters alike were worried that a repeat occurrence might be in the cards.

But the wearers of the Deportivo La Coruna home jersey 2014 2015 fought hard, putting forth one of their most competitive performances in months. The club's Oriol Riera scored a point at the 28-minute mark, giving the home side an early lead. For a moment, it looked like the Deportivo squad might just be able to score an upset.

Sevilla, though, is not an easy team to beat. Ranked at fifth place on the current 2014 2015 La Liga table, the Red and Whites showed their talent with three unanswered scores on the Deportivo net. Two came from midfielder Vitolo, while the third was a penalty goal scored by Kevin Gameiro. All three functioned to dash La Coruna's hopes for victory.

Riera added a second goal to his game tally at the 72-minute mark, putting the home team back in the game. Heartbreakingly, though, an own goal from Deportivo defender Sidnei made the score 2-4 with 10 minutes to go, snatching victory out of the Turks' reach. Attacker Lucas Perez scored a last-minute penalty goal that could have tied the game, but it was too little, too late after Sidnei's mistake.

Will the Turks redeem themselves with a second win against Valencia for 2014 2015? Root for such an outcome today, with a brand new Deportivo La Coruna shirt or two from Soccer Box. Try out the home jersey or third shirt!