Didier Drogba Player Profile Vital Stats:
Height: Six feet, two inches
Age: 37 years
Native Country: Ivory Coast
Current Club: Chelsea FC
Tall, talented, and resilient, Didier Drogba has been a consistent presence in the professional association football world for the better part of two decades now. After a low-scoring season at Chelsea FC, though, it looks like Drogba's lengthy and impressive senior career could finally be drawing to a close. With his contract at Chelsea expiring, and no real rumors or speculation about where he could end up next year, it's unclear right now whether Didier is considering retirement or looking to do a brief stint at a less high-profile club before closing the curtain on his senior career. One thing does seem certain, though, and it's that Didier won't wear the Chelsea jersey again after this year.
Celebrate Didier Drogba's dynamic career history today, with a new football shirt from Soccer Box. Pay tribute to his legacy with a player-specific Drogba 11 Ivory Coast home shirt 2014 - 2015, or pick up a Chelsea away shirt 2014 - 2015 to honor the soccer club where Didier achieved most of his greatest successes.
Early History
Didier Drogba began his senior career in France all the way back in 1998 - 1999, at the now-third-tier club, Le Mans. It wasn't until 2002 - 2003, after a transfer to Guingamp, that he had his breakout season, though. That year was a star-making one for the Ivory Coast striker, featuring 21 goals in 39 appearances.
The strong performance caught the attention of Olympique Marseille, and for the 2003 - 2004 season, Didier joined his third French football club in just four seasons. He did even better that year, netting 32 goals in 55 appearances. Marseille only finished in seventh place on the Ligue 1 table, but Drogba lead the football club in continental play. He scored five goals in the Champions League prior to Olympique's group stage elimination, and netted another six in the UEFA Cup (now the Europa League), to lead Marseille to the finals.
Chelsea
Drogba's dynamite performance in the 2003 - 2004 campaign earned him his biggest break yet: a transfer to Chelsea FC for a then-record fee of £24 million.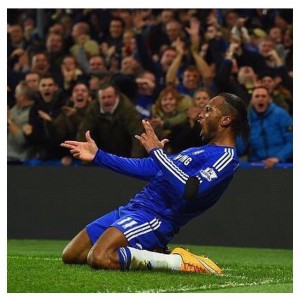 Due to a stomach muscle injury, his first season in the Blues jersey wasn't quite what it could have been. However, Didier went on to become one of the greatest footballers to ever play at Stamford Bridge. His first stint at the club lasted from fall 2004 through spring 2012?eight seasons in which he made 341 appearances and scored 157 goals.
In those first eight years at Chelsea, Drogba was a part of three Premier League titles, four FA Cup victories, and two League Cup wins. In 2011 - 2012, the final season of Didier's original stint at the club, Chelsea finally won their first-ever UEFA Champions League trophy, with Drogba as the club's leading goal scorer. It was the perfect ending to a legendary career at Stamford Bridge.
Career Summation
Of course, Didier wasn't done at Chelsea just yet. A year ago, after short runs at both Shanghai Shenhua and Galatasaray, Drogba agreed to don the Chelsea home shirt 2014 - 2015 on a free transfer, one-year contract basis.
The return to Stamford Bridge has truly felt like a victory lap for Drogba's career. It reunited him with manager Jose Mourinho, let him be a part of one more Premier League victory, and gave him an extra boost in total apps and goals. Didier currently ranks fourth on Chelsea's all-time goalscorer list, with an overall tally of 164. He is the only international player in the top 10, with the other spots all being occupied by England born-and-bred soccer stars.
The question is, will this be the end for Didier Drogba? With his contract expiring at Chelsea, rumor has it that the 37-year-old striker will look to free transfer to another club. There is no word yet on where he might go, though, and since he retired from international play following last summer's World Cup?with 65 goals and 104 appearances, both Ivory Coast records?it seems that he is almost ready to hang up his soccer jersey for good. Could there be a more fitting way for Didier Drogba to go out than with one last glorious season at Chelsea FC?
Follow @soccerboxcom