The 2015 winter transfer window officially opened on January 1st, and will close on February 2nd. That gives association football teams around the world a few more weeks to change up their squads and give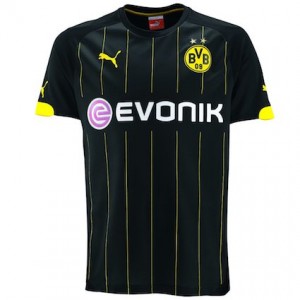 themselves better competitive edge for the spring. And while every football club at least thinks about mid-season transfers, it's struggling squads like Borussia Dortmund that most need to take advantage of the opportunity. Support the squad-and hope for some strong new signings in the next few weeks-by picking up a couple of discount replica football kits for the team.

At Soccer Box, we have a range of discount replica kits for the Black and Yellows. Whether you prefer the bright yellow home shirt, or the cool yellow stripes on black look of the Borussia Dortmund away shirt 2014 2015, Soccer Box is the perfect place to shop for replica football kits.

Dortmund's Disastrous Season

Next to Bayern Munich, Borussia Dortmund is the biggest and most respected football club in all of Germany. And for good reason: the team has been the runner-up in the Bundesliga for the past two years, and was the champion in both of the seasons prior to that.

The soccer squad's recent success has made the utter failure of their 2014 2015 run that much more surprising. In the first 17 games, the Black and Yellows only won four. Their record, rounded out by three draws and 10 losses, places the squad in second to last place in the league, going into 2015.

Not that fans looking for the club's discount replica football kits have been completely disappointed: the squad has actually been doing pretty well away from domestic league play. They won their group in the UEFA Champions League, earning a slot in the round of 16. The squad will also compete in the round of 16 of the DFB Pokal.

Why Jurgen Klopp Needs Reinforcements

Still, Dortmund's dramatic drop from second place in the 2013 2014 Bundesliga to second to last place in 2014 2015 has been just about the ultimate nightmare for the legendary German team. Things have been so bad that manager Jurgen Klopp could be on the chopping block if he doesn't turn them around. Klopp has been with Borussia since 2008, and helped steer the organization to a relative golden age this decade.

With the transfer window open, it's obvious what Klopp needs to do to save his job and his team's season: go out and find some reinforcements. Getting a few new players to come to Germany and don the Borussia Dortmund away shirt 2014 2015 could turn everything around.

Potential Signings: Akpom? Dybala?

With potential transfers on the way, fans currently shopping for Dortmund's discount replica football kits could soon be rooting for new players. The question is, which soccer players might those be?

Based on the rumor mill, the most likely winter signings for the Black and Yellows would be Chuba Akpom, a promising 19-year-old striker who currently plays at Arsenal. Akpom has been somewhat frustrated at Arsenal this season because he has not gotten a lot of play time.

Since Dortmund is severely lacking in strong strikers right now, the club could offer Akpom the starting status he so covets. That fact alone might make the young forward consider an offer to put on the Borussia Dortmund away shirt 2014 2015. However, Arsenal recently offered Akpom a new three-year contract, so his future is anything but clear at this point.

There have also been rumors that the Black and Yellows are chasing after Palermo's leading goal scorer, Paulo Dybala. At 21 years old, Dybala is another promising striker who is likely at the beginning of a long and fruitful career. He's been a huge factor in Palermo's success in recent seasons, and the club's manager has warned Dortmund that it would take a hefty sum of money (40 million Euros) to take him away.

Will either of these talented young men be coming to Borussia Dortmund this winter? Or will Jurgen Klopp seek other footballers before the transfer window opportunity fades away? We will find out in the coming weeks. In the meantime, you can support the Black and Yellows by stopping by Soccer Box and picking up one of our discount replica football kits! Whether you are looking for a Borussia away shirt or a yellow home shirt 2014 2015, you can find it among our replica kits selection!