This article will provide a Dynamo Moscow team profile, an invaluable source of information for fans of
Russian football, and football supporters in general. Keeping track of all the different football clubs from Moscow isn't the easiest feat for casual followers of the Russian Premier League. During the 2014 2015 season, Moscow teams accounted for nearly one-third of the entire RPL division. Two of them, CSKA and Dynamo, finished the year in the top five. Another two, Spartak and Lokomotiv, ended the season in sixth and seventh place, respectively. The fifth club, Torpedo Moscow, was relegated down to the Russian Professional Football League thanks to their 15th place finish.

Of all of these various Moscow football clubs, Dynamo Moscow is the oldest. Indeed, Dynamo Moscow is the single oldest soccer club in all of Russia, having been founded in 1923. Dynamo is also the only soccer club in Russia that has never been relegated from the top tier of Russian (or Soviet) soccer. Said another way, Dynamo Moscow is a true institution of Russian athletics.

A Long Title Draught

Ironically, Dynamo Moscow's White-blues have never actually won a title in the Russian Premier League (or the Russia Top League, as it was previously known). The last time the soccer club topped the national league was 1976 when the division was still the Soviet Top League.

Indeed, the White-blues have only come close once since the Soviet Union was dissolved, with a runner-up finish in 1994. Even then, the football club wasn't particularly close to winning Russian Top League title. They ended the year with 39 points in the standings, 11 points from their crosstown rivals at Spartak.

Russian/Soviet Football History

Despite the fact that the White-blues haven't won a national championship for nearly four decades, they remain one of the most decorated soccer clubs in Russian or Soviet history. Indeed, during the Soviet Union, Dynamo Moscow won the league trophy 11 times. Including their 1994 runner-up finish, they've finished second on an additional 11 occasions.

Two Moscow clubs have won more titles than Dynamo: Spartak, who have 21, and CSKA, who have 12. Interestingly, Spartak Moscow are also in the midst of a long title drought and haven't won the Russian Premier League since 2001. CSKA Moscow, meanwhile, just surpassed Dynamo in total title count recently, following the 2013 2014 RPL-winning campaign.

Dynamo Kyiv also, technically, have more "Russian" football titles than the White-blues. Though Kyiv are a Ukrainian club, they were a part of the Soviet Union and, therefore, played alongside Moscow's clubs for many years. Kyiv won 13 titles in the Soviet league, clinching the last in 1990. Though they aren't a Russian football club, they have a decorated status in Russian/Soviet soccer history that will last forever.

Prospects at Another Win

So what's the deal here? Are the White-blues cursed? Did the days of Dynamo Moscow winning national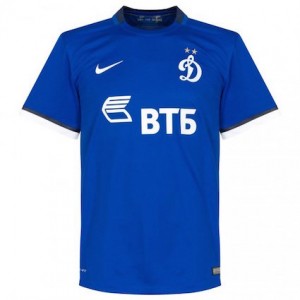 football come to an end along with the Soviet Union? Or could we see this once-dominant football club finally snap their losing streak sometime soon?

At this point, it seems like it can only be a matter of time before the White-blues finally top the Russian Premier League table. After all, they've performed decently in recent years, even if they didn't ultimately win the title. In both 2014 and 2015, Dynamo finished fourth. Back in 2012, they ended the season in third place, just six points off the lead. Clearly, the White-blues have enjoyed a fairly consistent presence near the top of the RPL table in recent years.

Unfortunately, 2015 2016 probably won't be Dynamo's year. The White-blues got off to the wrong foot when the new season launched back in July, losing their first match to Zenit St. Petersburg and failing to score a victory until week four. A Moscow club will probably still win the title this season: CSKA and Lokomotiv currently have the top two spots locked down. But unless Dynamo can orchestrate the ultimate winning streak for the rest of the season, their title drought will likely continue at least until 2017.

Root for the White-blues today. Pick up a brand new Dynamo Moscow shirt 2015 2016 from the Soccer Box online store.