It's official: the England national football team kept a perfect record in the qualifying rounds for the 2016 European Championship. The soccer squad seemed downtrodden when the qualifiers began last fall, having just recently suffered their worst-ever performance at the FIFA World Cup. But a year can make an awful lot of difference, and now, with the Euro 2016 qualifying competition officially on the books, the Three Lions are looking like genuine contenders to win the title next year in France. Lets take a look at how Group E played out as the results are in, and England and Switzerland advance to Euro 2016 finals.
The Numbers and Figures
England ends the qualifiers with a perfect record: 10 wins, zero draws, and zero losses. Not only did they
finish as the top team in Group E, but also as the top team in the entire qualifying competition. Only one of the other 52 countries involved in the qualifiers even escaped undefeated: Austria, claiming Group G with nine wins and one draw. Even Germany, last year's World Cup winner, tallied a pair of losses. Spain, meanwhile, the reigning European Champions, won nine games and lost the 10
th
.
England also closed out the Euro qualifiers as the kings of goal difference. Poland recorded
more
goals (33, compared to England's 31), and Romania conceded
fewer
(two, versus England's three), but the Three Lions had the best balance between offense and defense. Their final goal different rating, of +28, is substantially better than Poland's (+23), Spain's (+20), or Germany's (+15).
As for individual players, England didn't have a Robert Lewandowski-level star on their lineup (Lewandowski scored 13 goals in the qualifiers), but still had a few impressive performances. Wayne Rooney tallied seven goals while Danny Welbeck scored six. Both were among the top 15 scorers in the competition.
Frontrunner Status?
So, with all of those figures considered, is it time to declare the Three Lions as the frontrunners for the
Euro 2016 title? Maybe not quite: while England obviously did very well in the qualifiers, the soccer squad had a few things working in their favor?a not-too-competitive group, among them.
Indeed, the only competition England really faced in Group G was from Slovenia. All three goals that the Brits conceded in the qualifiers came in their matches against the Slovenian national football team?and one of those was an own goal. Switzerland, meanwhile, played well and qualified for Euro 2016 by taking second place, but got shutout in both matches with England. San Marino, finally, are traditionally one of the easiest teams to beat in any UEFA competition.
Bottom line, the English soccer squad just didn't really have a clear challenger in Group G. Germany and Poland, meanwhile?arguably, both in the top three for teams most likely to win Euro 2016?were drawn against one another in D.
England: A Fitting Euro 2016 Winner
Still, there's no doubt that the Three Lions are a team to watch when the Euro tournament gets underway on June 10
th
of next year.
Even though Spain did quite well in the qualifying rounds, most football pundits aren't expecting the Spaniards to win a third consecutive European Championship. No other team has even won two Euro titles in a row, so a third seems unlikely?particularly since the common belief is that Spain's football golden age came to a close a couple years ago.
In other words, we'll probably be looking elsewhere for our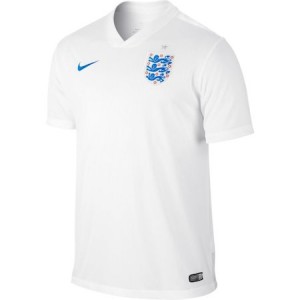 European Champion next year, and what soccer team is more due for a victory than England? Football, after all, was
invented
in England. However, despite their strong soccer heritage, the Three Lions have never made it to a Euro final, having come closest with semifinal exits in 1968 and 1996. Since Spain and Germany both already have three Euro titles, it would be a real thrill to see a final between England and Poland next year.
What do you think? Do the Three Lions have a chance at winning Euro 2016? Or was their strong, 10-win performance in the qualifiers just a fluke? Pick up an
England jersey
at Soccer Box to root for the football team, then find us on social media to share your thoughts on their chances. Find us today on multiple social networks including
Pinterest
and
Google +
.