This summer's 2014 World Cup in Brazil may have been one of the more demoralizing defeats that the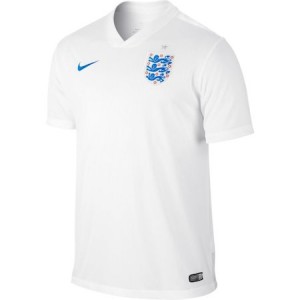 England national football team has suffered over the years, but that doesn't mean that the team's year is over. On the contrary, the first qualifying fixtures for the 2016 European Championship are just weeks away, and if you are hoping to support the Three Lions, then you will want to have a set of England soccer jerseys 2014/15 to do so!

With that in mind, Soccer Box has stocked up on England national football team merchandise! From the classic white-and-blue England home kit to the long-sleeved yellow goalkeeper jersey, we have everything you will need to cheer England past the summer's lackluster World Cup performance and toward brighter things!

The World Cup

While England's performance at the World Cup this summer did indeed fall below expectations, that doesn't mean that the England soccer jerseys 2014/15 are hopelessly tainted, or that the team doesn't still have the potential to put forth a strong performance in the upcoming Euro qualifiers. Indeed, England's World Cup fate was sealed by more than just superb play, but also by a tough group stage draw.

The group draw was arguably the biggest reason that England failed to make much of an impression at the World Cup. A "group of death" that included three previous World Cup victors (England, Italy, and Uruguay), Group D was always going to be a battle as to which two football teams would earn the right to progress to the round of 16.

What no one counted on was that Costa Rica, the fourth team in Group D, would end up being so strong. Indeed, Costa Rica beat both Italy and Uruguay (and drew 0-0 with England) to win the group. Meanwhile, England's failure to beat both Italy and Uruguay meant that England finished at the bottom of the group, and kept the England home kit far away from the knockout stages of the tournament.

The Euro Qualifiers

England was in good company as far as early World Cup elimination was concerned. Typically strong European football squads, including group partners Italy, reigning World Cup champions Spain, and a highly-ranked Portugal team, all failed to make it beyond the group stage, just like England did.

For that reason, fans needn't read too much into England's World Cup defeat. Instead, fans should ready their England soccer jerseys 2014/15 for the forthcoming European Championship qualifiers!

Luckily, England's group stage draw for the UEFA Euro qualifying rounds is markedly less frightening than the ill-fated World Cup group draw. Instead of facing a wall of world champions, England will instead contend with more modest opponents like Switzerland, Slovenia, Estonia, Lithuania, and San Marino.

Of those teams, only Switzerland also qualified for the World Cup this year, making it to the round of 16. In all likelihood, those two teams will split the top two slots for UEFA Euro qualifying Group E, leaving the other four teams to battle for the third place slot and the playoff opportunity that comes with it.

Upcoming Fixtures

So when will England begin its campaign for European Championship qualification? That will be on September 8th when the England national football team will travel to Switzerland for what will likely be the most contentious match of the first phase of Group E.

Whether England wins or loses the Switzerland match, fans should ready their England home kit shirts for October 9th, where England should get an easy at-home win against San Marino. England will also play Estonia (away, on October 12th) and Slovenia (at home, on November 15th) before the calendar runs out on 2014.

Do you think that the England national football team can overcome its World Cup defeats to put forth a strong performance during the upcoming European qualifiers? If so, stop by the Soccer Box online store today to check out our selection of England soccer jerseys. Whether you are looking for a home kit, and away jersey, or even just a pair of England football shorts, we've got you covered.