Monday 24th April. By Edward Stratmann.
Following Athletic Bilbao's barnstorming 5-1 win over Las Palmas, Ernesto Valverde couldn't have been more pleased with his team, who played with remarkable intensity and purpose throughout.
In what was the perfect way to celebrate his 300th match in charge of Athletic, he noted how "the key has been our aggression in the robbery" which was certainly apt, for his side put on a masterclass in how to press a wonderfully talented Las Palmas outfit. Quique Setien's men were hardly given a
moment's peace, as they were placed under duress every time they attempted to implement their usually incisive passing game.
The fact Athletic were successfully able to nullify some of the most press resistant players in La Liga such as Jonathan Viera, Roque Mesa, Vicente Gomez and Tana served as a testament to Valverde's structure. And how well his men adhered to it.
"
they always had access to press them by orienting their positioning to maintain access.
Moreover, upon noticing the away side drop either Mesa or Gomez in between the two central defenders, Athletic central midfielder, Mikel San Jose, would rigorously press them, using them receiving possession with their back to goal as a key trigger to press. The Basque outfit's wingers would then diagonally press their opposing fullbacks, with this allowing them to block any potential lanes into the midfield with their cover shadow.
This aforementioned setup in the first phase beautifully disrupted Las Palmas' capacity to build from the back, as Athletic's relentless, thoughtful pressing minimised their adversaries' passing options, subsequently forcing them into committing many turnovers and into hoofing low percentage long balls upfield.
On the occasions that Las Palmas progressed beyond the initial press into midfield, the Rojiblancos then organised themselves into a vertically and horizontally compact 4-4-2 block. Using man oriented zonal marking, they covered vital central spaces well by layering their midfield, plus by smoothly executing lateral shifts depending on the ball's location.
Furthermore, they still accompanied this with some fierce pressing when they believed they could win the ball back. They did so by responding to cues like if their opponent's body was open upon receiving, by pressing the blindside or when recognising a poor first touch.
A significant byproduct of their strong defensive shape arose from the fact it gave them a fantastic platform from which to counter attack from, as their compact spacing meant they were able to bypass Las Palmas' counterpressing efforts smoothly. Indeed, three of Bilbao's goals arrived following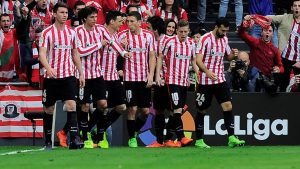 them smartly winning back possession and hitting Las Palmas on the break, which served as a fine depiction of the quality of their pressing.
Facing off against a high flying Eibar outfit up next, in what looms as a fascinating Basque derby, Valverde will be hoping his side can show similar dedication and character to also impose themselves on their neighbours.
If they can, there's absolutely no reason to suggest they won't be able to pull off another high octane victory, which in the process, should see them edge one step closer to achieving their stated aim of qualifying for Europe next season.
With their tactically astute manager, Valverde, reportedly on the verge of becoming Barcelona's manager next term, finishing off the campaign in style would be a fitting way to send off for the man who's coached more games than anyone else in history at his beloved Athletic.
Visit
License to Roam
for more article's by Edward!
Follow @EdwardStratmann
Follow @soccerboxcom