2nd January 2017. By Edward Stratmann.
Having not featured in any of Eusebio Sacristan's superbly coached Real Sociedad outfit's opening 12 matches of the season, it was hardly surprising that rumours linking Esteban Granero with a move to La Liga minnows, Leganes, were circling.
Seeing as La Real had made such an excellent start to the campaign, Eusebio preferred to stick with a settled side and didn't feel the need to undertake any wholesale tinkering. Sociedad's manager did,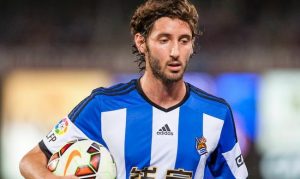 however, pick an interesting moment to finally give the technically exquisite Granero his first appearance.
Although Granero was only introduced as a substitute for the last five minutes of their colossal clash with
Barcelona
, a game Sociedad probably deserved to win, it spoke volumes that Eusebio was willing to trust the former Real Madrid and QPR man in such an important fixture.
Additional outings ensued in La Real's games with Deportivo La Coruna and Valencia for Granero, before he was finally rewarded for all his persistence and patience by being granted his first league start this term against lowly Granada.
The man nicknamed El Pirata (The Pirate) certainly didn't disappoint either, putting in a dazzling shift from central midfield that undoubtedly saw Eusebio's decision to deploy him from the outset vindicated.
Throughout Sociedad's 2-0 win, Granero looked just about at his smooth, imaginative, skillful best, in a match where his creativity constantly saw him help his side unlock the Nazaries' defence.
Granero's intuitive movement afforded him a brilliant platform from which to enjoy such a successful, man of the match performance. By relentlessly drifting laterally, vertically and diagonally, the 29-year-old managed to always find space to operate in and weave his magic. He just bided his time while he waited for an opportunity to receive possession in an ideal location, showing great patience to know that the young Granada side's lack of compactness could be exploited given time.
It was intriguing to note, though, the way he'd target the left and left half spaces as a way to get into advantageous positions. Displaying great synchronisation with his teammates, once he noticed
Sociedad
left-winger, Mikel Oyarzabal, dropping deep and subsequently bringing his marker with him, Granero would quickly dart into the space left behind to receive passes from a colleague down the left channel. This served as a fruitful little tactic, and one that was a vital element of the away side's attacking forays on the night.
His wonderful range of passing supplemented his intelligent movement nicely, with Granero's ability to play intricate combinations in confined areas and long raking through balls, plus everything in between, ensuring his side could rely on him to unlock the Granada defence with notable regularity. His perfectly weighted assist for Jon Bautista's goal served as a glowing testament to his exemplary distribution skills.
By the numbers, his five key passes and three successful dribbles gave an indication into his menacing attacking input. Meanwhile, his defensive contribution also deserved special mention as he threw himself into his work with plenty of vigour and intensity, something his six interceptions, two clearances, two successfully won aerial duels and one blocked shot evidenced accordingly.
After such an outstanding effort by the jovial midfielder, he insisted how delighted he is feeling about his game at present, before later going onto mention how desperate he is for a prolonged run in the first-team. "I feel very good, at the best moment of my career. I'm physically strong enough. Experience and maturity are very influential in the world of football. I am really looking forward to being in the field. Let's see if that happens," he explained to EFE Radio.
"What I lack is to play two or three games in a row and be there. The only thing I can do in that regard is to work to the fullest and not to miss the opportunities."
Although it won't be easy for him to cement a spot in the talented Basque outfit's starting eleven, he's shown how beneficial having a player with such experience, intelligence and technical qualities can be.
Despite enduring a tough start to the 2016/2017, it's been encouraging to finally see Eusebio begin to utilise Granero's special skillset.
All it took was for Eusebio to give him a chance.
Licence to Roam
for more football articles.
Follow @EdwardStratmann
Follow @soccerboxcom