Since the inception of the UEFA European Championship in 1960, the England national football team has
qualified for the event eight times. Never before, though, has the team gone undefeated in the qualifying competition leading up to the tournament?a feat that they are currently chasing in Euro 2016 Qualifying Group E.
In fact, right now, as soccer fans wait for game seven of the Euro qualifying rounds (set for early September), England is in a better position than any other team in the entire qualifying competition. Indeed, if you were to rank all 53 of the teams vying for qualification into one standings table, based on their current statistics, England would be at the top of the list with six wins, zero draws or losses, a point total of 18, and a goal difference of +15. (Slovakia are the only other country with a perfect 18-point, six-game record, and their GD rating is +10.)
Four Games to Play
With that said, there are still four games to play in the qualifying competition, and the standings in Group E could still move around quite a bit. England is currently guaranteed to
at least
finish in third, which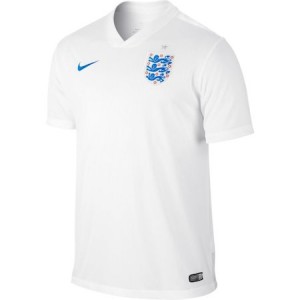 means they will either qualify for Euro 2016 outright or head to the playoffs with other third-place squads. Either way, we expect that the Three Lions will be making an appearance at next year's European Championship in France.
If the English side has a competitor for the top slot in Group E, it's Switzerland. The Swiss team lost their first two qualifying games last fall?first in an 0-2 home game against England, and then in a 0-1 away fixture in Slovenia?but have won four
in a row since, for a table total of 12 points. Their goal difference is still substantially lower than England's, though (+9), and since they are two wins behind England at this point, it's unlikely that Switzerland will be moving into the lead.
Still, the Swiss squad should have a solid chance of qualifying for the European Championship?their first since 2008?provided they manage a win in their next game. On September 5
th
, the team's players will don the Switzerland home shirt 2014 - 2015 for a rematch against Slovenia. A win there would keep Switzerland's winning streak alive and further secure the team's second place slot. Right now, Slovenia is just three points back, so if
they
win on September 5
th
, they could feasibly move into second place behind England.
The Dark Horses 
Those three teams?England, Switzerland, and Slovenia?are the ones to watch in the final four games of Group E. The
other
three teams in the group, meanwhile?Estonia, Lithuania, and San Marino?range
from tournament dark horses to also-rans.
Estonia could feasibly mix things up among the top three. Right now, they have a record of two wins, one draw, and three losses and are only two points behind Slovenia on the table. They're also one point ahead of Lithuania, who they'll play on September 5th. Whoever wins that game will have a solid chance of pushing into the top three. Whoever loses, meanwhile, will more or less see their Euro qualification hopes drop to zero. Neither team has ever qualified for the tournament.
San Marino, meanwhile, have been the group's punching bag thus far. Other than a scoreless draw against Estonia back in November, they've lost every one of their football matches so far. Things aren't likely to look up, either: on September 5
th
, they're scheduled to play England?who beat them 0-5 last time around.
Do you have any predictions for the remaining four games in Euro 2016 Qualifying Group E? Will England race to a perfect 10-win qualifying run? If so, will that set the Three Lions up for their first-ever win at the European Championship? Or will their flawless qualifying run be spoiled by Switzerland or one of the other soccer squads in Group E?
Connect with Soccer Box on social media today, and let us know your thoughts and predictions! You can find us on
Facebook
,
Pinterest
,
Tumblr
, and other social networks! You can also visit our web store to purchase a new
Switzerland football shirt
2014 - 2015, or perhaps an England away jersey. Stop by the site today to browse our selection of official football merchandise.