There has been some sad news in the air for fans of the Chelsea football club lately, what with the departures of favored players like Frank Lampard and David Luiz. However, in football, nearly every departure is also heralded with a new arrival, and one of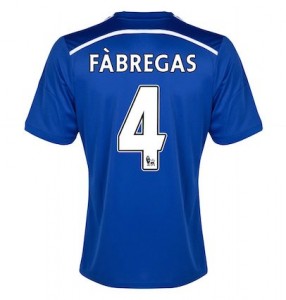 the biggest new arrivals for Chelsea's 2014 2015 season is Spanish midfielder, Cesc Fabregas. In order to celebrate this new arrival, Chelsea has already made the Fabregas 4 Chelsea home jersey 2014 2015 available for public purchase.

This new Chelsea soccer shirt, which you can find at Soccer Box today, is a vintage piece of Chelsea gear, with the trademark blue and white color scheme and the lightly striped Adidas design. It also has Fabregas' name emblazoned on the back, along with his new jersey number of 4 (which he will be taking over from the departing Luiz). Fabregas will, of course, be wearing the jersey at all of his matches at Stamford Bridge throughout the coming season.

A Key Acquisition

The Chelsea team's determination to get the Fabregas 4 Chelsea home jersey 2014 2015 on store shelves just days after signing the Spanish midfielder to five-year contract shows just how valuable an acquisition Fabregas could end up being for the Chelsea team. At 27 years old, Fabregas brings a perfect balance of youthful strength and seasoned skill, and both his experience and talent will make him a core part of the Chelsea squad come the 2014 2015 Premier League season.

When Fabregas don's the Chelsea soccer shirt and takes to the field at Stamford Bridge this fall, he will officially be starting a run at his third professional club. After making a name for himself during his youth career at Barcelona and Arsenal, Fabregas echoed a similar progression in his professional career, playing for Arsenal between 2003 and 2011, and then returning to Barca for three seasons from August 2011 until the signing of his Chelsea contract this June.

With both clubs, Fabregas was an instrumental part of many matches. At Arsenal, he made a behemoth 303 appearances over the course of eight seasons, scoring 57 of his own goals and assisting in 98 others. At Barcelona, he only played half as many games (151), but that didn't stop him from accumulating impressive stats. In his three seasons at Barca, Fabregas netted 42 goals and made 48 assists. Needless to say, Chelsea football fans are hopeful that he will do a similar level of work at Stamford Bridge in the coming years.

International Glory

While Fabregas' football league career has certainly made him a worthy acquisition for Chelsea, though, the bulk of the player's fame and glory has actually come from playing as a part of the highly celebrated Spain squads of recent years. He was a part of the Spain national football team at the 2006 World Cup, the 2008 European Championship, the 2010 World Cup, and Euro 2012, winning the latter three.

In fact, it was Fabregas' assist to teammate Andres Iniesta that allowed Spain to pull ahead in the final match of the 2010 World Cup. The goal ultimately functioned as the winning shot of the tournament, since the final match ended with a score of 1-0 in favor of Spain against runners-up, The Netherlands.

Spain may be out of the 2014 World Cup but hopes for the Chelsea soccer shirt, and Fabregas are already running high. Chelsea had a fantastic 2013 2014 season and is expected to produce even better results in 2014 2015. Jose Mourinho returned as manager last season, after a year to settle and the acquisition of Cesc Fabregas, a much needed prolific striker great things are expected of Chelsea football club during the season to come.

Chelsea fans are sure to be excited to see this talented scorer and assister take to the pitch at Stamford Bridge. Get in the spirit of supporting the Barcelona transfer with the Fabregas 4 Chelsea home jersey 2014 2015!