Which team will win the 2014 2015 La Liga title: FC Barcelona or Real Madrid? That's been the big question in the Spanish football world all season long, but it's one that's become even louder and more pronounced in recent weeks. Real ceded the top spot to Barcelona last month, after a mid-season slump left the Vikings looking like they didn't have any gas left in the tank. But the Madrid side has been clawing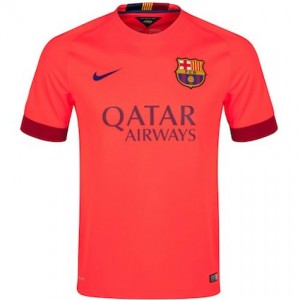 their way back into a competitive position, and considering Barcelona drew this past weekend with Sevilla, this year's La Liga is wider open than ever. Pick up a new FC Barca shirt from Soccer Box, to spur Lionel Messi and company to victory.

With just seven weeks left in the current football campaign, Soccer Box is offering some truly outstanding deals on Barcelona shirt designs. Indeed, several items in the Barca shop are currently available at discounted prices, including the stylish orange Barcelona away jersey 2014 2015. Also for sale are jackets, goalkeeper jersey designs, tracksuits, and more. In other words, if you've been waiting to stock up on 2014 2015 gear for this great Spanish football club, the golden opportunity you've been looking for has arrived!

Sevilla

Regardless of which version of the FC Barca shirt you decide to pick up, now is the right time to make a purchase. Barcelona will need their dedicated fan base in these final weeks of the 2014 2015 campaign, if they are going to secure the national football title.

This past weekend, players donned the Barcelona away jersey 2014 2015 for an away game at Sevilla's Estadio Ramon Sanchez Pizjuan. The resulting fixture marked the first time in nearly two months that Barca had shown a sign of weakness in the domestic league. Indeed, ever since a February 21st loss to Malaga, Barcelona has seemed unbeatable-assembling a six-game winning streak that included victories over Rayo Vallecano, Celta Vigo, and even Real Madrid themselves.

In Saturday's away match with Sevilla, though, Barca looked unusually sloppy. The game started off in standard, exemplary fashion with both Messi and Neymar scoring in the first 31 minutes of play. However, before the first half was even over, Sevilla had cut Barca's lead to one point with a goal from Ever Banaga. And in the second half, the home squad not only managed another goal, but also held Barca scoreless. The soccer match ended as a 2-2 draw.

Real Madrid

The draw was a lukewarm moment for the wearers of the FC Barca shirt. For Real Madrid, though, it was something more: an opportunity.

The Vikings have gotten back on track recently, starting with a 9-1 home victory over Grenada last weekend, and continuing with a 2-0 away win at Rayo Vallecano on Wednesday. On Saturday, they extended their winning streak to three games, beating Eibar 3-0 to come within two points of Barca's first-place position.

By all accounts, these two teams are neck-and-neck in the 2014 2015 La Liga competition. Barcelona has the edge, with 75 points and a goal difference rating of +68. The Vikings are just behind, though, with 73 points a GD of +65. Clearly, the last seven weeks of the season are going to be key for deciding which of these football clubs walks away with a trophy, and which settles for a runner-up slot.

Barcelona and Madrid are even duking it out to see whose best player will take the title of La Liga's top scorer for the 2014 2015 season. Right now, Cristiano Ronaldo has the edge, with 38 goals scored in league games. Lionel Messi is just behind, at 34. Ronaldo is also ahead overall, with 49 goals counting all cup and continental play. Messi has 45.

Regardless of what happens with the rest of the season, it's clearly a very exciting time to be a fan of either of these clubs. Pick up a new Barcelona away jersey 2014 2015 from Soccer Box, if you wish to show your support for the team from Camp Nou!

It's the perfect time to grab a new 2014 2015 FC Barca shirt-whether you prefer the home jersey, the away shirt, the goalkeeper kit, or even the third jersey.