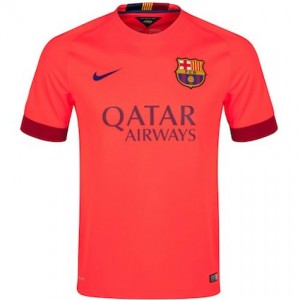 Real Madrid has been sitting at the top of the 2014 2015 La Liga division since a week nine triumph over FC Barcelona. However, Barca has been slowly chipping away at that lead with a string of big victories in recent weeks. Now, with a 6-0 away win over Elche last weekend, the Barcelona squad is just one point behind Real's Vikings on the standings, and just three points behind in terms of goal difference. Celebrate the momentum with a new jersey or jacket from the Soccer Box FC Barcelona store!

The Soccer Box store is the perfect place to stock up on brand new Barca gear. Whether you are looking for the Barcelona away jersey 2014 2015 that the squad wore in their recent triumph over Elche, or for the blue and red home jersey, you can find it here. We also have stock available of the 2014 2015 goalkeeper jersey, several versions of the Barca training kit, and more. Check out our store today.

Elche

Now is the perfect time to visit Soccer Box's FC Barcelona store, if only because the Barca squad is on fire after this past weekend's win over Elche's Green-striped ones. The win wasn't surprising after all, the Barcelona football squad has won all but five of their matches this season, including a 2014 2015 home opener against Elche. The Green-striped ones, meanwhile, have lost 11 games and have only won four.

Even with those statistics, few were expecting a six-point shut-out as the players in the Barcelona away jersey 2014 2015 filed into Elche's home stadium. Home field advantage should have allowed the Green-striped ones to score at least one point, right?

But even as the away team with the crowd against them, Barcelona was relentless in the match. After a slow start, where the score stayed stalled at 0-0 for the first half-hour plus, defender Pique converted an assist from Xavi into the first point of the fixture. A defender, Pique has proved to be a surprising offensive presence in the 2014 2015 season, and this was his third goal of the current La Liga campaign.

The away team went to halftime with a 1-0 lead. However, it was the second half where football fanatics were truly given a reason to visit Soccer Box's FC Barcelona store and stock up on gear. The squad delivered five goals during the second period, carving out their biggest away win of the 2014 2015 season. In fact, the performance tied their 6-0 home win over Granada (played back in September) as their highest-scoring contest of the entire season!

Needless to say, it was a good day for the wearers of the Barcelona away jersey 2014 2015. Lionel Messi kicked things into high gear at the 55-minute mark with a penalty goal. He then provided assists as Neymar scored twice in the space of three minutes, before scoring another point of his own just minutes before the end of the game. Pedro closed things out at the 90+3 minute market, finding the net one last time to make the score 6-0.

Goal Difference and Table Standings

That big away win brought Barca's 2014 2015 "points scored" tally to 54. Real Madrid is still 10 goals ahead, while Cristiano Ronaldo remains the league's most prolific scorer. His count for the season, so far, is 28. Meanwhile, Messi and Neymar have scored 21 and 14 respectively.

Even with these stats considered, Barcelona is drawing close to Real in terms of goal difference. After all, Barca has only allowed nine goals this season-both in home and away fixtures-while Madrid has allowed 16. That leaves the Vikings with a +48 goal difference rating. Barcelona has +45.

Add the fact that Barca is only one point behind on the 2014 2015 standings table, and it looks like these teams could be battling for the national football title this year. They are scheduled to play one another on March 21st, a home game for Barcelona.

Root for the Barca squad today with a brand new football jersey from Soccer Box! Our FC Barcelona store has every away jersey and 2014 2015 home jersey you could want!