Fiorentina's purple kit is among the most eye-catching in football. It's simple, but unique. No other team in Europe's major leagues wears the colour, which stands out as a beautiful rejection of the more traditional blacks, blues, reds and whites on show throughout Italy, England, Spain and Germany. Rather fittingly, the dark purple – which informs the club's Viola nickname – was born amid majestic surroundings.
Fiorentina's Purple Colour Scheme
According to folklore, Fiorentina became Viola by accident. Originally their shirts were a more conventional – and frankly less interesting – vertically split half-red, half-white. But, during a trip to the River Arno, which snakes underneath the Ponte Vecchio and through Florence, a fatal washing error saw the two colours combine to form a purple hue. The new look was welcomed, and has remained in place for almost 90 years since.
The kit fits in perfectly with the city itself. Florence is widely regarded as one of the most visually stunning cities in the world, with innumerable tourists visiting annually to experience its charm first-hand. Most go for the architecture and the art, with the cathedral, Piazzale Michelangelo and the Uffizi Gallery among the most popular attractions. Those with an interest in calcio may choose to visit the Stadio Artemio Franchi, where they can glimpse the local football team in all their purple splendour.
1998/99 See's Fiorentina's Most Iconic Kit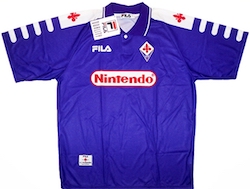 Arguably the most iconic edition of Fiorentina's kit came in the 1998/99 campaign. That season, the club matched their famous colours with a funky shirt sponsor while, on the pitch, legends combined with cult heroes and a superb manager to produce some of the club's best results since their last scudetto in 1969.
The 1990s was a decade of intense competition in the gaming industry as companies vied for video game console sales. Nintendo, Sega and Sony all released their own offerings. Unfortunately for Nintendo, their product didn't do quite as well as Sony's, whose PlayStation captured the public's imagination and substantially outsold the Nintendo 64. In a bid to gain more market share, Nintendo took their brand name to the world's finest football league.
At the time, Serie A was home to the best players and teams around. Eight times that decade the Champions League final featured one Italian club. Three times the Italian club won the competition. Furthermore, of the nine record-breaking transfer fees in this period, six were paid by Italian teams. The world was absorbed by the AC Milan of Ruud Gullit and Marco van Basten; the Juventus of Zinedine Zidane and Alessandro Del Piero; the tactical revolutions of Arrigo Sacchi and Zdenek Zeman; and the glory of Roberto Baggio.
Nintendo and Fiorentina Unite
In 1997, Nintendo entered the league by sponsoring Fiorentina. The idea was to further their own brand's appeal via association with the most beautiful kit in Europe's most successful league. Exactly how well the synergy worked for their console sales is difficult to establish; what cannot be denied is that the amalgamation created one of the most evocative kits in football history.
The presence of a gaming company's name emblazoned across a well-loved kit could easily have appeared somewhat garish, a horrible case of modern consumer culture destroying a historically significant work of art. But the shirt and sponsor actually complemented each other nicely, largely because the Nintendo name was displayed in the same red as the fleur-de-lis, Florence's coat of arms, which appeared on each shoulder of the shirt. Additionally, the Nintendo brand was bound with a sense of fun that encapsulated that Fiorentina team.
Managerial Influence of Giovanni Trapattoni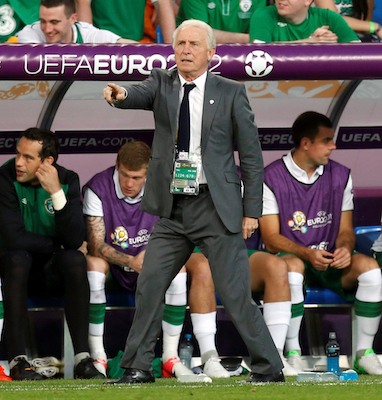 Managed by Giovanni Trapattoni, few would have predicted that this Viola outfit would gain renown for scoring potency as opposed to defensive resolve. After all, Trapattoni's best years as a player came as part of Nereo Rocco's Milan, a team that won domestically and on the continent with Catenaccio tactics, while as a manager his finest work came with a similarly effective-yet-unspectacular Juventus side in the 1970s and '80s. However, they were just as capable of resounding losses as they were of big wins.
Their meetings with Venezia summarised this quirk. They won 4-1 at the Stadio Artemio Franchi in November before losing by the same score away from home four months later, courtesy of a sublime Alvaro Recoba hat-trick. They enjoyed some exceptional wins, beating Milan and Juventus at home and Inter away, but they also conceded three or more in defeats to Piacenza, Bologna and Sampdoria.
Notable Players to Don the 1998/99 Fiorentina Kit

Unsurprisingly, their best players were also their most exciting individuals. Gabriel Batistuta, who was one of Serie A's top scorers that term with 21 goals, received attention atop the frontline for his flowing locks, aggressive playing style and energetic celebrations. The Argentine, who was virtually overflowing with machismo, marked his goals by pointing imaginary machine guns, dropping to his knees and playing air guitar, or simply pumping his fists.
Setting him up was a cerebral playmaker who seemed much more in tune with Florence's artistic and architectural environs. Rui Costa, a Portuguese No.10 who refused to pull his socks up, schemed behind Batistuta with the sort of composure and elegance that belonged in the prestigious purple kit.
Nintendo would probably have preferred it if Trapattoni's side had won the title that season, but it was not to be. Instead, the 1998/99 version of Fiorentina cemented their status as one of the cult teams of their era. Along with the fun look and the attacking play, there was an element of self-sabotage – that coolest of traits seen in many great artists – that stood in their way.
Closing Stages of the 1998/99 Campaign
They were ejected from European competition before Christmas when a fan threw a handmade bomb at a linesman during a UEFA Cup tie with Swiss side Grasshoppers. And, having made it to the Coppa Italia final, they fell to Parma, throwing away a 3-2 aggregate lead to lose on away goals thanks to some poor defending. They also failed to last in the title race, falling away due to the most ridiculous of striking shortages.
With Batistuta out injured, they needed someone to shoulder the scoring burden. Unfortunately, the only player capable of doing so was Edmundo. Upon joining the Viola in 1998, the Brazilian forward demanded there be a clause in his contract that would allow him to leave mid-season for the Rio carnival. He did just that in early 1999. Fiorentina were top of Serie A at the time, but they eventually slid down the table to third.
The season was a success even with the underwhelming finale that saw them win just once in their last eight league games. A rare qualification for the Champions League was assured, and they would go on to beat Arsenal and Manchester United in the competition in the following campaign. There was no silverware, but silverware is for winners. Trapattoni's Fiorentina were far too cool for that.

This article is part of the exclusive Story of the Kit Series wirtten by Blair Newman for Soccer Box, shop with us for all the latest Fiorentina kits and official football shirts and jerseys.