Based on statistics alone, Vincenzo Montella was a very good manager for ACF Fiorentina, so why did Fiorentina sack Vincenzo Montella? In 2011 2012, the year before Montella took over the head coach job, Fiorentina finished in 13th place on the Serie A standings table. A year later, they had jumped to fourth place-a position they would replicate in 2014 and 2015, as well. From the outside looking in, Montella has taken a middle-of-the-road team and turned them into Europa League and Coppa Italia contenders. With another year or two at the helm, Montella might have even been able to forge the Lilies into a squad with a shot at the league title.

Unfortunately for fans in the Fiorentina football jersey, Vincenzo Montella won't get another year or two. Despite his success with the football club, Montella has been officially sacked from the manager position at ACF Fiorentina.

Reasons for the Sacking

So why was Vincenzo relieved of his duties as head coach? According to Fiorentina officials, it was due to a "lack of respect." Before arriving at ACF, Montella had only really held two managerial positions: he'd served as a caretaker at Roma in 2011, and had coached Calcio Cattania for one season in 2011 2012.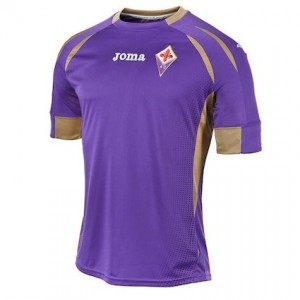 However, for the most part, Vincenzo was still known most for his career as a striker for Roma and Sampdoria.

His success at Fiorentina changed all of that. By bringing the Lilies back to prominence, Montella garnered attention and interest from a slew of other soccer clubs. Recently, he was linked to both AC Milan and Napoli as a possible future manager-despite the fact that he still had two years left on his contract with the Lilies.

Montella's ambiguous intentions for the future led to an alarming public spat with Fiorentina. In June, the club posted a message on their website, stating-in passive-aggressive fashion-that they were "waiting to be made aware of coach Montella's clear position."

Vincenzo responded to the message by saying that he was planning on "continuing at the helm with enthusiasm." However, Fiorentina weren't satisfied with the response, and sacked Montella shortly thereafter.

"We would have expected to see the coach behave in a clearer, more respectful and less ambiguous manner," the club said about Montella's sacking.

Future Prospects

The thought, clearly, is that Montella was merely using Fiorentina as a steppingstone, and was not fully dedicated to the football club's cause. ACF's decision to fire him, then, was done in order to protect the morale of players and fans.

However, the decision may have been a rash one for Fiorentina, and could be the football equivalent of killing the goose that laid the golden egg. Will the Lilies be able to adequately replace a coach that led them to three top-four Serie A finishes in a row, a runner-up finish in the 2014 Coppa Italia, and a semifinal berth in the 2014 2015 Europa League?

The biggest prospect for the Fiorentina job seems to be Basel coach Paulo Sousa, who was a rumored replacement for Montella before the sacking was even made public. Sousa came aboard at Basel in July 2014 and he didn't miss a beat in his first year, he led Basel to a victory in the Swiss Super League, their sixth consecutive title in the soccer league.

Of course, the thought of Sousa coming to Fiorentina could just be a rumor. The Portugal-born manager said in a press conference that he was "not in contact" with the Lilies, and that no offers or promises have been made.

Not that Sousa is the only rumored prospect for the ACF coaching position. Torino's Giampiero Ventura, Chievo's Rolando Maran, and Sassuolo's Eusebio Di Francesco could all be potential replacements. Regardless of the outcome, expect the job to be filled quickly, since the Lilies will need to focus on the summer transfer window going forward.

As for Montella, it's not currently clear whether or not he will be allowed to begin working immediately. The Napoli position has been filled, but as recently as yesterday the AC Milan coaching position became available after Inzaghi was sacked.

Visit Soccer Box today to pick up a new Fiorentina football shirt, or follow us on social media to watch for coaching rumors and other football world news. You can find Soccer Box on Pinterest, Tumblr, Google +, and several other popular social networks.