Just a few years ago, ACF Fiorentina was finishing in 13
th
place on the Italian Serie A league standings table. The season in question, 2011 2012, brought a record of 11 wins, 13 draws, and 14 losses for the squad. It wasn't a bad performance, but it was a lukewarm one, and coming after two similar seasons, it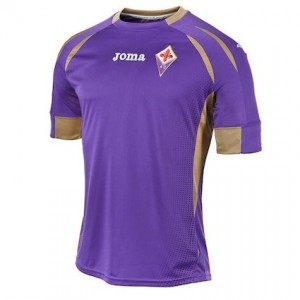 seemed as if the Lilies were doomed to be a middle-of-the-pack Serie A team for years to come. Fast forward to now, though, and Fiorentina are shooting for their third straight season in the top three! Help the club achieve the milestone with a new Fiorentina soccer jersey from Soccer Box.
With just 11 games left to be played in the 2014 2015 Serie A, now is the perfect time to stop by Soccer Box and stock up on new gear for your favorite football club. Lilies supporters will love our Fiorentina shop, which includes a slew of different jersey designs for the club. Pick up a Fiorentina home shirt 2014 2015, a stunning purple football jersey from kit manufacturer Joma, for 10% off the list price.
Other 2014 2015 gear is also available at Soccer Box, like the away shirt, third jersey, or training shirt. And we even have a bit of leftover stock from the 2013 2014 season, including last year's home shirt, away kit, and third jersey. All 2013 2014 merchandise is on sale for 30 to 35% off.
Milan
Regardless of which version of the Fiorentina soccer jersey you choose from Soccer Box's stock, you'll want to have it soon! The Lilies have been performing admirably in the recent weeks of 2014 2015 Serie A play. The team has only lost two games in 2015 so far, and March alone has seen triumphant victories over both Milan football clubs.
On March 1
st
, the Lilies beat Internazionale 1-0 in an exciting away fixture. And this past weekend, on March 16
th
, they donned the Fiorentina home shirt 2014 2015 for a battle against AC Milan at their own Stadio Artemio Franchi.
The AC fixture was especially thrilling for fans in the Fiorentina soccer jersey. The away team got on the board first, taking the lead at the 56-minute mark with a goal from Mattia Destro. But while the first half of the football match had seen no goals whatsoever, the Lilies rallied in the second half, scoring a pair of goals to beat AC Milan 2-1.
In true come-from-behind fashion, the home squad waiting until there were just 10 minutes left in the match to make their move. At 83 minutes, Fiorentina equalized the score at 1-1: Gonzalo Rodriguez took an assist from Joaquin and converted it into a successful scoring drive. The point was the fifth for Rodriguez this year-an impressive count, considering the Argentine's position as a defender.
Six minutes later, Joaquin scored his own goal to give the home squad a 2-1 lead with virtually no time left on the clock. And just like that, Fiorentina won the game and earned three more points toward their 2014 2015 standings position.
2014 2015 Standings
The boost puts ACF Fiorentina at 45 points on the Italian league table. That puts the club in fifth place, just one point back from Napoli, two points behind Lazio, and five points off Roma's second place position. Table leader Juventus, meanwhile, remains out of reach for everyone, with an impressive point total of 64.
In other words, the wearers of the Fiorentina home shirt 2014 2015 won't be scoring a Serie A victory this year. However, with the teams in the 2-6 slots all close to one another in point totals, Fiorentina certainly has a chance of leaping into the top three. No matter what happens, it seems that the final 11 weeks of regular season play will be a real battle between these four or five teams.
Root for the Lilies today, with a brand new
Fiorentina soccer jersey
. You can find several versions of that shirt, from the 2014 2015 home and away shirt designs, to leftover 2013 2014 football kits, at Soccer Box-many of them available for great discount prices. Take advantage of the great deals today!