The excesses of Christmas now seem like a long time ago. Many of us made New Years resolutions to eat more healthily and go to the gym. Many of us are considering giving up and indulging once more! Whatever sport you play or participate in it is hard work wearing badly designed kit. Football training wear is great for more that just playing soccer, and is perfect for many other sports as well as at the gym.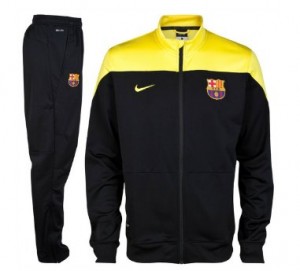 Football training wear has been specially designed for professional soccer training. Your favorite teams and professional stars wear their training kit for team practice sessions and much more. You can support your favorite team whilst on the pitch or at the gym, while also benefiting from the performance sports fabrics. Shop for your team training wear at Soccer Box, we stock a great selection!

Barcelona is one of the most supported teams in the world. Wearing the official match day jersey is one way of showing your support, but the training collection is a great alternative. Nike is the team's kit supplier, they manufacture the home and away football shirts but also the teams training and leisure wear. The Barcelona black and yellow sideline tracksuit is one of many other great items in the collection.

The Barcelona black and yellow sideline tracksuit is available at Soccer Box in kids and adult sizes. It is a full tracksuit, containing a jacket and trousers. The jacket features a full zip design with mock collar for extra warmth. The black and yellow design matches the current away and 3rd kits. The Barcelona crest and Nike logos are embroidered onto both items. This tracksuit is a fantastic purchase for any fan; order today while supplies last at Soccer Box!

The Barcelona tracksuit is one of many items in the team's extensive football training wear collection. They have several different designs of tracksuit, training tops, mix and match jackets and sweat pants, as well as hoodies and t-shirts. While working out and practicing at the Barcelona training ground, all your favorite players including Lionel Messi and Carles Puyol will wear this official team merchandise.

Nike designs the entire Barcelona football training wear range. Nike and Barcelona joined forces in 1998 in 2008 they renewed their deal until at least 2018. This deal is for the teams football kits, training wear and accessories. Nike is an American sportswear manufacturer, they spend millions of pounds each year on research and development, ensuring their products feature the latest technology and are the best for sports use.

Nike has developed a specialized fabric it is used in all their soccer kits and football training wear, as well as in other sports products they produce, for example running gear and swimwear. This fabric technology is called Dri-fit. The Dri-fit fabric has been designed and produced in conjunction with the latest sports science research. It works with the body's natural cooling mechanisms to keep the wearer cool and dry.

Playing soccer is hard work it involves a lot of physical exertion. Running around the pitch, moving with the ball increases the heart rate, and causes body temperature to rise. The body's natural cooling response is to sweat, making clothing wet, sticky and uncomfortable to wear. Every football training wear item produced by Nike, aims to counteract these natural body reactions using Dri-fit performance technology.

The Dri-fit fabric draws moisture away from the skin. This helps cooling as the skin is not too clammy and hot. Mesh panels are used within the fabric construction of many of the football training wear products, this encourages increased airflow to the skin, further aiding the body cooling process. These products may have been designed for professional sports athletes however, you can feel the benefits too.

The Barcelona black and yellow sideline tracksuit, or any of the other football training kits at Soccer Box are great for use by amateur sports men and women. The Dri-fit sports fabrics are perfect for wearing at football training, or in the gym helping to keep you feeling cool and comfortable. Feeling more comfortable and confident may help boost your motivation and performance, helping you to stick at those resolutions for longer!