Back in the 1970s and 1980s, Fortuna Dusseldorf was a consistent presence in the German Bundesliga, even rising to a pair of back-to-back third place finishes in 1973 and 1974. Since then, the football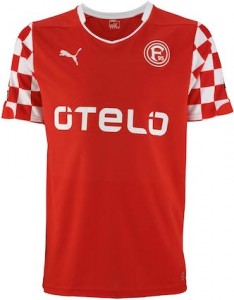 club's stock has decreased notably, with only one Bundesliga appearance (2012 2013) in the past 15 years. Still, the team is always shooting for promotion, and the 2014 2015 season isn't any difference. Support their campaign today, with a brand new Fortuna Dusseldorf soccer jersey!

You can find the squad's jersey available online at the Soccer Box store. We carry the Fortuna Dusseldorf home shirt 2014 2015, a striking red and white Puma jersey that pays fitting tribute to the club's traditional colors. The sleeves of the home shirt are particularly bold, featuring a red and white checkerboard pattern.

A 120-Year History

The Fortuna Dusseldorf soccer club was officially founded on May 5th, 1895. That means that, come this May, the organization will celebrate its 120th anniversary. What better reason to order a Fortuna Dusseldorf soccer jersey and start supporting the squad today?

It would be quite fitting if the team earned promotion from 2 Bundesliga into the premier German soccer league this year. After all, the 2014 2015 football season will be entering its final weeks as Fortuna celebrates its 120th birthday, and what a birthday gift it would be-to fans and players alike-to see the team ascend into Bundesliga.

The 2014 2015 Season

In order to get into promotion position, Dusseldorf has some work to do. As competitive play wrapped up in 2014, the football team was in sixth place on the league standings table. For those who are keeping track, sixth place is also where the squad finished on the 2013 2014 table.

Play will not resume until February 8th, 2015. That means Fortuna will have had a nice long break by the time they take the soccer pitch again. Their final match of 2014 was played (and won) on December 19th.

The fact that the squad ended 2015 with a win is significant, and will hopefully mean that they return to the pitch with lots of momentum. In that last 2014 game, players donned the Fortuna Dusseldorf home shirt 2014 2015 to take on Union Berlin. They won the football fixture 1-0, giving fans a nice Christmas gift in the process.

The home win was Dusseldorf's eighth victory of the season, and their 19th game overall. Their current 2014 2015 record is rounded out by seven draws and four losses.

In comparison, the top team on the standings table (FC Ingolstadt 04) has a record of 11 wins, 7 draws, and 1 loss, while the second place squad (Karlsruher SC) is holding steady at 9-6-4. The top two finishers earn automatic promotion to Bundesliga, while the third-place finisher advances to the promotion playoffs.

Promotion Chances

In terms of table placement, it may seem like the wearers of the Fortuna Dusseldorf soccer jersey are miles away from promotion range. After all, sixth place is really not very close to second or third place, and there are other football teams in between that are jockeying for a top position.

In terms of actual standings points, though, Dusseldorf isn't so far off the mark. The football club currently has 31 points based on wins and draws in the 2014 2015 season. The second, third, and fourth position teams, meanwhile, are all just two points ahead. A streak of two or three wins could easily put Fortuna right up there in the running.

The squad will have a chance to put their promotion chances to the test during their first game back in 2015. The fixture will pit them against current second-placers, Karlsruher SC. A win in that contest could do wonders for Dusseldorf's position in the football league standings.

Of course, Fortuna has already lost to Karlsruher once this season, in a 0-2 August home match. And if the players couldn't take on Karlsruher when they were wearing the Fortuna Dusseldorf home shirt 2014 2015 and competing in front of fans, will they be able to do better in the away shirt?

Only time will tell on that front, but you can root for the team today by picking up a brand new Fortuna Dusseldorf soccer jersey from Soccer Box. Trust us when we say that you will love the 2014 2015 Puma home jersey.