Will Paris Saint Germain clinch their fourth Ligue 1 title in a row? Will Monaco find their way back to the French Championship slot after a 15-year draught? Will Olympique Lyon do what they couldn't do in 2014 2015 and put an end to PSG's winning streak? These are just a few of the questions that are brewing as the summer rolls forward and the start date for the French Ligue 1 division draws ever closer. Now, with Ligue 1 opening day fixtures 2015 - 2016 officially announced, we can start speculating about who will start the football season off right-and who will be playing catch-up from the word go.

The "Good Bets"

When the sun rises on August 7th for the opening day of the 2015 2016 Ligue 1 season, you will more or less be able to split the fixtures into two groups: the "Good Bets" group and the "Unpredictable" group.

The former group, of course, includes the matches featuring the top teams from the 2014 2015 season: Paris Saint Germain, Lyon, Monaco, Marseille, St. Etienne, and Bordeaux. None of these teams have been drawn against one another in the opening day fixtures, and all of them are on our predictions list to win.

The most eyes, of course, will be upon PSG. As three-time consecutive reigning champions (not to mention the team's 2014 2015 treble victory), the Parisians are fully expected to continue dominating the world of French football. While they won't be clad in the PSG home jersey 2015 2016 for their opening day fixture (they'll instead be playing the away team role, in a match against Lille), nothing is going to stop this soccer club from starting off the season right.

We expect similarly one-sided games between Lyon and Lorient and between Monaco and Nice. Lyon actually will have the home field advantage on opening day, and will be playing a team that just narrowly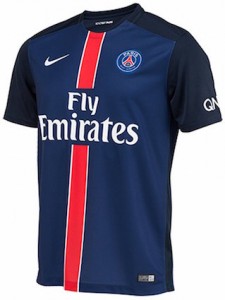 avoided the red zone last year. Monaco, meanwhile, will start with an away game at Nice. Monaco actually lost to Nice at home last fall in a 0-1 upset. They returned the favor with a 1-0 away win in February, though, and we expect a similar outcome on August 7th.

Of the remaining top six teams from the 2014/15 Ligue 1 table -Marseille, Saint-Etienne, and Bordeaux-Saint-Etienne should have the easiest draw. They'll be playing Toulouse, the club that came in 17th place last season, and the lowest ranking 2014 2015 team that wasn't relegated to Ligue 2. With that said, Saint-Etienne didn't have a great track record against Toulouse last year, losing 0-1 at home and drawing 1-1 away. Still, Toulouse were mostly shoddy last season, and we're betting that Saint-Etienne will finally prevail on opening day.

Marseille and Bordeaux had similarly mixed match-ups with their opening day rivals (Caen and Reims). However, Marseille ended the 2014 2015 Ligue 1 with a strong four-game winning streak, and Bordeaux was one of the few football clubs to beat PSG last season. In other words, we're willing to give both of them the benefit of the doubt and label them as "Good Bets" for opening day.

The "Unpredictable" Fixtures

Folks looking for a few more surprises from their first dose of 2015 2016 Ligue 1 action should keep an eye on the other four fixtures, which include a mix of middle-ranking 2014 2015 teams and recent Ligue 2 promotions. Here's a rundown of these fixtures:

Montpellier vs. Angers: The seventh place soccer squad from the 2014/15Â season's Ligue, versus the third-placers from Ligue 2. We'll give Montpellier the edge.

Gazelec Ajaccio vs. Troyes: The top two football teams from the 2014 2015 Ligue 2 division, facing off for top-flight bragging rights. Troyes were better in Ligue 2, so they're our pick, but Gazelec Ajaccio could surprise with the home field advantage on their side.

Bastia vs. Rennes: These teams took ninth and 12th place (respectively) in the 2014/15 Ligue 1. Bastia has the home field advantage and has won four out of the last five head-to-head matches with Rennes. When Rennes did last beat Bastia, though, in March 2014, they won decisively (3-0). Bastia is our pick, but Rennes could easily score an upset.

Nantes vs. Guingamp: Guingamp had the better position in the 2014 2015 Ligue 1 (10th, versus Nantes' 14th place finish), but Nantes won both of their 2014 2015 head-to-head fixtures. We'll bet on the home team.

Get ready for the Ligue 1's opening day fixtures by picking up a new PSG jersey 2015 2016 at Soccer Box!