Just like the Premier League in the UK, other countries run their own leagues. Spain hold the La Liga, including teams such as Barcelona and Real Madrid. These two teams have a few of the b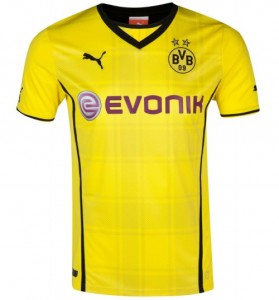 est players in the world playing for them such as Lionel Messi and Neymar for Barcelona and Christiano Ronaldo and Gareth Bale for Real Madrid. This is the same case for German clubs. Players such as Lewendowski, Robben, Mario Gotze and Marco Reus play for some of the best German clubs. You will notice that Borussia Dortmund and Bayern Munich football shirts are very popular.

The Bundesliga was founded in 1962 in Dortmund by the German football association; however it is now operated by the German football league. The league is made up of 18 German teams who play against one another weekly.

These German Teams began to get noticed after Borussia Dortmund won the Champions League in 1997, Bayern Munich were also very close to winning the same competition in 1999. To top it off Germany won Euro 96, this took place in England.

It was now clear that Germany owned some of the best footballers in the world and was a force to be reckoned with. In 1992 there was a television deal agreed, shortly after newly rich German teams started to bring in foreign players to the league, this was often cheaper for them than buying domestic German players.

But as German football became more popular and the number of people watching the soccer started to rise, the money then began to flow in allowing them to buy fresh young talent. Once one star player makes a name for themselves at a club many other footballers look up to them and want to play in the same team as them.

There is a great reason for going to watch German teams play soccer and this is another reason many people go and watch them, many England fans envy this fact and some do not even know of it. German stadiums feature standing terraces, for example to go and watch the squad playing in their Bayern Munich football shirts would usually cost you a lot of money, you can however book a standing ticket for around £35.00.

Compared to some clubs in the Premier League such as Arsenal who have the most expensive tickets available, this is cheap. Buying an Arsenal ticket is likely to cost you at least £60.00 for a seated ticket.

If more people are watching the German clubs than any other league then the clubs themselves are receiving more money, thus being able to buy star quality players and becoming even more popular, helping them to be the best in Europe. This is a great way of winning the fans over, if they see a player they like who is known worldwide they will love to watch them play.

As players from other clubs around the world started to notice clubs from the Bundesliga and see the star quality they offered, they were signing for the big clubs thick and fast, this is how they have all of their amazing players today.

During the Champions League tournament in the 2012-13 season the final ended with two German teams up against each other, Bayern Munich and Borussia Dortmund. In the semi-finals, La Liga giants Barcelona and Real Madrid both got booted out by the Bundesliga teams, this shocked the world as everyone was expecting an El Clasico match between the two Spanish teams.

In the end it was Bayern who won the trophy, it was all down to Robben's 89th minute winner that decided the match. Both teams played very well and you can really see how they have become some of the best teams in Europe.

No one can argue that these two teams are great, not only them but many other German teams have done very well including Bayern Leverkusen, Schalke, Hamburg and Borussia Monchengladbach.

Both of the top two teams now have the money to bring in quality players and will be during the January transfer window, Bayern already signed Mario Gotze from Dortmund in the summer transfer window and will be hoping to sign many more.

It is time for Real Madrid and Barcelona to move over as the German clubs are ready to challenge to be the best clubs in the world!

Emily writes exclusively for Soccer Box, here you can purchase the latest Bayern Munich football shirts, training kit and much more. Many other German shirts and kits are available.