On March 29th, the Germany national soccer team will take the pitch after a four-month break for an away match against Georgia. The game, a qualifying fixture for the 2016 UEFA European Championship in France, will see the German squad trying to redeem the lukewarm performance they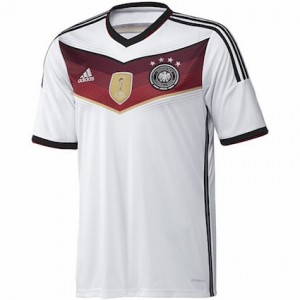 have so far put forth in these qualifying rounds. You can help them along with a bit of extra team support, in the form of a Germany football jersey from Soccer Box!

At Soccer Box, we have several versions of the German soccer jersey available. These include the home and away shirt designs that the team wore in last year's World Cup, as well as the new design that Adidas released in the wake of the global FIFA event. The newer shirt has four stars embroidered above the German football crest, to reflect the Deutsche squad's victory at the 2014 World Cup. The four-star jersey is available both as a Germany kids home shirt 2014 2015, and as a full adult-sized jersey.

Early Qualifier Struggles

2014 may have brought about a fourth World Cup victory for Deutschland, but the country's successful summer of soccer eventually gave way to a mediocre and disappointing autumn.

Drawn into UEFA Qualifying Group D, many expected Germany to steamroll their opponents and earn a spot in the Euro 2016 tournament, almost by default. After all, none of the other teams in Group D-a list that includes Poland, Scotland, Ireland, Georgia, and Gibraltar-can touch the Germans in terms of sheer football legacy. None of those countries have ever won a World Cup trophy, let alone four. None of them have won Euro either, while Germany has done so on three occasions.

But while the wearers of the Germany football jersey may have had the Group D advantage because of past accomplishments alone, those past accomplishments didn't save the football team from sloppy play. Things started off well enough, with a 2-1 home win over Scotland. But the next two fixtures saw Deutschland losing 0-2 in an away game with Poland and settling for a 1-1 at-home draw with Ireland.

Current Standings

It wasn't until November 14th that things turned around for fans in the Germany kids home shirt 2014 2015 or Adidas adult jersey. In the last competitive match of 2014, the Germans beat Gibraltar 4-0. The win gave them a boost in the Group D standings, pushing their point tally to 7 and their goal difference rating to +3.

Unfortunately, that puts Germany a good deal behind Poland. The Polish side has won three games and drawn one so far, for a point total of 10. They also have a very solid goal difference rating of +13. Suffice to say that the squad in the Germany football jersey might have difficulty displacing Poland from the first place slot.

The good news is that Germany only needs to finish in the top two in order to qualify for Euro 2016, so even if they can't catch Poland, that doesn't necessarily hurt their chances. The bad news is that the Deutschland side is currently in third place in Group D standings. Both Ireland and Scotland are also at 7 points, and the Irish have a goal difference of +7 that puts them in second place. Scotland is trailing in fourth, with +1 GD.

Gibraltar

That leaves the Germans needing to make up a bit of ground in 2015. Luckily, they have six qualifiers to play throughout this year, giving them plenty of time to sneak into first or second place. If you've been shopping Soccer Box for our Germany kids home shirt 2014 2015 or adult away jersey, then you will want to tune in on March 29th, when the German side takes on Gibraltar in an away fixture.

The fixture will be the first of the New Year for the Germans. It will also be their second qualifying game against Gibraltar, who are currently ranked at the bottom of the Group D standings with four losses. The Irish squad built up their entire +7 goal difference rating with a 7-0 win over Gibraltar, so this might be the perfect place for Germany to score a big, game-changing win.

Root for the reigning World Cup champions with a new Germany football jersey, available at Soccer Box. Whether you are looking for a kids home shirt, an adult away jersey, or any other national football gear, you can find it here!