The task of shopping for presents during the festive season can prove to be difficult, especially when the older they get the less likely you are to be inundated with wish lists. Therefore if you are thinking of what to get the Chelsea fan in your life as a gift, we have put together this guide on the essentials you could put on your shopping list. From novelty Chelsea Football Club stocking fillers to authentic replica kits in kids and adults sizes, we have taken into consideration a range of budgets below. Here are our top four ideas with further information provided beneath:
Customized Chelsea Kit
Official CFC Babywear
Chelsea Training Clothing
Chelsea Stocking Filler Accessories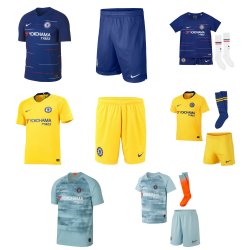 Customized Chelsea Kit
By purchasing a personalised CFC strip, your loved one will not only feel, but also look like part of their beloved Premier League team. Applied in store by our professional printers using the genuine EPL lettering and numbers, you are guaranteed to have a top-quality finish. This can be adorned for a small fee on children's and adults clothing, plus we also have the official PL patches which can also be added to the sleeves of the top. So whether you want to add your family/friend's name or their favourite player's details to the garment, be sure to fill in the options available on the following stock:
Chelsea Home Football Shirt
Home Shorts
Youth Home Kit
Away Jersey
Away Soccer Bottoms
Junior Away Strip
Third Football Top
Boys Third Outfit
Official Chelsea Babywear
For the youngest of supporters, investing in high quality babywear is a fantastic way to introduce them to their life long journey of supporting the team. Available in ages 3 to 36 months you are able to order a variety of clothing for great value prices. Below is a list of garments in stock for your baby:
Chelsea Baby Home Kit
Short Sleeve T-Shirt
Long Sleeve T-Shirt
Sleepsuit
Replica Training Range for All Ages
Along with the array of authentic kits we have here at Soccer Box, you could also look into purchasing training wear. Produced in ages 8 to 15 years and then adults small to xx-large, each item of sportswear comes in a similar design which allows parents and children to wear the matching outfits – just like the kits. Some of these items which you can purchase are:
Chelsea Training Jersey
Squad Drill Top
Track Jacket
Hoodie
Chelsea Squad Anthem Jacket
Knit Tracksuit
Stocking Filler Chelsea Accessories
On the more budget friendly side we have the accessories which will make the perfect gift for supporters of any age. From headwear to bedding and footballs, we have got a wide range of merchandise which can be used to update your loved one's essentials. Therefore they will love displaying the CFC crest during any situation. These are just a few items of official souvenirs you can pick up from our accessories page:
Gym bag
Heritage 86 Baseball Cap
Beanie
Mini and match size footballs
Scarves and gloves
Keyrings and plush toys
Beer sets and individual glasses and bottles
Flashing reindeer novelty antlers
Mugs
Single reversible duvet sets
Stamford Bridge street sign
Let us know if we have Inspired You!
Now we have explored a wide range of Chelsea gear which can be purchased for your friends and family this Christmas, we want to know if any of these have inspired you. Get in touch over on our social media pages and get in touch! You can also shop all of the latest and previous CFC sportswear and merchandise within the Chelsea category on our online store – Soccer Box.
This article was written exclusively for Soccer Box by Loren Astbury