Football in England has been a professional game since 1888 when the Football League was founded, it is now one of the most popular team sports around the globe not only attracting professional players, amateur leagues for adults and children are also extremely popular. Â In today's society where we lead more sedentary lifestyles and children are often more interested in computer games, than getting outside and kicking a football it is increasingly important to understand the long term benefits for children of playing team sports such as football.

Many of us would identify ourselves as supporting or following one team or another, and it is a popular family activity to watch a football game whether live at the stadium or at home on the TV, buying and wearing kids football jerseys is big business, however whilst watching the game as a family has its own benefits putting on a kit and getting out there has a variety of different positive benefits. Â Recent research has shown that 30% of children in the UK are overweight and this figure is increasing yearly, therefore one of the most obvious benefits of playing football relates to health and fitness. Government guidelines suggest that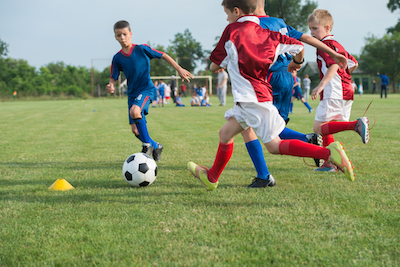 children are physically active for at least an hour per day, whether kicking a football around with their mates at lunch time or in the park after school, or during an organised football training session playing what is often termed the 'beautiful game' will help your child achieve their hour a day. Â It is also proven that people who play sports and have positive sporting experiences as children are more likely to continue into adulthood.

There are many other developmental benefits of playing football including learning how to communicate and work with others, football is a team sport requiring cooperation from each team member. Â The popular saying 'there is no I in team' is a valuable lesson to learn at a young age and mastering team working is an essential skill for future success at school, university and in the work place. Â Football as a game has winners and losers in each match, many schools today promote the message that taking part is what counts and sports days often do not celebrate winning in order not to alienate less able children who lose. However, many professionals feel it is important for children to learn about winning and losing, whilst taking part is extremely important it is also beneficial to know how to learn from an experience of losing and to use it as a motivator for improvement.

Today's society is tainted with a youth culture that is often seen as undesirable and threatening, it is thought that by playing team sports children have better social development skills. Through playing football children have to interact with other children the same age, as well as adults such as coaches and other parents, this helps teach children about being respectful and polite, and to share as well as exposing children to different ethnicities and cultures, all of these things are vital to children's development if they are to grow up and function well in a adult society. Â So on balance despite contact sports being seen as potentially dangerous the benefits of football greatly outweigh the concerns, get your child a kids football jersey and encourage them to have a kick around with you in the garden, their friends or why not enrol them in a summer coaching class and start noticing the benefits.

Did you play football as a child? What benefits do you think it had on you whilst growing up and into adult life?

Order your kids football jerseys today from Soccerbox, we stock teams such as Manchester United, Arsenal, Barcelona, Real Madrid and many more.